Xi's Court Jester Threatens Policeman
Cartoon published 04/22/2021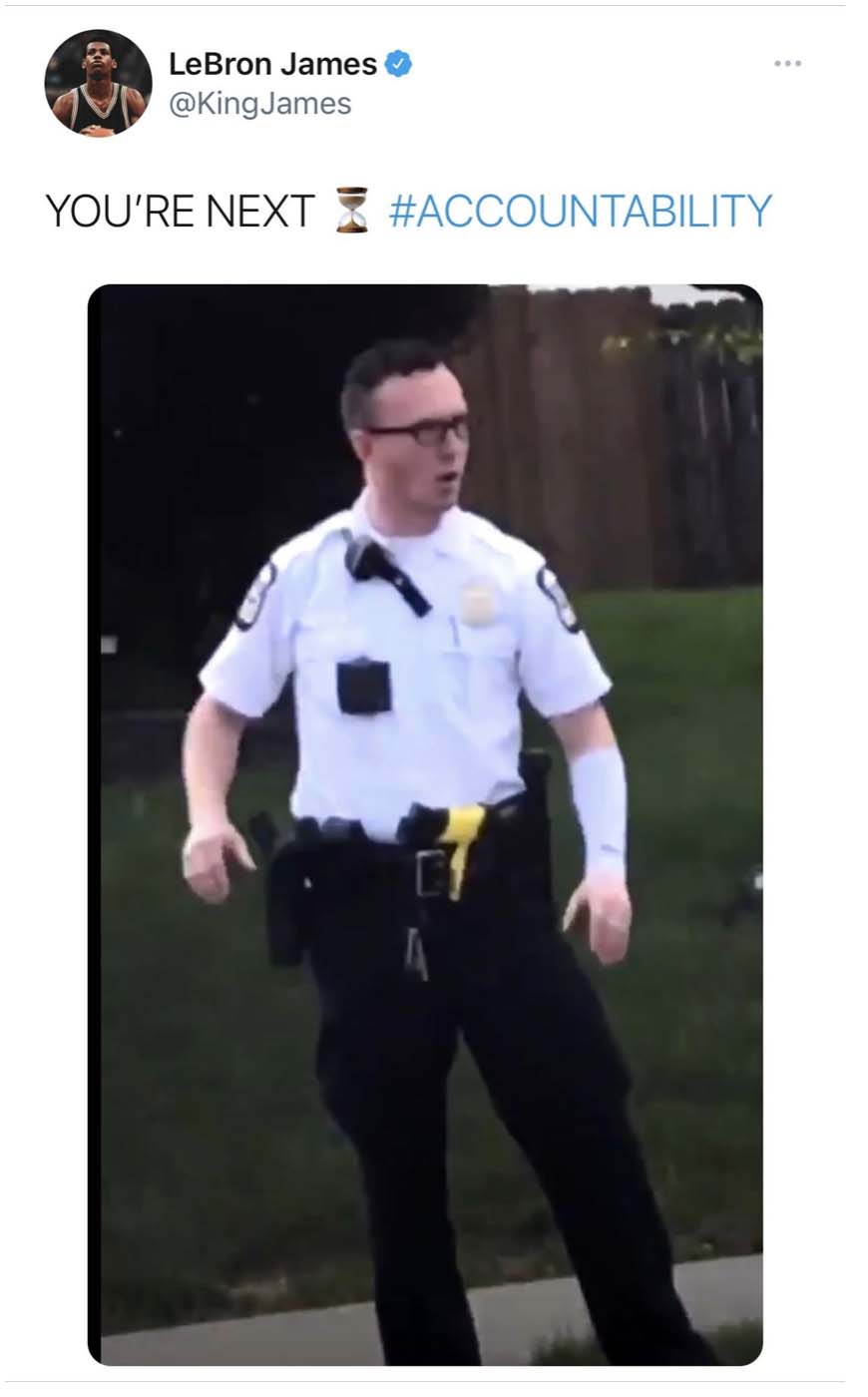 Shut Up and Dribble!
When a policeman yells, "Stop, or I'll shoot!," it's usually wise to do as he says. Similarly, if a knife-wielding teenage girl is chasing down another girl with a large knife and the intended victim is calling for help, it's predictable procedure for the officer to yell at the perpetrator to get down on the ground. This was the case for 16 year-old Ma'Khia Bryant.  She refused to get down and was shot and killed. If the police officer had stood by and allowed her to stab her victim, the officer would be called racist for doing nothing.
Damned if you do, damned if you don't
I don't like police officers who are abusive, racist, overly-aggressive, militarized, or otherwise violating the Constitution, but people need to realize that they need to obey a cop's orders in real time. If there is an injustice, it can be sorted out later by lawyers. These days, many don't seem to understand this. They simply ignore the cops or resist in some way. In the case of police officer Chauvin, he followed police procedure with the resisting counterfeiter and convicted criminal George Floyd, who most likely died due to heart problems and an overdose of Fentanyl.
Just Released "MAKE AMERICA WELL AGAIN" Ben Garrison's New Cartoon Book!
Available for Preorder Today
Like the OJ trial, mob rule took over in the murder trial of Chauvin. Political correctness and fear of what the mob might do has trumped justice. Instead of law and order we have no law and disorder. The mob is now in charge and that mob consists not only of protestors—peaceful or otherwise, but also politicians, Hollywood, and the mass media. They decide through force of opinion the fate of the accused.
Joining the mob is Lebron James, a sports figure. He tweeted out a very threatening message, "You're next" along with a photo of the police officer who shot the teenager. The tweet was quickly removed. We at GrrrGraphics were banned from Twitter for the crime of being conservative. We never threatened anyone, but since James is 'woke' and supports communist China, he gets a break.
Threatening the life of a police officer should be a slam dunk reason to be banned from Twitter. It's also another reason not to watch the NBA, or any other politicized sport.
Update: Ratings for NBA Finals were down 49%, Get Woke Go Broke…
—Ben Garrison