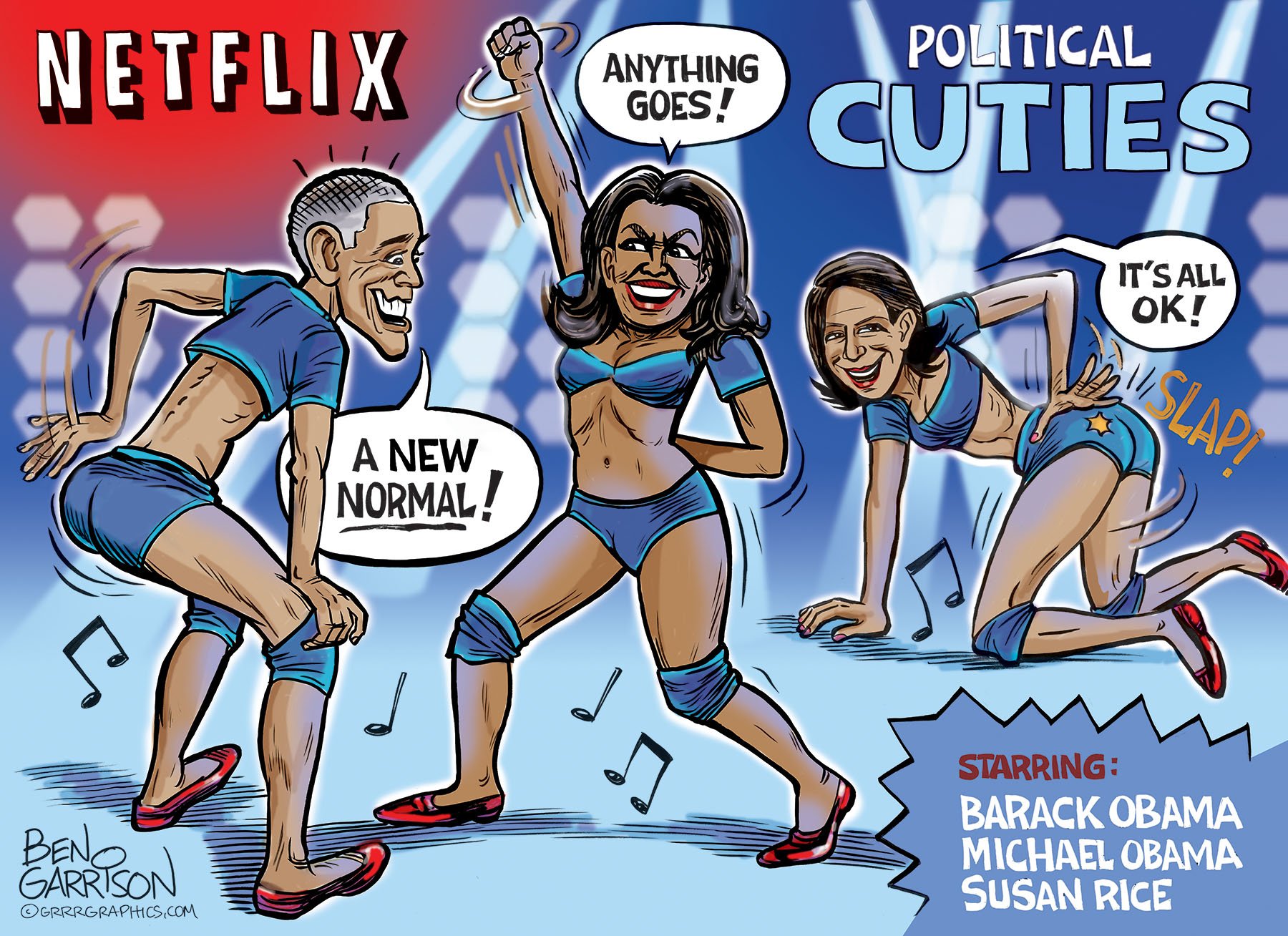 Netflix Trying to Make the Sexualization of Children "normal"
Like the Clintons, the Obamas have amassed a considerable fortune from politics. Also like the Clintons, they're not going away. They continue to have an influence over politics and American culture. By becoming Netflix producers, the Obamas made sure their leftist propaganda gets attention.
Neither Michelle nor Barack have said anything about the Netflix program titled "Cuties," in which young girls are shown in sexually charged poses on a glitzy stage. Susan Rice, a former Obama advisor, is on the Netflix board. She has also been reticent about what many are calling 'pedophilia.' Some say their silence is complicity. I agree.
Join the Fight against Fake News! Support Cartoons that shred the Democrat Narrative! Click to Donate
Under Obama's administration, the 'trans' mania began. Boys at high schools could pretend they were girls and win awards in athletic events. Restrooms suddenly became a problem. Then came the claim that there were dozens of genders and various sexual identifications. Anyone who objected got labeled as haters. Eventually, people became fearful. If they used the wrong pronoun or offended an easily offended trans-whatever, they could be fired, banned, or expelled.
I don't know if Michelle Obama is a transgender or not. The matter is a long-running internet meme. That meme was reinforced when Joan Rivers casually said Michelle was a 'tranny' and that it was 'okay.' Days later she was dead. Maybe it was okay to her, but not to other powerful people who wanted to keep it under wraps. Even Barack himself has referred to Michelle as "Michael" on several occasions. There have been many who have said Barack Obama is gay. It's plausible, but such speculation can also easily lead to social media bans.
JOIN US ON THE 2020 FRONT LINES DIGITAL SOLIDER, SUPPORT CARTOONS AT PATREON OR AT SUBSCRIBESTAR-SEE EVERY CARTOON EARLY BEFORE IT'S RELEASED TO THE PUBLIC!  CLICK TO VIEW!
Now the lying mass media are denouncing Q and his followers. They ridicule those who think there is such as thing as child trafficking and pedophilia occurring among the elite and powerful. Anyone who claims there are plenty of pedophiles pulling top levers of power must obviously be a conspiracy theorist, according to CNN, MSNBC, and all the rest. Yet a lot of evidence does exist. Epstein's "Orgy Island," for example.
The fact that the Obamas did not exert influence to stop a show containing obvious pedophilia can only mean they are complicit. Perhaps they want pedophilia to be normalized just as they wanted sexual dysphoria normalized. Meanwhile, they and their colleagues are doing their best to shut down Christians who object.
—Ben Garrison
Support Cartoons with a donation at Pay Pal! Click to donate
Note: We are an Amazon Associate. Your purchases on Amazon via our links will support Ben and Tina's cartoons- At no extra cost to you! Please click and send some love! 
Amazon Home Page