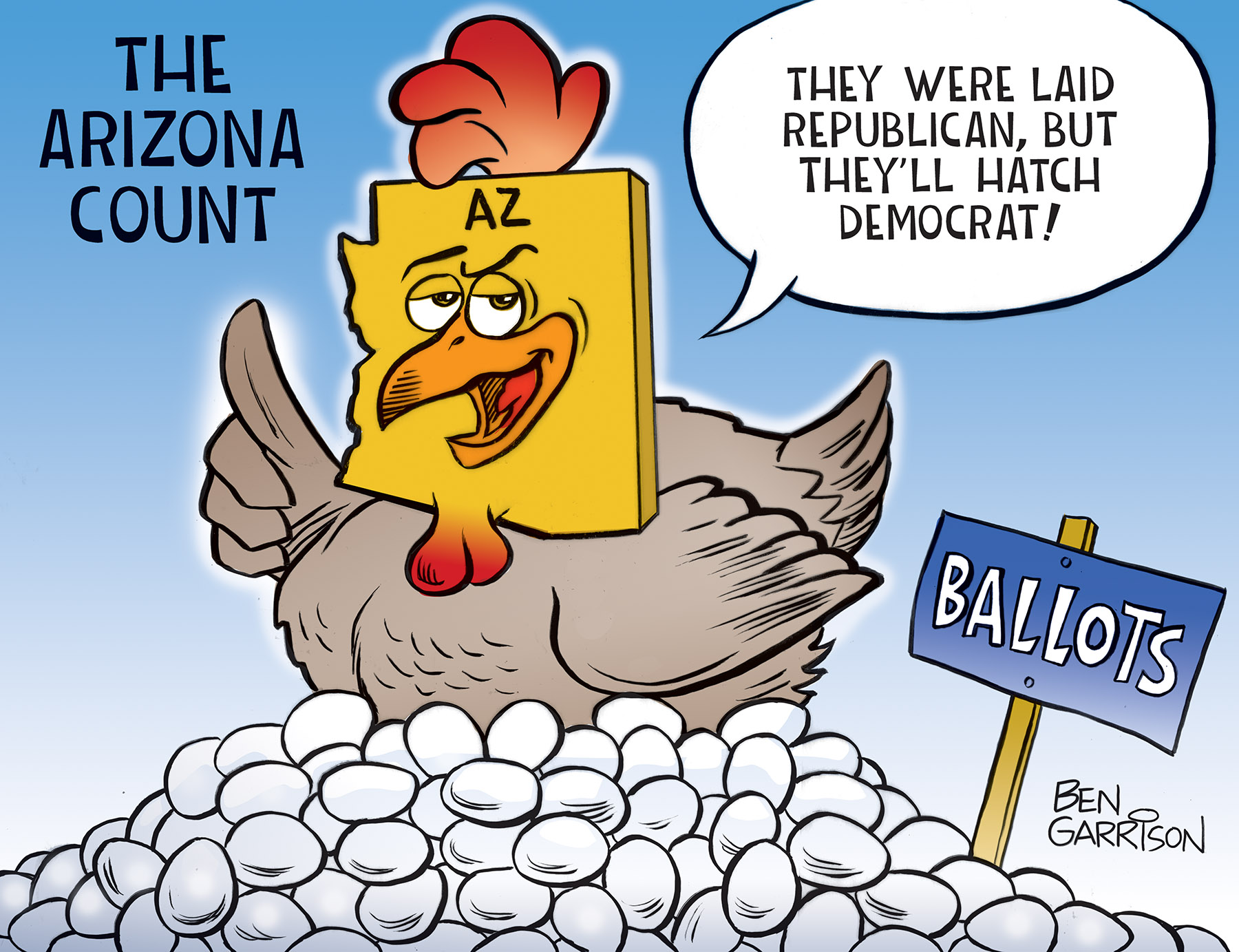 The Republicans Get Clucked In Arizona
Arizona voters must feel a bit hen pecked. Their Republican ballots got scrambled up and turned into a Democrat omelette. The Marxist chickens of a feather stick together and they stole another election. To them, the ends justify the means. 

Democrat Katie Hobbs was elected Arizona governor after a week-long drag out of vote counting. Such a long delay was a sure sign of fraud. Hobbs was Secretary of State and in charge of Arizona's election. It was like allowing a fox to run a henhouse. She did not recuse herself and she was even seen on the vote counting floor. No doubt she was directing the cheat.
Support MEGA MAGA cartoons with a monthly donation at Subscribestar in one easy click!

America has become a 3rd-world banana republic and the midterms are just another example of the corruption. Widespread mail-in balloting invites fraud, and that's egg-zactly what we saw. Ballot harvesters were able to make sure the reluctant voted. Democrat operatives filled out the ballots themselves if necessary. Dead people voted. Those who had moved out of state voted. People residing in vacant lots voted. Counted votes were mixed with uncounted votes, thus inviting double counts for double dealing Democrats. Republican votes were no doubt lost or changed. Arizona has egg on its face. 

The question is, what can we do about it? Anyone who complains will be promptly smeared as an 'election denier.' They will be said to be against 'democracy.' In other words, the Democrats blatantly stole elections again and accuse anyone who objects to their criminality as being unAmerican.
Nothing was done when the election was stolen from Trump. The voting machines are still there and so are the mail-in ballots, the drop boxes, and the dirty tricks in the counting rooms. We may as well let Red China do the voting.
Will Republicans do anything about it this time or will they chicken out as usual?
 — Ben Garrison
Follow @grrrgraphics on GAB, TRUTH SOCIAL, PARLER, INSTAGRAM, TELEGRAM 
or join us at The Garrison!
"CRIME WAVE" LIMITED EDITION PRINT!
Order your signed print today!