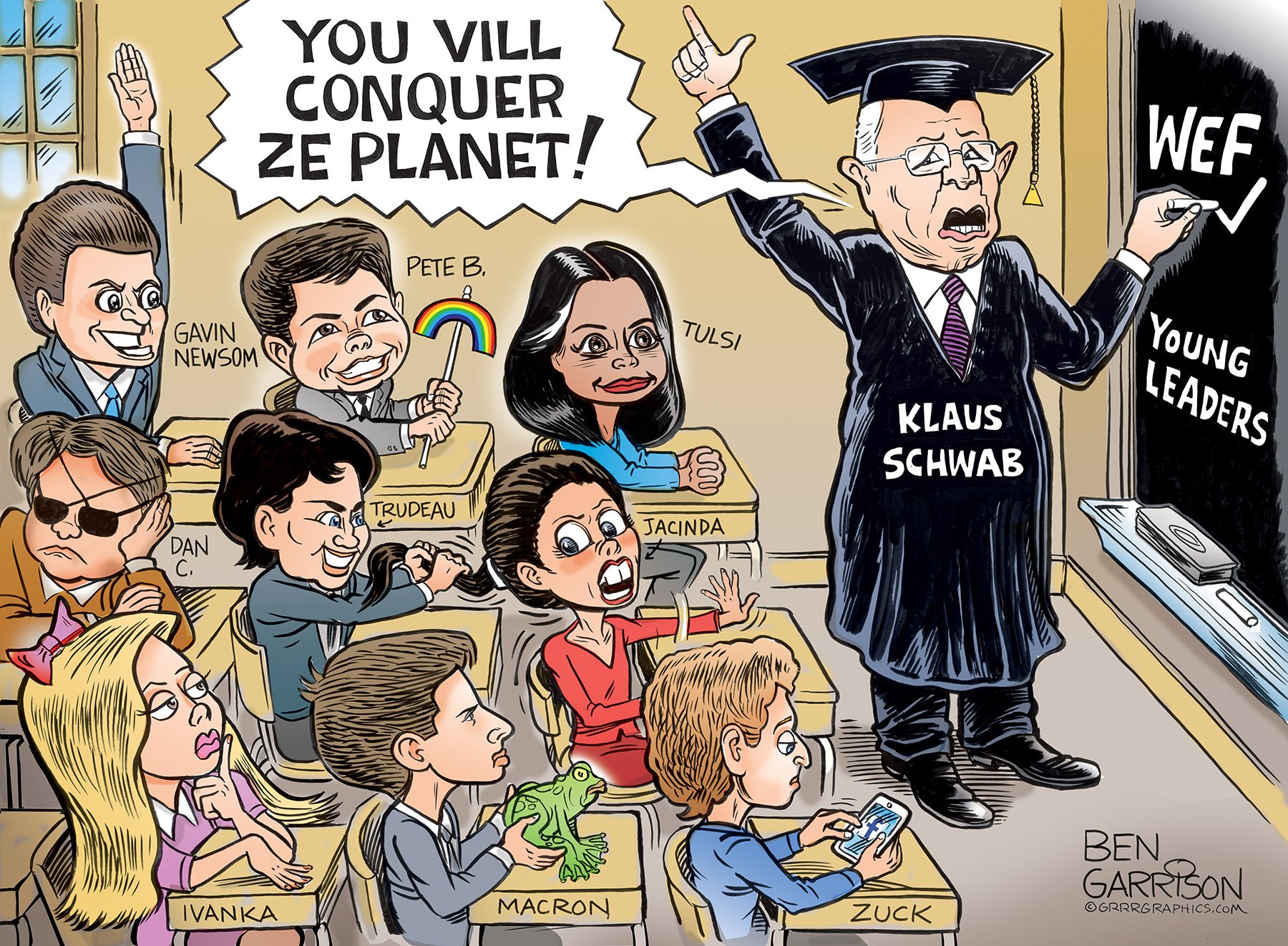 School For Tyrants- Klaus Schwab's Young Global Leaders
Klaus Schwab is the Chairman of the World Economic Forum (WEF) and he spearheaded an effort to train (brainwash) young leaders in order for them to carry out a New World Order game plan.
Based in Switzerland, the Young Global Leaders (YGL), is Schwab's attempt to control the world though the globalist indoctrination of young leaders, which are not only major heads of countries, but also leaders in the media, finance, the arts, and education. They include billionaires such as Peter Thiel, who heavily influenced Facebook. Thiel also creating a global tracking device known as "Palantir," after the Lord of the Rings crystal ball spy glass. I used to like Thiel because he supported Trump, but that now appears to be a distraction—a ruse. Same for Tulsi Gabbard. She often appears on Fox News and is anti-war. I like her for that, but her globalist views are appalling.
Schwab is using his students to further the globalist New World Order vision of a totalitarian system. If a citizens steps out of line, then the globalist social credit system could issue fines and confiscate money from the offender's bank account. Or seize the money altogether. We saw Trudeau carry this out (a trial run) in Canada during the truckers' protest. Those who insulted the corrupt, globalist politicians had their money taken by the same corrupt politicians. In Germany, we are seeing the arrest of citizens for simply 'insulting' political leaders. Schwab applauds this.
It's not a left or right thing. Several so-called 'conservative' politicians such as Dan Crenshaw and Tom Cotton have graduated from Schwab's globalist prep school. Even Ivanka Trump.
To help get Schwab's students elected, oligarchs such as George Soros pour in campaign funds and pull strings. Soros has helped globalist judges and district attorneys gain power in America's big cities and turn them down the path toward globalism.
The New World Order continues to tighten the screws on our freedom. Our loss of liberty is converted into more power for the cabal at the top of the pyramid.
We can push back by refusing to support any so-called 'leader' who has graduated from the School of Schwab.
— Ben Garrison
Follow @grrrgraphics on GAB,TRUTHSOCIAL PARLER, INSTAGRAM, TELEGRAM 
Signed Prints available click to order!
We need to keep up the pressure. With you by our side, we will!

The MAGA Freedom movement is growing stronger and stronger with every dirty deed exposed. Let's use the momentum and STOP the radical Dems and their Big Tech enablers! Time is running out! Everyone has to do their part and fight for America – united we stand, together we win!