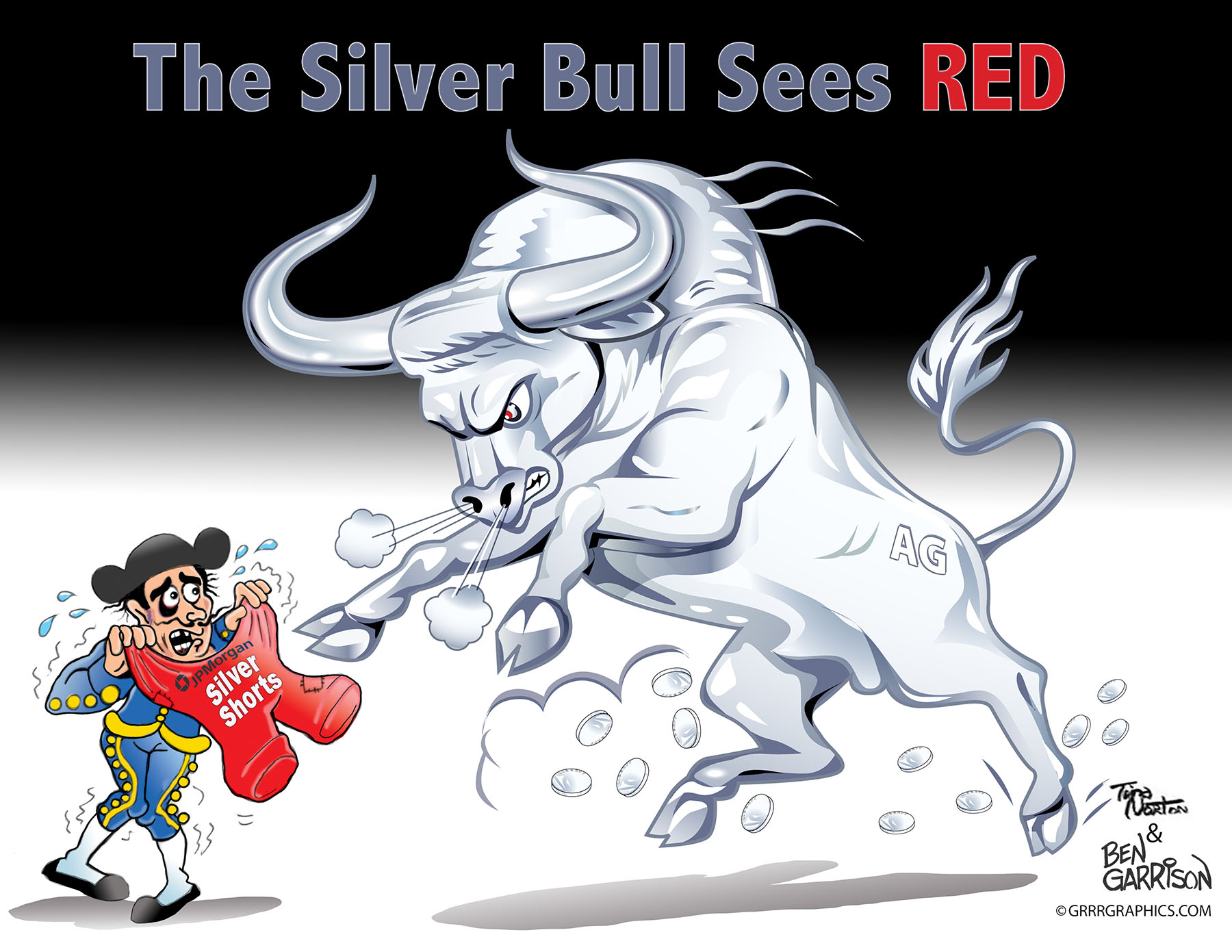 Blast From the Past- Cartoon first published 10 years ago -Sliver Bull Sees Red
I've been studying precious metals for several decades now. Silver in particular. I was particularly interested in the mines located throughout Idaho's famed 'Silver Valley.' I even visited some of those mines.
Sign Up For GRRRNews and NEVER miss a new cartoon- click to join our news letter
Will the Reddit crowd who destroyed a hedge fund now go after JP Morgan's stranglehold on the shiny white metal? That remains to be seen, but they may find that to be more of a daunting task. Still, physical silver buying has swamped many of the online sales outlets over the weekend. Young people are buying the precious white metal, but there is also talk that they'll be buying some of the heavily-shorted silver miner stocks such as First Majestic (AG).
Find @GrrrGraphics on GAB.COM Freedom Of Speech! No more Twitter, should be renamed "Snitcher"
I once thought silver would do what Bitcoin has done. That is, go to 1,000 per ounce or more. Back in 2011 Tina and I drew this cartoon that showed the silver bull. Unfortunately it never happened. JP Morgan collusively drove the price down from $49 per ounce in April, 2011 all the say down to $13 just a couple of years later. Silver then stagnated for 10 years while the stock market skyrocketed.
Help fight against the tyranny of Big Tech, Democrat Communists and Cancel Culture! Will You Make A Donation to Support Our Work Today?
Now silver is back. Or is this just another false hope that will enable JP Morgan and other dominant global banks to short it back down again while raking in huge profits? Is silver a planned distraction from the GME and AMC short troubles facing the hedge funds?
We'll see. I hope the stackers win this time.
—Ben Garrison
HELP EXPOSE WALL STREET, RAISE AWARENESS OF NAKED SHORT SELLING AND FIGHT THE RIGGED MARKETS WITH OUR SPECIAL EXPOSE WALL STREET PRINT BUNDLE!
24″ wide x 18″ tall on mat paper shipped rolled in a tube.
SPECIAL EDITION: THE BIGGEST PRINTS WE HAVE EVER MADE!  Two Prints for the price of ONE!
Print One- Gamestomping Hedge Fund Big Foot
Print Two- Wall Street the Real Looters (see cartoon below)