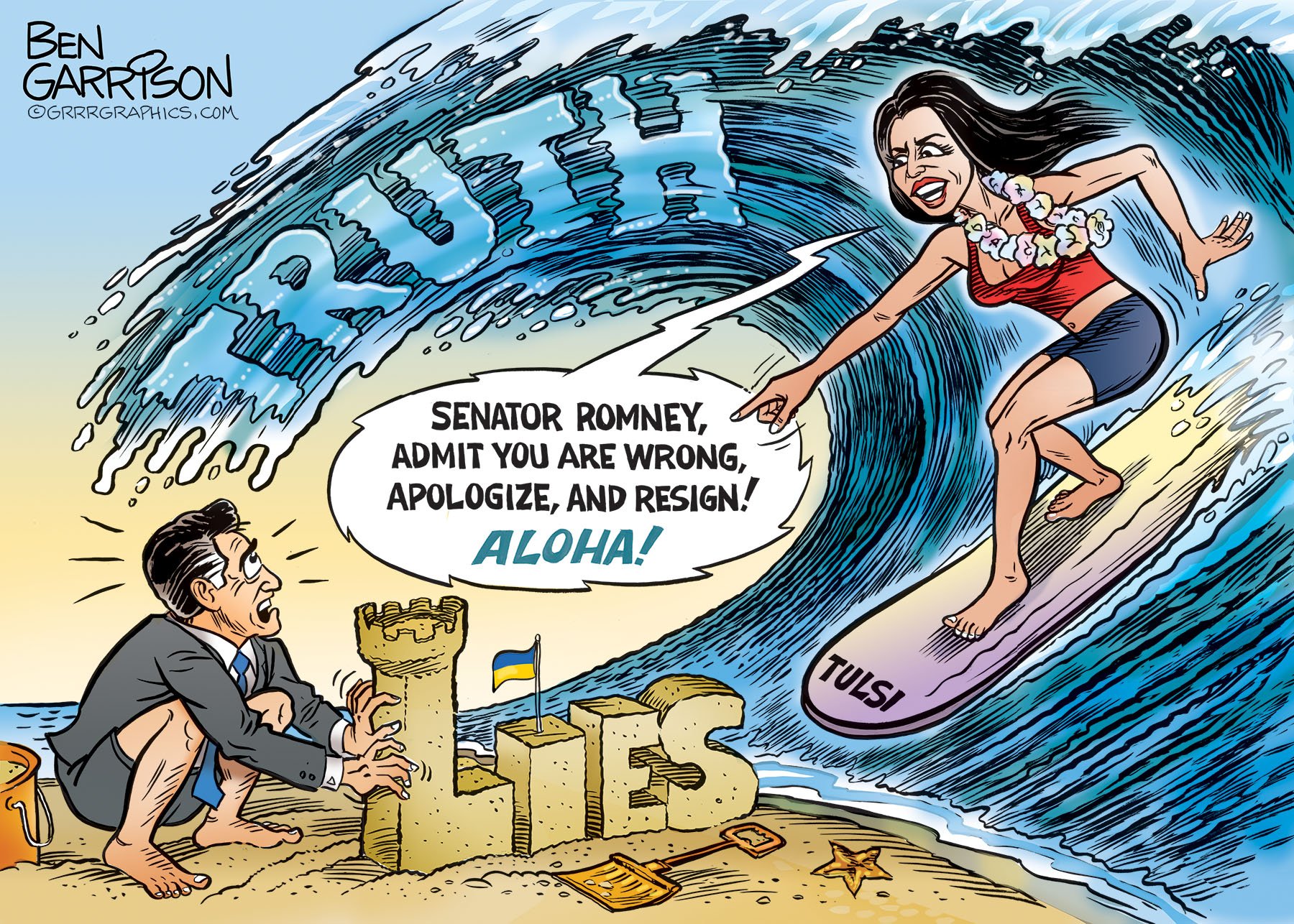 Tulsi hangs ten on Romney's Lies
The Neocon knives are out for Tulsi Gabbard, but she is too sharp for them. Mitt Romney denied the US had built bio labs in Ukraine. He accused Gabbard of "parroting false Russian propaganda" in regard to them. He went on to say, "Her treasonous lies may well cost lives." Wrong, Mittens. Your warmongering will cost lives—perhaps many millions of them. 

As it turns out the facts are on Tulsi's side. The State Department's Victoria Nuland had already confirmed at a Senate hearing that there were indeed many bio labs existing in Ukraine and they contained dangerous pathogens. A Pentagon fact sheet revealed that the US has been funding them to the tune of $200 million dollars.
BEN GARRISON NFTS- FRESH NFTS JUST MINTED CLICK TO VIEW ON OPENSEA!
The Deep State Neocons including Romney, Adam Kinzinger, Lindsay Graham, and John Bolton aren't alone in their warmongering. Many Democrats are banging war drums as well. The notoriously bloodthirsty Hillary Clinton accused Gabbard of being an agent for Putin as well—and without any facts whatsoever. Still, it's not about facts—it's about blatantly smearing a political opponent personally. Gabbard has served in the military, while many of warmongers have avoided it. They'd rather encourage others to fight for them.
While I can't agree with Tulsi Gabbard on many issues, I respect her speaking truth to the warmongers. Like Jimmy Dore, she wants truth first and foremost and not partisan politics. When she's over the target she catches a lot of flak from the globalist Deep State Swamp politicians. They are the real traitors.
— Ben Garrison
Follow @grrrgraphics on GAB, TRUTHSOCIAL  PARLER, INSTAGRAM, 
BEN GARRISON NFTS- FRESH NFTS JUST MINTED CLICK TO VIEW ON OPENSEA!
Ben Garrison Original art available! Reserve yours today!