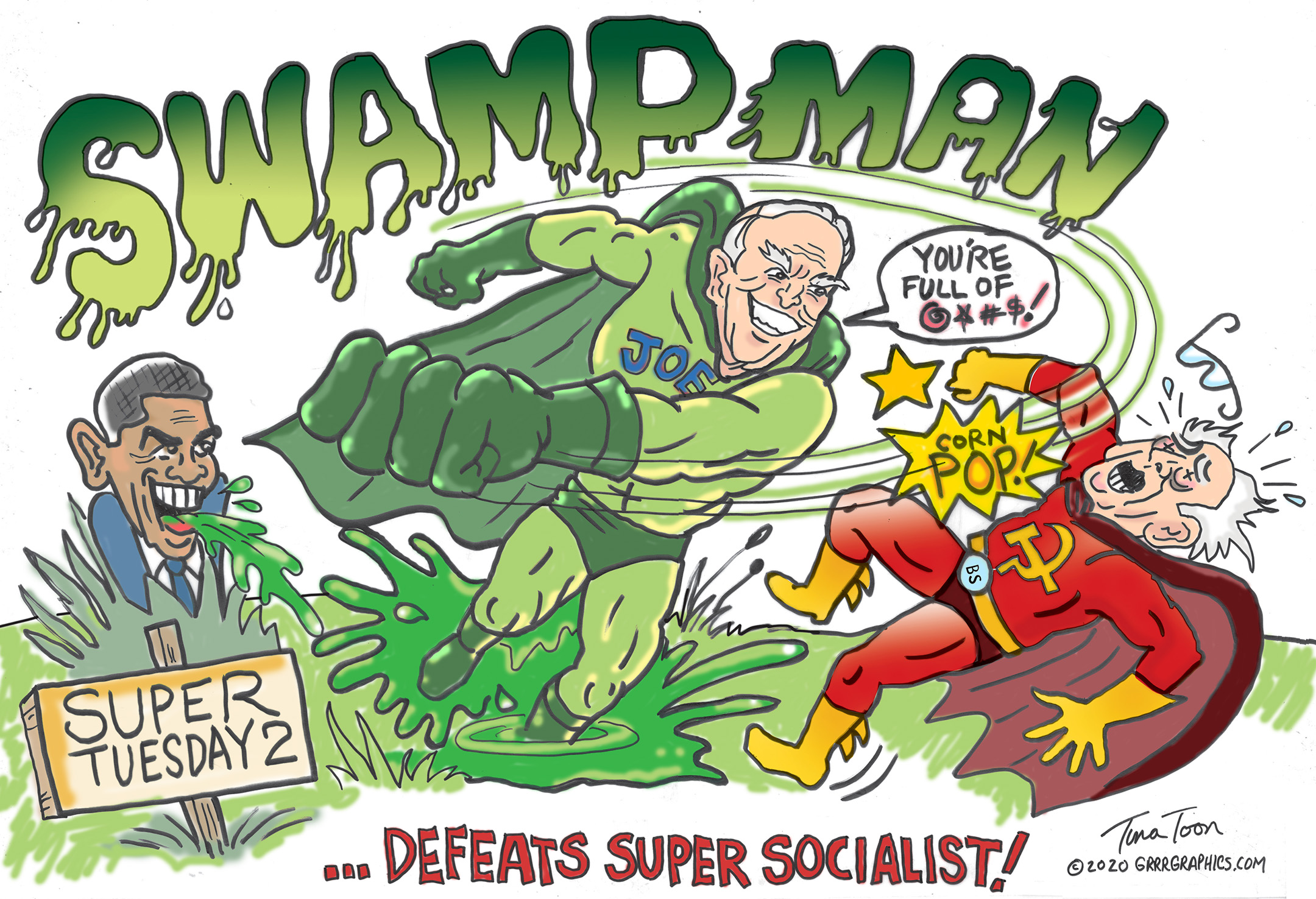 Is Bernie's campaign "berning" out?
It was "Super Tuesday 2" as six states voted in the Democrat primary.
Swampman Joe "You're full of Sh#t" Biden defeated Democrat  Super Socialist Bernie Sanders with his amazing swamp powers. Joe summoned the forces of Fake News and the DNC to combine and send burnt out Bernie back to Vermont.
Berning Man lost Michigan, Missouri, and Mississippi to Biden. Biden is expected to win Idaho and North Dakota with Washington too close to call.
If any state goes  to Bernie, it will likely be Washington State, the large population of stoner Bernie bros love their "free stuff".
Join Ben and Tina On Patreon! Support your local cartoonists with a small monthly donation!
The Democrat establishment wants Joe Biden as nominee, that is obvious. All the talk of diversity and inclusion is a ruse that the Democrat base falls for everything. Biden is an elderly white man who has been in government for 36 years. That will go over well with the radical left base that wants socialism.
The establishment wins again.
Tina
We need your support in getting Donald Trump reelected! Your purchase goes toward our country, the MAGA MOVEMENT, and President Trump!
Commemorative Trump Inaugural Limited Edition Print
$99.99
Officially signed by Ben Garrison
24″ w x 18″ h  print on high quality heavy weight paper
Shipped in a mailing tube
SPECIAL EDITION: THE BIGGEST PRINTS WE HAVE EVER MADE!
Advertised as being "one of the best political cartoonists" in the world, Ben Garrison presents, "MAGA POSTER!"
This is a special limited edition print–meaning Ben Garrison will sign it + number your print (and add any personalized notes you may choose)
ONLY 100 WILL EVER BE PRINTED.
YOUR PURCHASE HELPS US RAISE AWARENESS OF ELECTION FRAUD, STOLEN ELECTION, THE DEEP STATE, AND LETS THEM KNOW THAT YOU ARE A TRUE PATRIOT WHO LOVES THE USA!
Order yours today by clicking the "Add To Cart" button below. 
10 in stock
Description