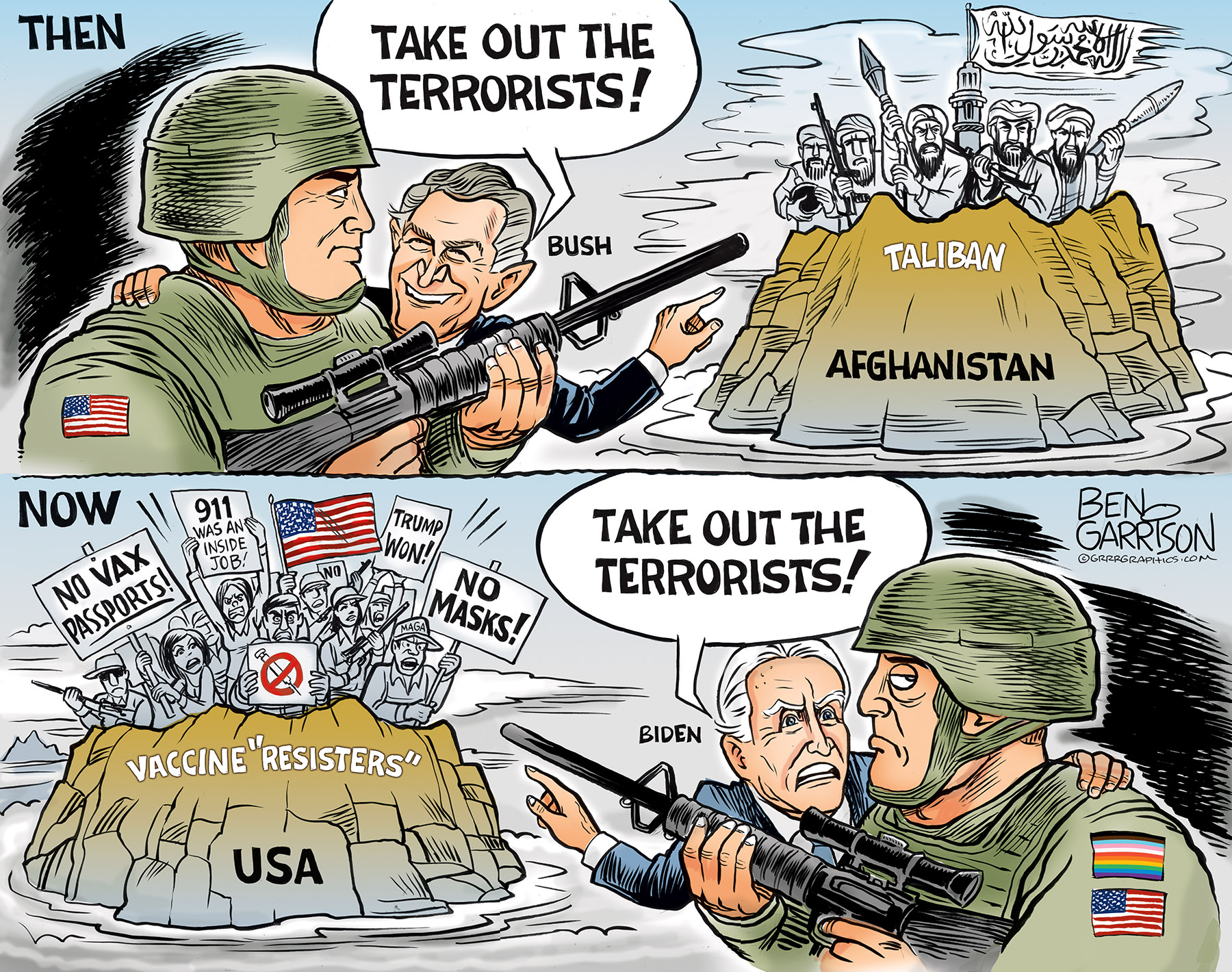 Update: Biden calls Trump supporters terrorist in red speech, they are not hiding it anymore
Will The REAL Terrorists please stand up
Twenty years ago the war criminal George W. Bush lured America into war against 'terrorists' based on lies. There were no weapons of mass destruction in Iraq. Likewise in Afghanistan, we fought not against Al Qaeda, but rather the Taliban and war dragged on for 20 years. There is some question about whether or not Osama Bin Laden was killed in Pakistan by US forces. He might have died long before of kidney disease. Obama was said to be a victorious hero even though there's no proof Bin Laden had anything to do with the 9-11 attack. It is said the body of Bin Laden was buried at sea. How convenient—leave no evidence.
Bush pushed America into what became a repeat of Vietnam. Our leaders were interested in funneling money into the rapacious maw of our military industrial complex while expanding a US empire based on lies and fear. The fear of terrorism.
Keep Ben Drawing with a one time donation at our support page- Thank You please click to donate!
So who are the terrorists now? Biden has already announced it. They're American citizens such as yours truly. Biden's terrorists resist mandatory injections of dangerous substances urged upon us by a corrupt government. We refuse to wear masks. We supported Trump and attended his January 6 rally—or we would have if we could have. We know Biden and his forces blatantly stole the presidential election. We question the 9-11 narrative given to us by corrupt government. Building 7 was a planned demolition. Scientific facts have proved it without a doubt. That means a lot of the other claptrap we've been told is false, too.
Just because we question the jabs, the 'official' 9-11 fairy tale, and the last presidential election, Biden calls us 'domestic terrorists,' and we all know what the government does when terrorists are named. They are subsequently attacked. Will Biden use the military or national guard to round us up and send us to FEMA camps? I keep seeing ads for employment at FEMA camps. They need guards. Why?
HELP US STAY ONLINE- WE ARE 100% FUNDED BY SUPPORTERS LIKE YOU- CLICK TO MAKE A DONATION AND HELP US WAKE UP PEOPLE AND SAVE AMERICA!
Biden once said there could be no revolt in America because he had hight tech equipment including nukes, drones, and F-15s at his disposal. We the people have hunting rifles. How can we resist? Well, we saw a primitive Taliban resist and they were successful. If Biden and his Marxists want to use military force against the American people, it will probably trigger a civil war. It will likely end with Biden escaping the White House by helicopter.
— Ben Garrison
This iconic Ben Garrison Original Is Available!
HISTORIC BEN GARRISON ORIGINAL ART NOW AVAILABLE! RESERVE YOUR ICONIC BEN GARRISON CARTOON TODAY -CLICK TO ORDER- CARTOONS ARE IN HIGH DEMAND!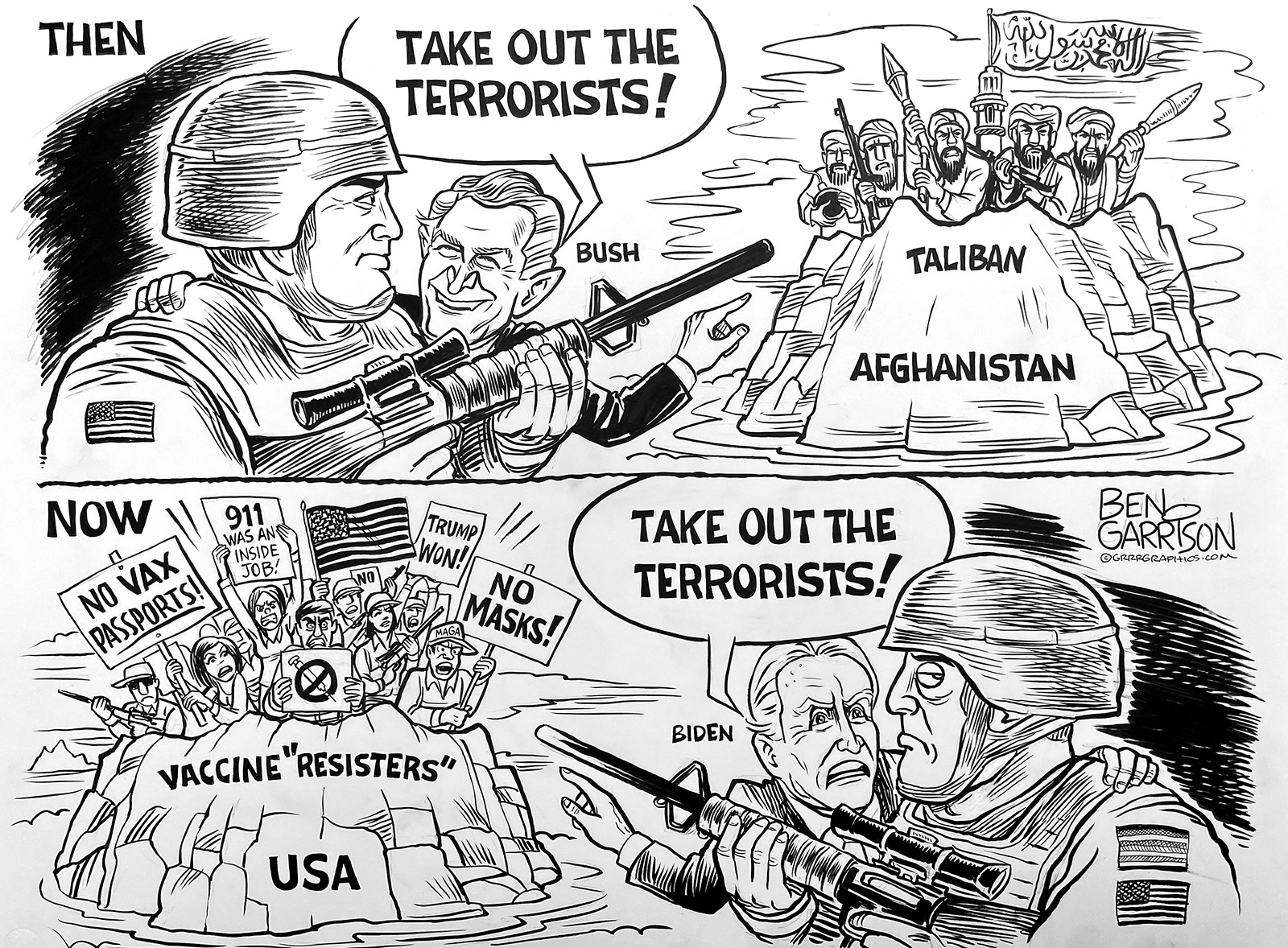 Limited Edition Prints Available! Numbered and Signed By Ben Garrison Order your today
Smaller size 11 x 17 Signed Print also Available! Click to order