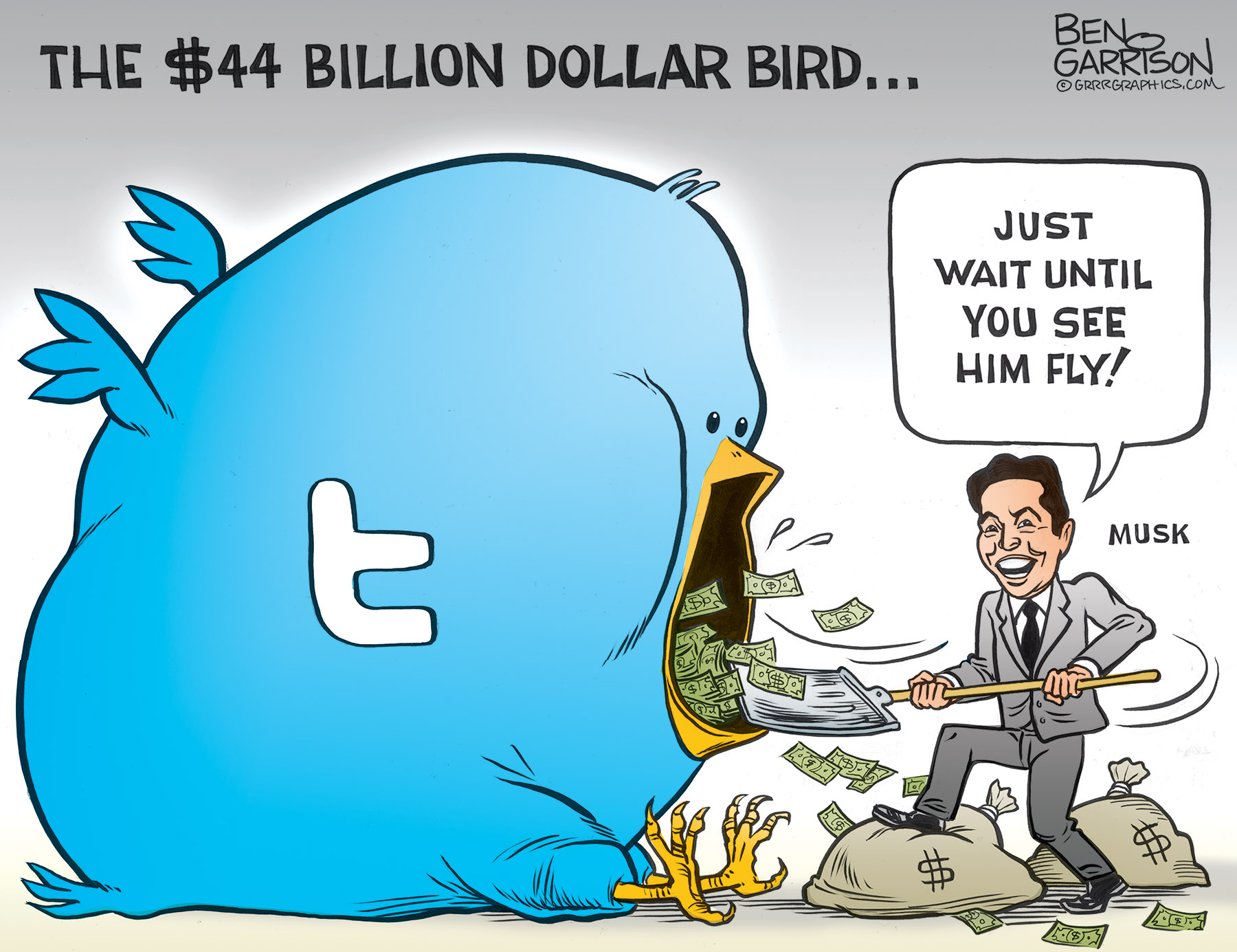 How Much Is That Birdie In the window?
UPDATE: MUSK DECIDES BLUE BIRD IS TURKEY- WANTS OUT OF TAKEOVER DEAL
Elon Musk's buyout of Twitter is a done deal. At the end, those in control of Twitter couldn't resist his fat offer of $44 billion. After all, it wasn't exactly chicken feed.
Musk has expressed a strong desire to return free speech to what once was a public square known as Twitter. Once he's in control, can we expect the reinstatement of all the conservatives who got banned? Let's hope GrrrGraphics will be included. We had nearly 300,000 followers when Twitter suddenly shut us down. They claimed we were 'spamming' their platform. (Forget what Wikipedia says about it, that page about me is chock full of lies and erroneous information).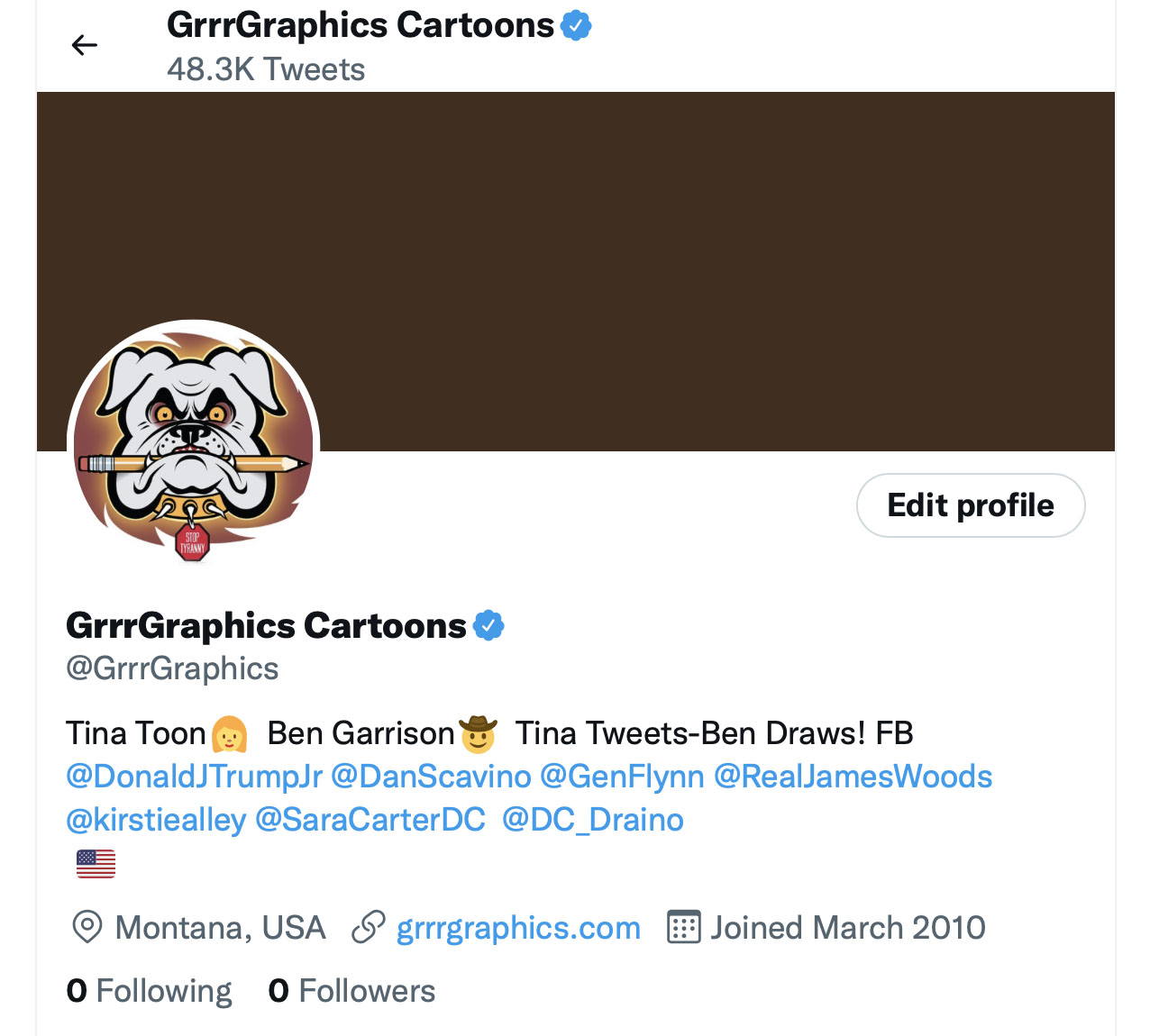 Naturally the left is terrified by the takeover news. Musk is a loose cannon among the billionairiat class. He doesn't go along with CRT or wokeism. Hillary is probably worried that a legion of deplorables will soon be back on Twitter to spread nasty memes and 'disinformation' about her. Obama and Hillary claim free speech is a threat to their democracy. Musk sees free speech as integral to democracy. All he has to do now is clean house, fire the current racist, anti-white CEO and return Twitter back to a neutral platform.
It sounds great, but will it happen? I have my doubts. Pardon my cynicism, but it all seems too easy. Can we really expect that the Deep State, the WEF, the CIA, and the central bankers will allow common folk to use Twitter as a platform to question the 'official' narratives about vaccines, the man-made climate change bunk, and the disgusting war mongering in Ukraine? These criminals have spent far too much time stamping out free speech after Trump was elected. They're not going to easily give up and allow Twitter to revert back to the good ol' days.
Twitter was on its way out well before Musk showed up. It excoriated nearly half of its user base—conservatives. Those allowed to remain are the Hollywood limousine liberal crowd, the LGBTQ-ETC types, Democrats, the leftist media entities, and the groomer crowd. It was becoming an irrelevant echo chamber plagued with bots. Its stock was in decline and many predicted it would go the way of MySpace. In a way, Musk rescued Twitter—and at a ridiculous price at that. Why would he spend $44 billion when he could have easily created a similar platform for half the price?
Will the wealthy among the left refuse to buy his Teslas? Isn't Musk afraid of that? The electric car is aligned with the globalists' climate change agenda. The rich on the left find his cars to be status symbols—they engage in virtue signaling on wheels. The rabble certainly can't afford them, but Musk is welcoming that rabble back on Twitter.
Musk is no free speech purist. He has tried to shut down criticism of his precious Tesla in the past. Will he get rid of users who criticize his company on Twitter? Was Musk somehow selected to buy out Twitter in order to restore its reputation in time for the midterms—thereby giving the left more credibility? In other words, he might talk about restoring free speech, but the fulfillment of his promise might be intentionally delayed until well after those midterms.
Something isn't adding up here. Let's see if Musk can really get his bird off the ground. I truly hope he does restore free speech on Twitter. Only then will I trust Musk.
— Ben Garrison
ORIGINAL ART SOLD