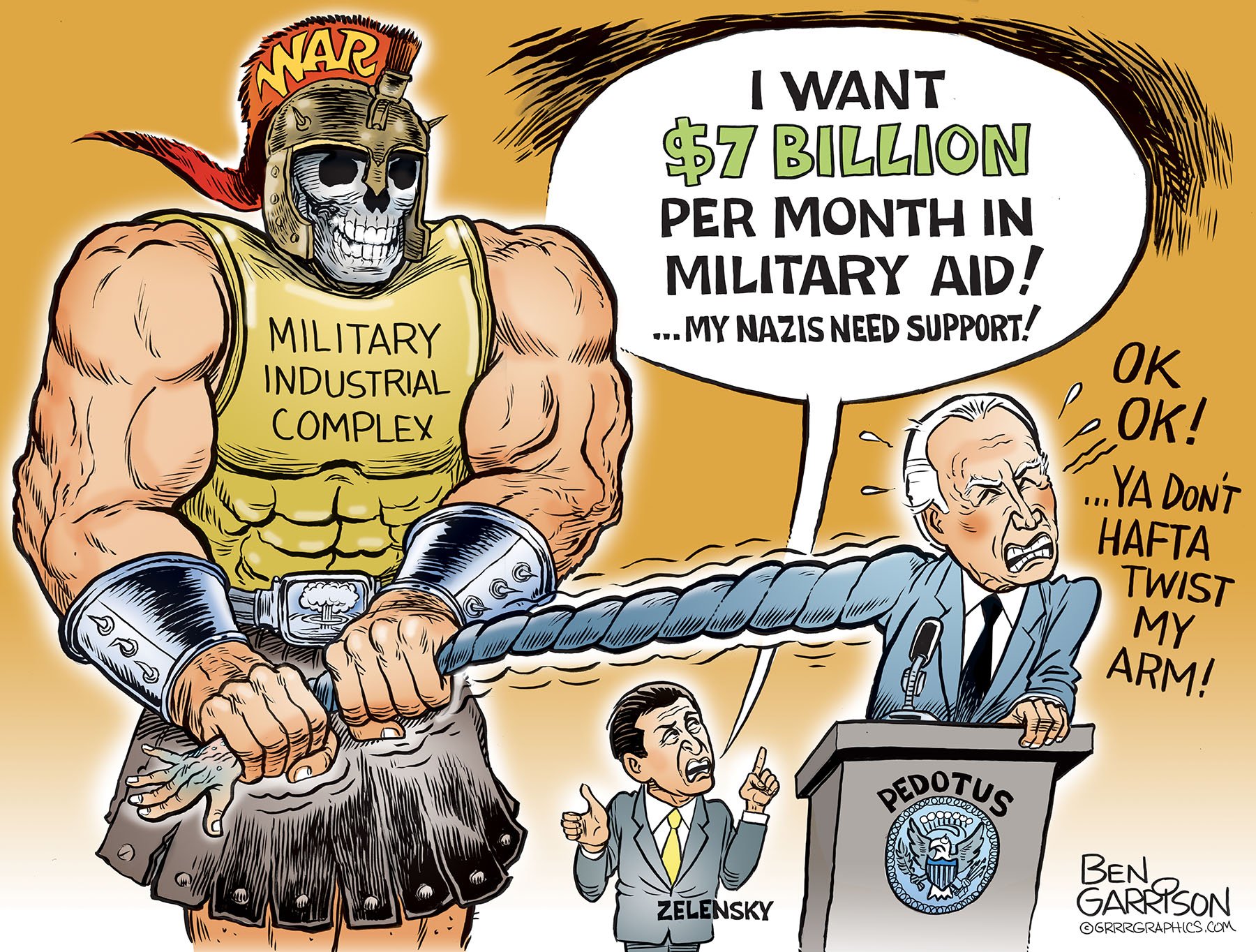 Zelensky has to keep his nazis happy
UPDATE: Resident Biden just asked for the magic illuminati number of "33" billion dollars to pour down the Ukraine rat hole. Meanwhile Americans suffer with open borders and massive inflation.
Democrats hate you.
Original Post below:
Ukraine's President Zelensky claims he needs $7 billion per month in aid and he expects the west to deliver it.
We know that Biden and his government operatives will be willing to pony up American taxpayer dough to keep the war in Ukraine raging. After all, the US Military Industrial Complex and the CIA love war. The latter helps start them. The MIC doesn't care if Biden left behind billions of dollars worth of high tech military equipment to the enemy in Afghanistan. Maybe it was done intentionally in the hopes the Taliban will use it to start new conflicts and the MIC will make even more money selling weaponry to combat the weaponry left behind.
We had no business pushing NATO onto Ukraine, which is not a Democracy. Rather, it's a Kleptocracy and now the criminals in that country stand to rake in even more graft. Will Hunter get a cut and kick 10 percent up to 'the big guy,' aka his father? Probably. The US pushed Russia into starting a war and now the MIC hopes the conflict will be dragged out bloody year after bloody year. Do they know they're risking a nuclear war? Apparently profits override such worries.
What's maddening and tragic is Biden will do nothing to protect our own borders. In fact, he insisted they be kept wide open to expedite the flow of millions of illegal aliens as well as drugs and crime. Let's face it. Dementia Joe hates America and has done everything possible during his first two years to destroy it. Biden will not spend a dime to protect our own borders, but Ukraine's borders are so precious that they deserve many billions of dollars per month to defend!
They say the midterms will solve a lot of the insanity tossed at us by the Democrats, but I'm not so sure. They stole the election from Trump…who's to say they won't steal the midterms and the next presidential election? Have they tossed the Dominion voting machines overboard like our forefathers did with the crates of tea in Boston? No. Will mail-in ballots and drop boxes be disallowed? I don't think so.
Expect the midterm elections to be stolen. The globalist bankers and WEF men made sure their man, the hated Macron, was reelected. Le Pen votes were tossed out by the score because it was claimed the ballots were 'damaged.' It's who counts the votes that matter and the WEF may as well be doing the counting. We know they don't care if we get angry or not. The angry populace cannot coalesce and carry out real action. The FBI and other security agencies quickly infiltrate and arrest such groups and label them 'insurrectionists.'
One thing we can count on—the US government and Biden will continue to fund Ukraine over America. After all, they're traitors.
— Ben Garrison
Follow @grrrgraphics on GAB,  Now live on TRUTHSOCIAL  PARLER, INSTAGRAM, MINDS TELEGRAM 
ORIGINAL ART AVAILABLE NOW- CLASSIC BEN GARRISON CARTOON RESERVE YOUR ONE OF A KIND ART TODAY!