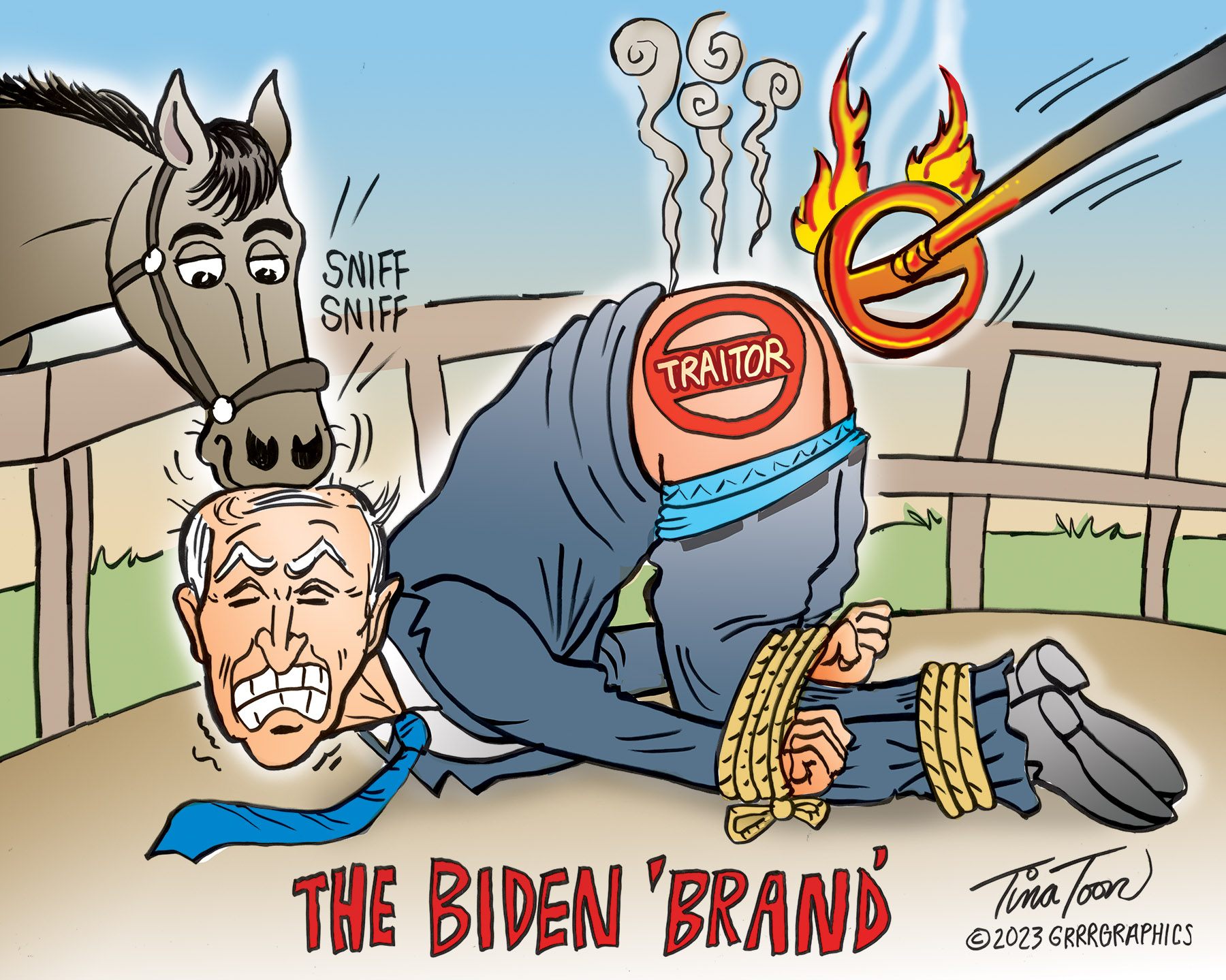 'The Biden Brand'…T for Traitor
Cartoon published 08/07/2023
Hunter Biden's long-time business partner, Devon Archer, testified that Hunter often had his father Joe make phone calls during business meetings. Hunter did this to sell 'the brand.'
Joe Biden was the one who brought value to that brand. Of course, Joe says he had zero business dealings with Hunter, but we all know Joe is a habitual and colossal liar. Archer said he estimated Joe made at least 20 phone calls during meetings and was put on the speaker phone. Joe had his son on Air Force Two during visits abroad. Joe was using Hunter to collect his graft.
Donate $10 and Keep Tina Drawing
The Ukrainian gas company, Burisma, hired Hunter solely because he was the son of the US vice president at the time. There's no rhyme or reason for Burisma to put a crack-addled Hunter on their board. Hunter had zero knowledge and experience of the gas industry, but he did have powerful political connections—his father. Joe made sure the Ukrainian prosecutor who was investigating Burisma and Hunter was fired. Otherwise, Ukraine would not get $1 billion in aid from the Obama administration. This is not only pay-for-play, it's extortion.
You are invited to join me on SubscribeStar- a Pateron alternative, for exclusive cartoons and behind the scenes look at GrrrGraphics, Click to Join!
Hunter marketed the Biden brand to other countries as well, including one of our biggest adversaries: Communist China. The Biden family raked in millions of dollars from China. Maybe that's why Joe Biden allowed a Chinese spy balloon to float freely over the US and its military installations. Maybe that's why Joe has been steadily weakening America by drawing down our oil reserve and selling it to a communist Chinese energy company that also made a deal with Hunter. Maybe that's why Joe has weakened our military and our economy. He has been bought and paid for by China.
Let's stay in touch! Sign Up for Our GrrrNewsletter today! 
Joe recently embraced 'Dark Brandon' in the form of a coffee cup that he's selling to raise campaign cash. In other words, Brandon is branding himself as an evil force—and he's proud of it. Joe is proud to be a traitor as long as he makes millions of dollars from it and goes unpunished.
As for the Biden brand, Brandon has been branded a traitor. 
— The GrrrTeam
Follow grrrgraphics on Twitter   GAB, TRUTH SOCIAL, INSTAGRAM, TELEGRAM
or join us at The Garrison!
Donate $50 Thank you for joining us on the frontlines!  SAVE AMERICA
BIG BOOK OF CARTOONS
These books were generously donated back to us by one of our loyal supporters for help in paying medical bills for Ben. Thank you, we will make it with our supporters help!
Rare copies of the BIG BOOK OF CARTOONS ARE NOW AVAILABLE 
Books Numbered 113-264-265
What is a BIG BOOK? If you are new to us, the BIG BOOK is Ben's limited edition special HUGE book of cartoons that covers his entire career!

This book is an extremely rare collectors item–as only 1000 were printed. We estimate that this book will be worth 5X-10X the listing price in years to come.