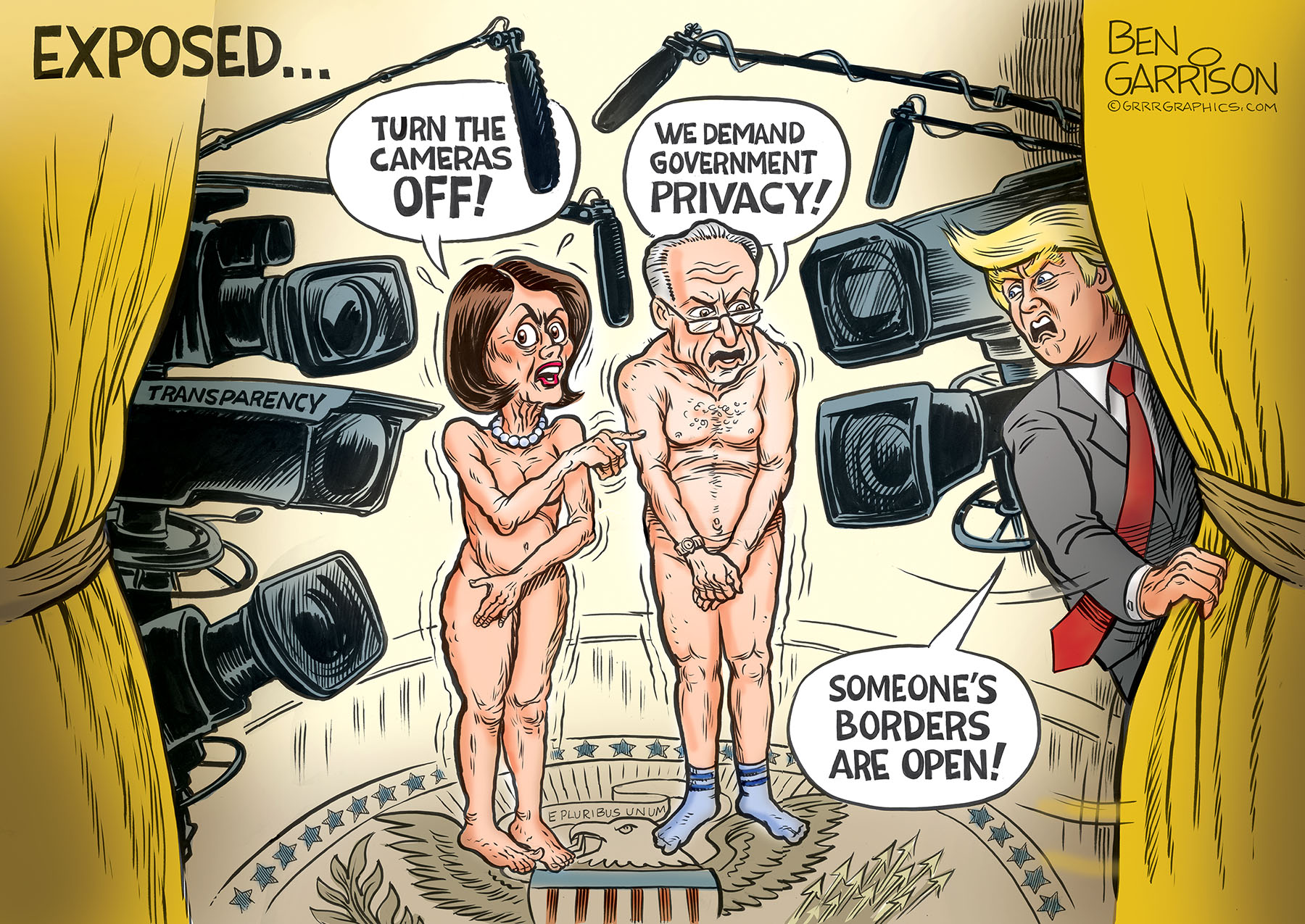 UPDATE January 16th, Speaker Nancy Pelosi wants to cancel Trump's State  of The Union Speech, claims "security issues" DHS/ Secret Service denies. Pelosi screeches "I don't care what they say"  The Speaker has no clothes! She is scared what Trump will say.
UPDATE December 22, 2018, It's officially the Schumer Christmas Shutdown- 25 % of the Government shuts down because Chuck and Nancy Pelosi care more about illegal Aliens than the American People- Secure the Border- Fund the Wall!
Original Post Below:
President Trump met with Democrat leaders Nancy Pelosi and Chuck Schumer at the White House to discuss the construction of a wall on our southern border.
They would have none of it. Trump surprised them though; he invited the news media to cover the event.
Pelosi made it clear she'd rather talk about government issues in private. In other words, she wants no transparency. She'd rather do things behind closed doors and in secret so pesky citizens can't see her clearly carrying out her corruption. Remember when Pelosi spoke about the Obamacare bill?
"We have to pass the bill to find out what's in the bill".
She must think she's royalty, but Trump revealed that this empress has no clothes.
[paypal_donation_button] 
Both Pelosi's and Schumer's pathological hatred of our president was on naked display. Schumer spoke without even making eye contact with Trump. It's clear that Pelosi and Schumer don't want to stop criminals from pouring over our southern border.
They aren't interested in protectingAmerican lives and jobs.
It's not a matter of not having the money. We have a 21 trillion dollar deficit thanks to Big Government spending. What's another $5 billion or so for the wall? The U.S. wants to give Israel $38 billion over ten years for their walls and defense. Why can't we muster the will to defend our own borders?
Trump exposed the Democrats for what they are: Self-serving socialists who are in lockstep in their hatred for our nationalist president. Trump should circumvent Congress and order the military to build the wall. It's his job to make sure America is protected.
—Ben Garrison
REMINDER BEFORE YOU GO, START YOUR FREE 14 DAY TRIAL AT THE GARRISON CLICK BELOW.  JOIN BEN AT THE GARRISON ONLINE MAGA COMMUNITY FOR PATRIOTS! 


See Exclusive Cartoons Never Published
Watch Behind The Scenes Videos
Have Direct Access To Ben 24/7
Share Your Cartoon Ideas To Be Drawn
Chat With Fellow Patriots Inside
Support MAGA, Trump, and Patriotism
Get Ready For The 2020 Election With Us