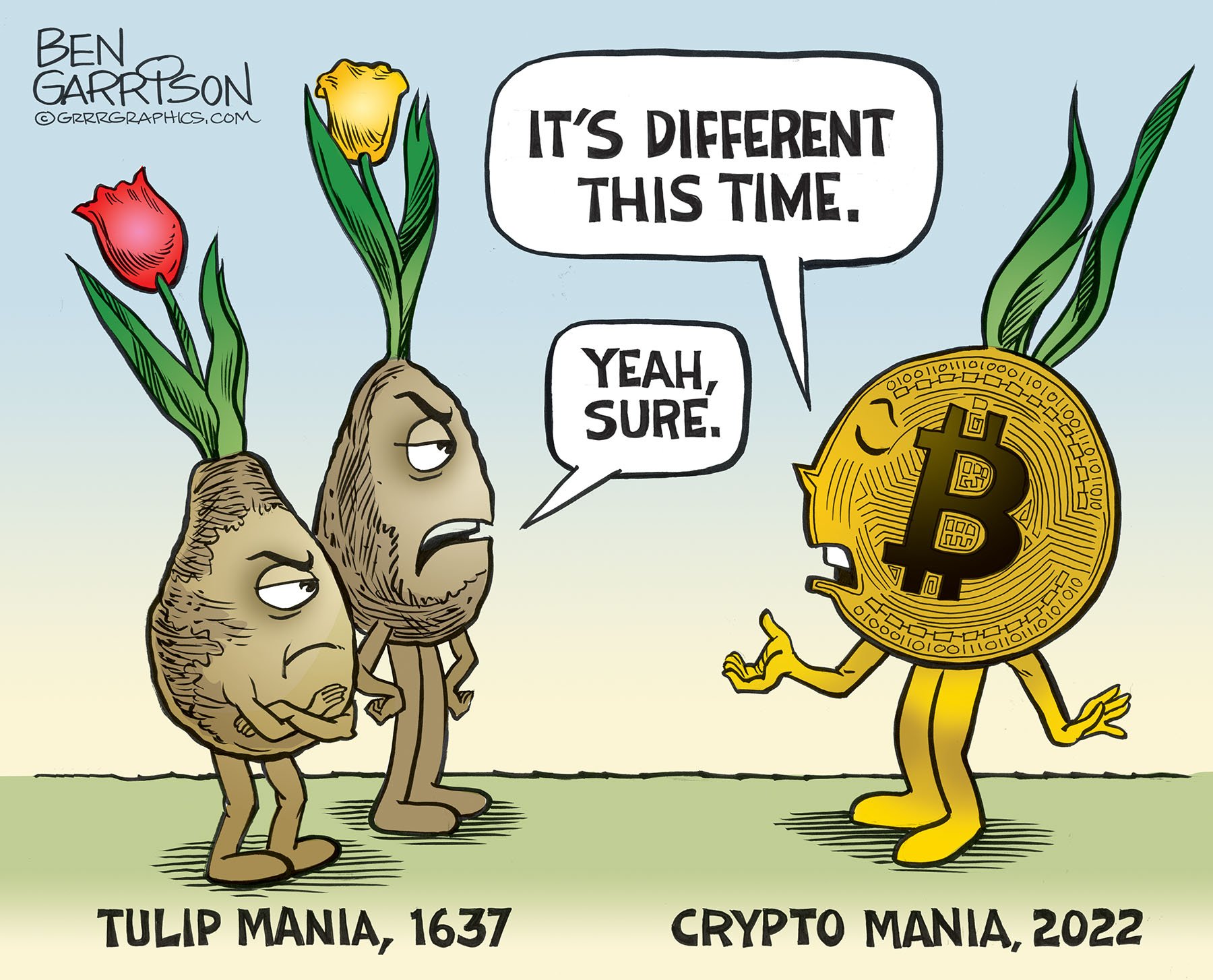 The Great Crypto Crash Of 2022
Just over a decade ago my brother told me about a new form of currency called "Bitcoin." I looked into it and decided not to get involved. It looked like a Ponzi scheme to me. A scam. Instead I stuck with silver, which soon crashed.  I should have bought Bitcoin when I had the chance.
If someone had framed crypto currency as a means to escape the debt dollar, I might have been more interested. On the other hand, there is no escape from the debt dollar. Bitcoin remains tied to King Dollar. Now we're seeing the stock market crash because the Fed is raising interest rates to combat the inflation it created. Cryptos began crashing, too.
Crypto currency, like gold and silver, are inextricably tied to the dreadful debt dollar that enslaves us all. When people ask what Bitcoin is worth today, they mean what it is worth in dollars. King dollar still rules. There was never an escape to an alternate currency. That was all wishful thinking.One could have bought precious metals instead of Bitcoin, but everyone knows that gold and silver prices are rigged.
Bitcoin prices were harder to rig, hence the moonshot rise. Still, gold and silver remain REAL money according to our Constitution. The dollar used to represent precious metal and paper currency could be cashed in for the 'real' thing, gold and silver. This was not good enough for the central bankers who were given control of our money. They wanted to print up endless fiat paper to enrich themselves and impoverish the rest of us by means of debt and inflation.
Bitcoin went up because 'greater fools' kept buying it. Now that prices are collapsing we may never see true market value because Bitcoin is backed by nothing. It certainly isn't anything physical. It's a mathematical concept. It's coding on a computer bank. Sure, some will say Bitcoin represents the expensive electricity used to 'mine' the coins and that's what gives it value, but naturally Bitcoin would have to be converted into debt dollars first to buy that electricity back and since many of the coins are now underwater, it's a losing proposition.
The biggest crypto crash was LUNA, which is related to the 'stable coin' family. It was anything but stable. It crashed 97 percent on May 11 due to a disaster with its algorithms. It's too complex for me to understand, but it was recently as high as $120 per token. As of this writing it's worth .004 cents.
There's nothing to stop other cryptos from repeating the same pattern of collapse. There is no safety net. I recommend sticking with gold and silver, even if they're boring because the price remains suppressed by the central bankers. At least precious metal is a good store of value. Gold will never go to zero.
It might be better to give up on speculating and currencies altogether. Instead, buy garden seeds, ammo, storable food, small bottles of liquor, and cigarettes. Those items might end up being more desirable for trading purposes than theoretical money, debt paper, and shiny discs of metal.
— Ben Garrison
Follow @grrrgraphics on GAB,  Now verified on TRUTHSOCIAL  PARLER, INSTAGRAM, MINDS TELEGRAM