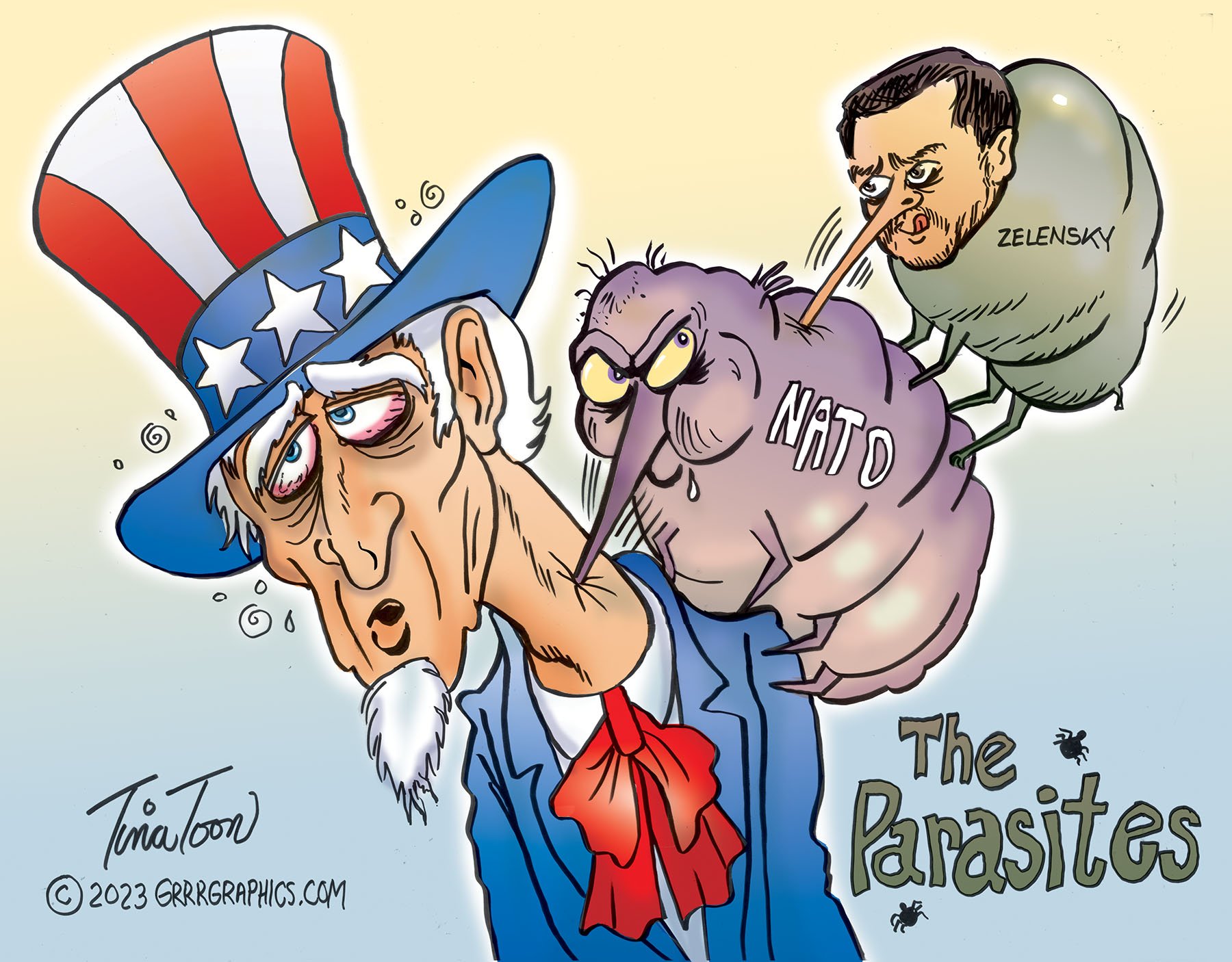 The Parasites
Cartoon published 07/13/2023
The badly-dressed Zelensky looked smaller than usual while he attended the NATO summit in Vilnius. The diminutive Ukrainian leader insisted that Ukraine be admitted into NATO, but many leaders turned their backs on him. That at least was encouraging.
Zelensky's widely-touted summer offensive has fizzled—and even Biden publicly admitted that Ukraine was almost out of ammunition. What? After pumping well over $100 billion into a country that few Americans could find on a map, they've already run out of ammo? What happened to all of that American taxpayer money? We know a lot of it was siphoned off by corrupt Ukrainian leaders including Zelensky himself. A lot of the munitions were sold to other countries. Ukraine has been a corrupt country for a long, long time and any American cluster bombs sent to that country will make both Zelensky and Biden war criminals.
Now that Zelensky knows he can't win with his current setup, he is anxious to drag the western world into World War III. Zelensky is an evil man who should never have been elevated to power. He should have remained a comedian—one who played pianos with his penis. If only Zelensky hadn't been installed by globalist powers. If only he hadn't shelled the Donbas region, which is largely populated by Russians. If only he went to the peace table when he had the chance. Zelensky wants nuclear war if necessary to keep himself in power.
The world should wake up and realize that Zelensky and his war aren't necessary. In fact, NATO itself is no longer necessary. It has been corrupted into a war machine by the globalist powers that control too many of its member countries. At least Trump wanted the leach-like NATO to pay its fair share, but what America really needs to do is withdraw from NATO entirely. While we're at it, let's also break up the corrupt Federal Reserve, the FBI and the CIA.
Signed Print Available-Order Your Tina Toon Today and support our work!
Our Founding Fathers warned us about avoiding foreign entanglements. It's time lo let Europe take care of itself. The United States should have kept out of World War I. If we had done so, WWII would have been avoided. It's time for America to give up the idea of being a globalist empire. We are not the world's policeman. We should not be the tool being cynically used to conquer the world for the WEF and the globalist bankers. It's time to stop feeding the military industrial complex. It's time to tune out the the insane uni-party war mongers who are constantly crying out for the escalation of the Ukraine war, which could lead to outright nuclear war. The fear-mongering globalists constantly push their climate change bunk upon us, but a nuclear exchange would be far more disastrous than changing weather. Yet, the war mongers aren't afraid of nuclear war. Why?
The United States and it's military Parasites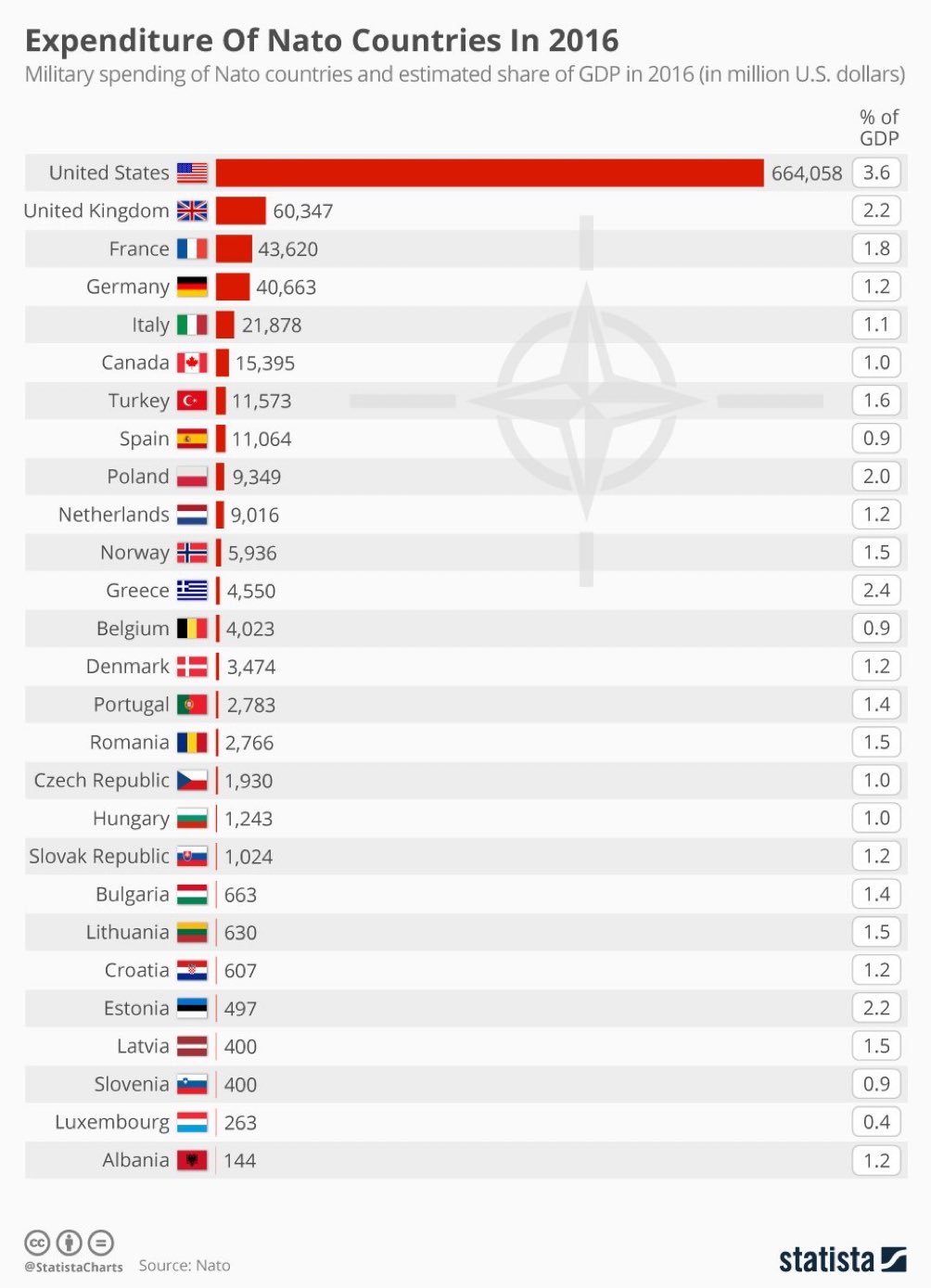 The United States has no intrinsic interest in Ukraine, but those at the top have been using it to launder money. Ukraine enables kickbacks to our corrupt politicians and their family members. It's time to denounce the lunatics who want to see Ukraine converted into a militarized, 'woke' springboard that the globalists want to use to take down Russia.
We are fundraising for 2023, You can also keep GrrrGraphics online with a purchase!  Visit our Best sellers! Click now!
What can we do? Refuse to agree with those who are pro-war. Don't get swayed by their claptrap pronouncements such as, 'We must fight the war over there before it comes here.' Denounce the warmongers. Loudly boo Mike Pence, Mitt Romney, Lindsey Graham, Nancy Pelosi and their ilk whenever they make public appearances. Stop watching the mainstream propaganda media when they loudly bang on their war drums.
If we want to take a firm stand against war, then we need to stop slouching toward supporting war.
— The GrrrTeam
Follow @grrrgraphics on Twitter      GAB, TRUTH SOCIAL, INSTAGRAM, TELEGRAM ,
or join us at The Garrison!
Are you ready to fight back against the WOKE cult and America Hating Left?
Join Ben and Tina on SUBSCRIBESTAR
An easy way to support our work with a monthly donation! PLUS SEE NEW CARTOONS FIRST BEFORE PUBLIC RELEASE! THANK YOU FOR YOUR AMAZING SUPPORT!  VIEW SUBSCRIBESTAR