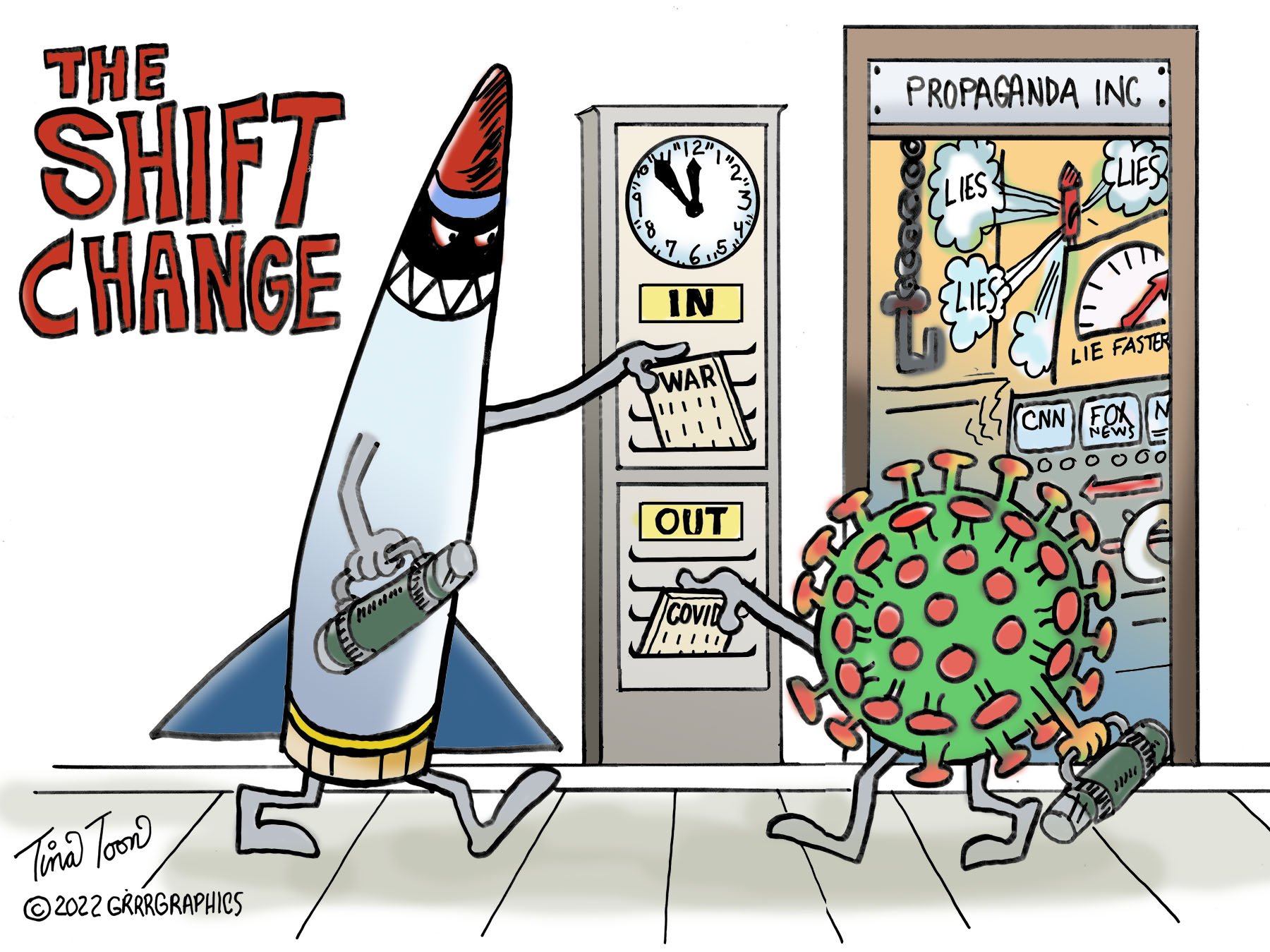 …And Just Like That, Covid Was Gone.
You've probably noticed the fake news heads are no longer talking about Covid or the vaccine. They are not urging people to get a booster shot or wear a mask. What happened to the super spreaders? And most important, what happened to the omnipresent Fauci? "Mr. Science" has vanished into the ether. What happened to his deadly virus?
Bow wow! Time to wag the dog!
Forget covid, war is back on the menu, boys! 
Sign up for GRRRNEWS Never Miss A Cartoon and Our Special Members Only Sales!
Why are media loudly beating their war drums now? What changed? The whole Russia invading Ukraine thing seemed to come out of nowhere. What better way to distract We The People from anger-inducing behavior towards the Biden regime than screaming, "Russian man bad!"
The media are trying to distract you from important stories such as:
• Biden's HHS paid major media organizations including cable TV news stations, publications, digital media companies, and many more to promote the Covid-19 vaccine narrative. If you wondered why FOX News and others flipped a switch and pounded the "get your vaccine" narrative endlessly…now you know.
• The UK Health Security Agency released staggering numbers revealing fully vaccinated people account for nine out of ten covid deaths.  Deaths are rising rapidly among the vaccinated. You are not supposed to know this and just shut up, get in line, and get jabbed.
• The WEF Great Reset is in progress. They are banning our pipelines and destroying our oil and gas industry with no new drilling on Federal lands, which is helping to cause the highest gas prices in years. They want to force you into the Green New Deal because they know you will not go willingly. They are blaming Putin for high gas prices, forgetting that from the minute Biden walked into the oval office, he banned the Keystone pipeline.
• The people are waking up. They don't want you to know that truth. The People's Convoy has blocked the DC beltway in a gigantic grass roots protest of government mandates and tyranny. This is happening all over the world but you must be prevented from seeing your fellow humans rising up.
• Inflation is the highest in 40 years. Biden is making Jimmy Carter look like a piker. Food prices are already skyrocketing and planned food shortages are just around the corner. Stock up and prepare now if you have not already.
• Biden's border is wide open. Millions of illegals are rushing in to claim their free goodies. The Democrats certainly know how to collapse the country from within.
• Election fraud is back in the news. The latest findings from Wisconsin include calls to decertify the 2020 election and take back their electoral votes.
• Pfizer has released seven pages of adverse affects from taking their experiment DNA altering fluid. We should not refer to it as a vaccine. No wonder they had to whip up a distraction.
• Most of all, Ukraine is a giant money laundering operation for the NWO. You think Ukraine isn't corrupt? Let's not forget that Hunter Biden was on the board of Burisma, a giant Ukraine Gas company. Hunter knew zero about the gas industry but he certainly knew how to kick up 10% of the graft to his father, aka "The Big Guy."
There's plenty more, but you get the point. Always watch what their other hand is doing. It's almost always up to no good.
— Tina
Follow @grrrgraphics on GAB, TRUTHSOCIAL  PARLER, INSTAGRAM, 
BEN GARRISON NFTS- FRESH NFTS JUST MINTED CLICK TO VIEW ON OPENSEA!
ON SALE FOR A LIMITED TIME