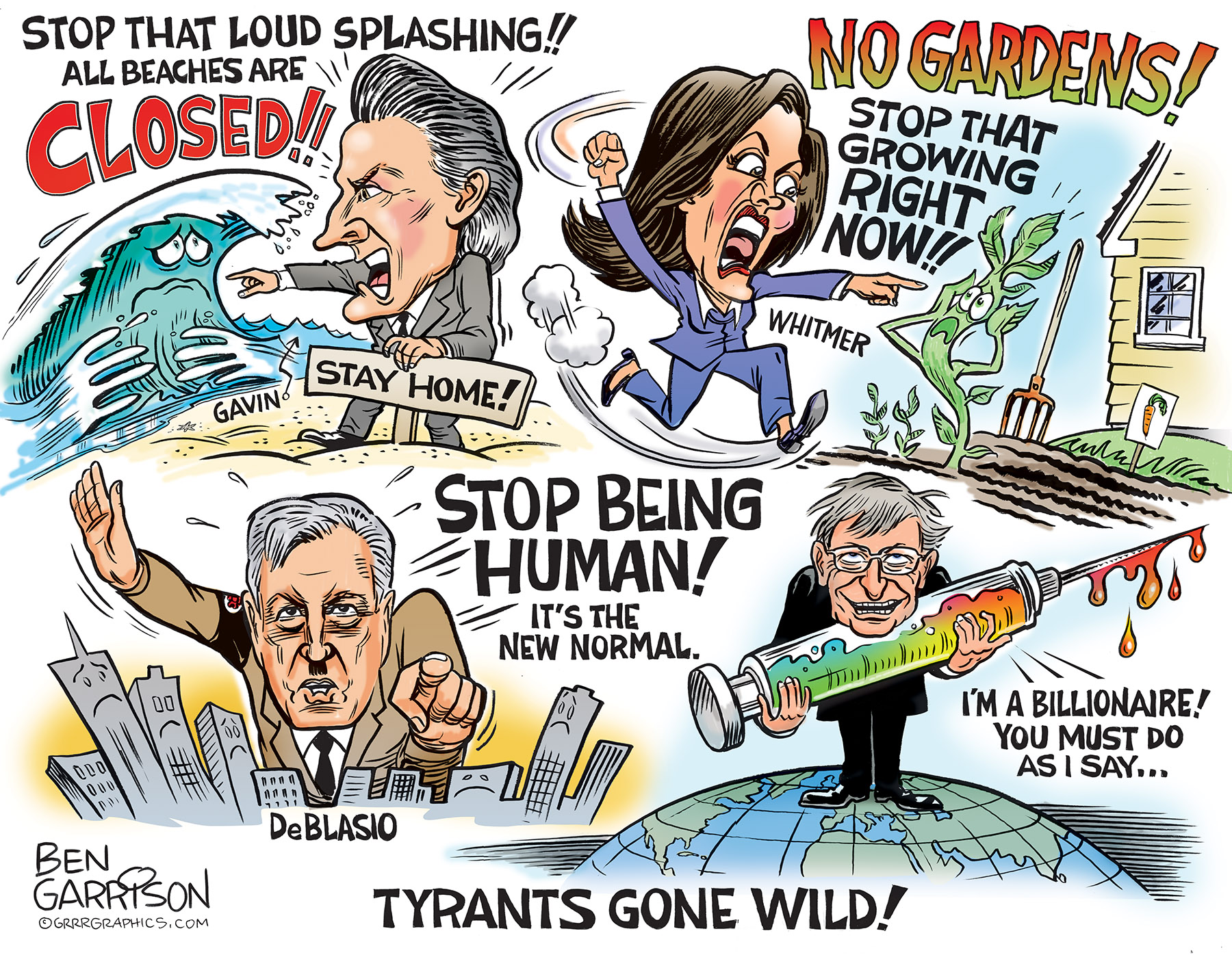 The corona virus gave many of the so-called leaders in this country an opportunity to reveal their true selves. Many may have suspected before, but now all doubt has been removed: They're vicious tyrants.
Across the country, many mayors, governors, and congressional leaders have demonstrated just what control freaks they really are. Gavin Newsom, head tyrant of California, has closed all beaches. No, you can't enjoy the waves, salt air, and sunlight—all virus destroyers—because he said so. He's going to tell all Californians what they can and cannot do. Shut up and obey!
Michigan's governor Gretchen Whitmer is a real piece of work. She denounced those who protested the lockdown as 'racist.' She made sure every Walmart store taped off their gardening sections because she considers them 'non essential.' She gets to decide what you can and cannot buy.
New York City Mayor Bill De Blasio is having a field day. He wants his city locked down until at least July. Probably after July 4th so Americans can't get together and celebrate Independence Day. The mayor crossed the line by threatening Jews who were holding prayer meetings and funerals. He instructed the police to 'round them up!'
Many sheriffs and policeman have been behaving disgracefully. I saw a video in which the local sheriff and his deputy threatened a mother because her child went next door to play with a neighbor child. Oh no, can't have that kind of freedom! The sheriff could have ignored it enforcing such an unconstitutional directive, but no…they love arresting, fining, and yelling at the sheeple. They are in tyrant heaven.
The worst tyrant of them all is the sociopath Bill Gates. His 100 billion dollar fortune has enabled him to greatly influence the medical field in a global manner, even though Bill is not trained in medicine. He doesn't have a medical degree or even a college degree. He does have experience in dirty dealing. He was a ruthless businessman who shafted other programmers as he cobbled together a buggy and virus-riddled windows operating system. Now that squeaky-voiced geek…that nerd…that unelected 'authority' … that TYRANT…wants to control us all through a vile vaccine with built-in tracking technology. If you don't take his shot, you won't be able to travel or work. We must not let Kill Bill have his way.
A horrific and dystopian future awaits us all if we don't start pushing back against the tyrants. We don't need their permission to be human beings.
—Ben Garrison
PATRIOTS HELP PATRIOTS! STAY SAFE FOLKS AND KNOW THAT WE SHALL PREVAIL! 
Things are tough for everyone, if you have the means to send a donation please do, we are self funded- keep cartoons sustainable -Donate now at our Support Page or at our Pay Pal Me! Thank you!
Note: We are an Amazon Associate. Your purchases on Amazon via our links will support Ben and Tina's cartoons- At no extra cost to you! Please click and send some love! 
Amazon Home Page