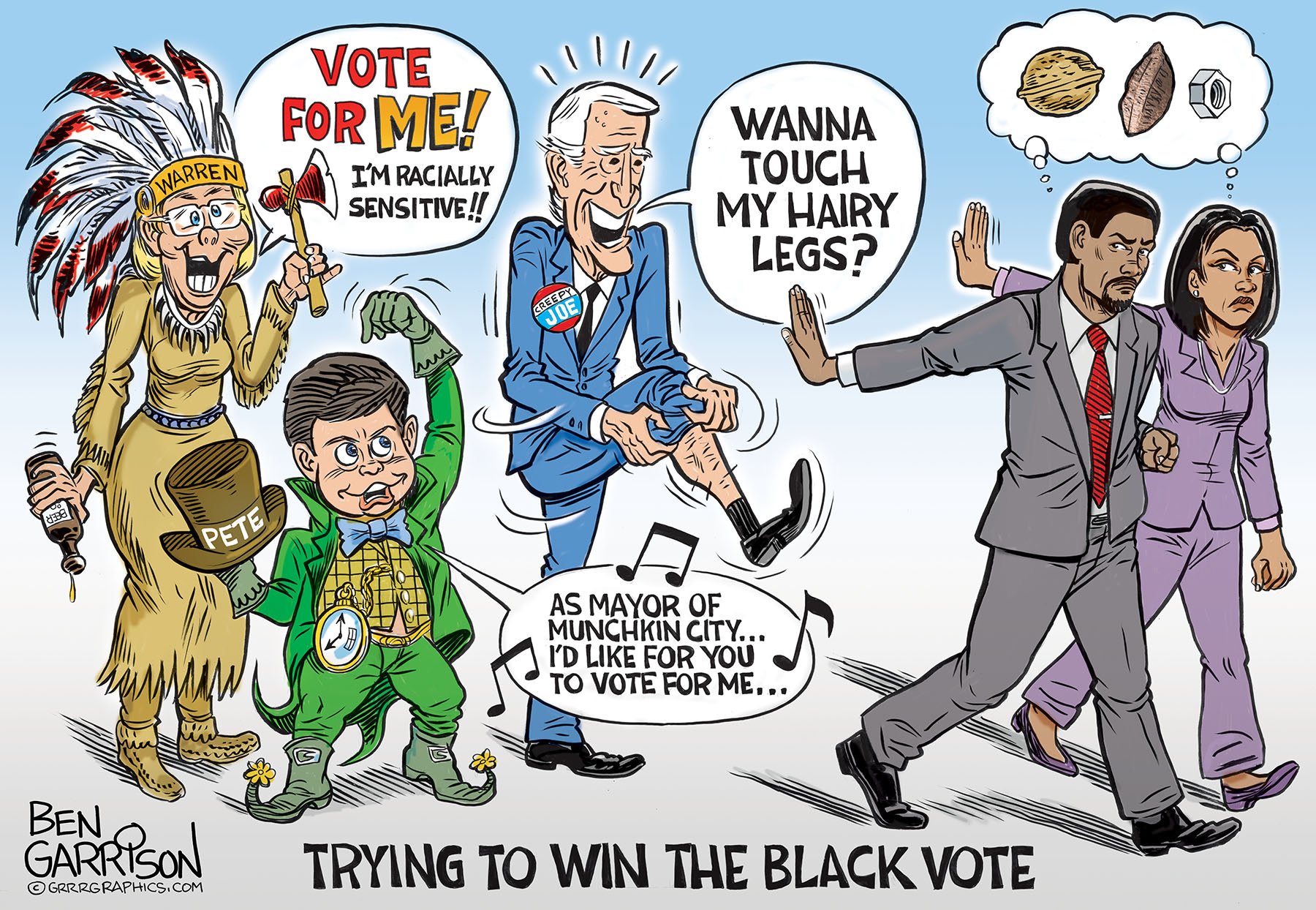 UPDATE:
Third National Poll Outlining 33/34 Percent Black and Minority Voter Support for President Trump
Democrats pander to the Black Vote
Speaking to a largely black audience, Joe Biden uttered these profoundly presidential words:
"I got hairy legs that turn blonde in the sun. The kids used to come up and reach in the pool & rub my leg down so it was straight & watch the hair come back up again. So I learned about roaches…"
"I love kids jumping on my lap."
This man is unfit for any office. He is perverted. He is corrupt. He has lost all credibility. He has lost his mind. 
Elizabeth Warren will try to appeal to black voters using an approach similar to what Obama represented. That is, she will promise them endless 'free stuff.' Free health care. Free college. Reparations. Obama came through with "Obama Care," which was hardly free. Warren will say anything to get elected. Once in office, she will answer exclusively to her globalist, corporate Deep State masters. Just like Obama did.
Pete Buttigieg faces a dilemma. It is said that most blacks do not favor gays. I didn't say it—I merely read it somewhere. If that is indeed the case, it's unlikely they will want to see someone elected who might end up smooching on his 'husband' during the inauguration ball. Pete is also very short and doesn't exactly radiate alpha male leadership. He is a Rhodes Scholar, but that is not a good thing. Pete is globalist insider. He received his indoctrination, er, 'education' at Harvard and then Oxford. These institutions do not train people to place America first.
Only when Trump was elected did African American employment reach record highs. He deserves the support of black voters—not the pandering Democrats.
There is a movement that urges black voters to "walk away" from Democrats. The history of the Democrat party is racism. The Democrats supported slavery, upheld Jim Crow laws, and were so deeply involved in the Ku Klux Klan that the 1924 Democratic National Convention at Madison Square Garden in New York City is called the "Klanbake" convention.
It is time for ALL voters to "walk away" from Democrats.
—Ben Garrison