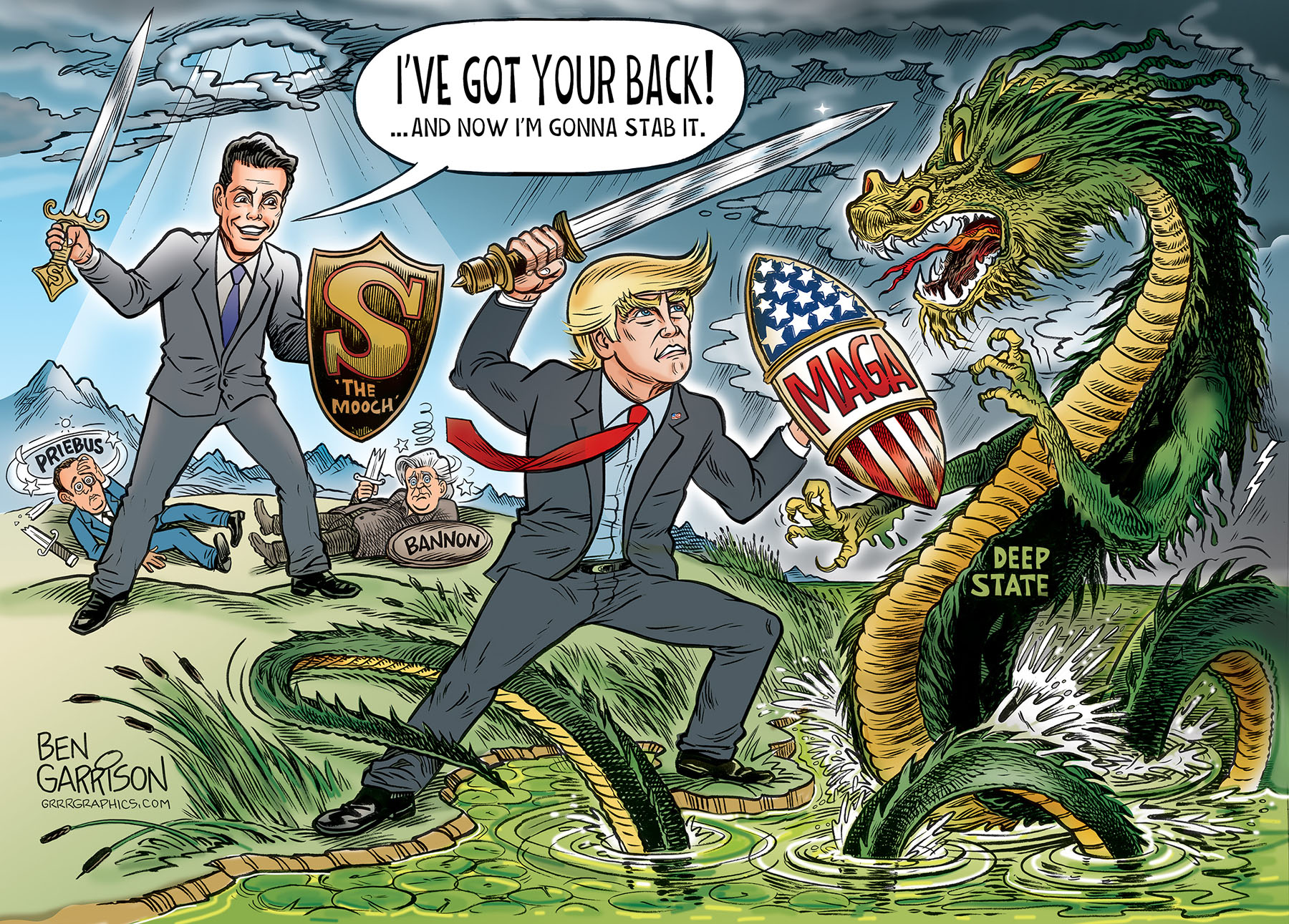 "Et Tu Mooche?"
I was commissioned to draw a cartoon by a friend of Anthony Scaramucci. 'The Mooch,' who used to follow us on Twitter, seemed pleased with it.
The cartoon was about Scaramucci being hired short term, to help get rid of Bannon and Priebus while the president did battle with weightier issues. The Mooch was saying, "I've got your back!" That turned out to be ironic, because now he's stabbing Trump in the back.
His White House stay as Communications Director lasted only 11 days before he was fired, but he still supported the president when he left. Still, maybe his feelings were hurt and he harbored resentment.
Join Ben and Tina for a Quick mug of Coffee- A fun way to Donate to Support MAGA Cartoons! We Draw For You! Coffee?—-Thank You!
I liked the cartoon so much I included it in our coffee table book, and soon all 1,000 signed and numbered copies will be mailed out.
It's not the first time this has happened. Judge Napolitano was a Trump supporter at first. He became anti-Trump when the president refused to grant him certain favors, which may have included his name being considered for the Supreme Court.
His feelings were hurt and he turned resentful.
Now Scaramucci has teamed up with the bitter never-Trumper, Bill Kristol. They are working to make sure Trump resigns the presidency next year. They apparently think Trump will get depressed over low poll ratings and step down. That seems delusional to me and wishful thinking on their part won't make it so.
Everyone is entitled to change their opinion, but it will take more than hurt feelings for me to become an anti-Trumper–and I was disinvited from the White House.
—Ben Garrison
Check out our framed prints, coffee mugs and more- Click to view!