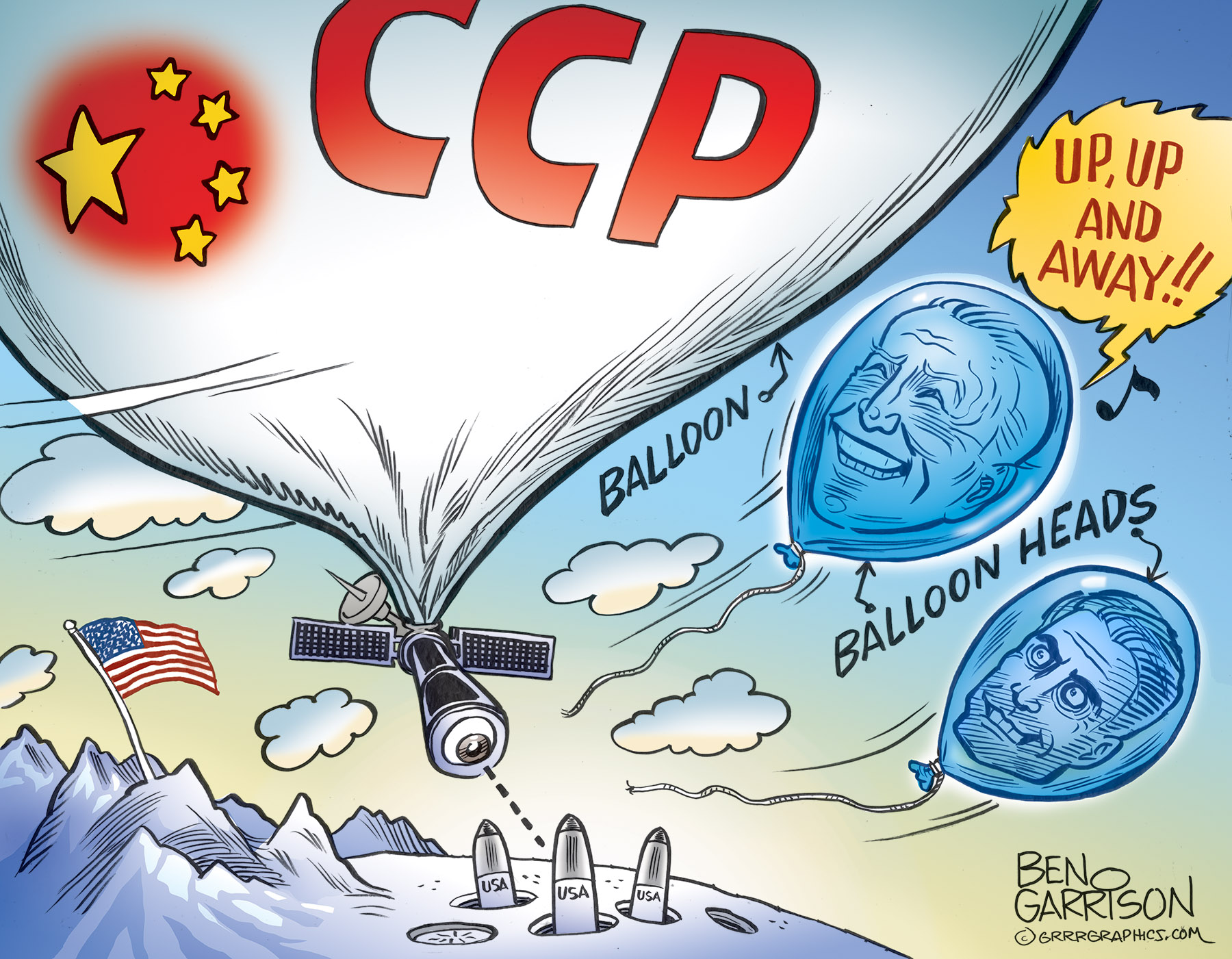 Look Up In the Sky! It's A Bird! It's A Plane! It's A Chinese Spy Balloon
Cartoon published 02/03/2023
There was a high-altitude spy balloon sent from communist China spotted hovering over our state of Montana. Now it is moving over the center of our nation heading towards North Carolina.
It was sent down over Canada and most likely engaged in spying on nuclear missile silos near Great Falls. Biden and his Pentagon traitors refused to shoot it down, claiming it might leave a debris trail and harm those below. This is a howler because Montana is very sparsely populated and it's very likely the debris would fall harmlessly on prairie snow. Even if it did fall over a city it would be worth it to make a point—the US will not tolerate a spy balloon over its territory. Would the communist regime tolerate a US spy balloon over China? Of course not.
Join Ben and Tina on SubscribeStar- a Pateron alternative, for exclusive cartoons and behind the scenes look at GrrrGraphics, Click to Join!
Apparently Trudeau is perfectly OK with such a balloon over Canada. He and Klaus Schwab have expressed admiration for the Chicoms and even think they serve as a template for global governance.
It's foolish to expect any push back from Joe Biden. After all, he has left our borders wide open to invaders, crime, and drugs. Why should he object to Chinese invaders—especially since his son made lucrative business deals with Chinese communist companies and Joe got his cut. General Milley is also a traitor who undermined President Trump by making unauthorized phone calls to his communist counterpart in China. Our government is rife with compromised politicians, bureaucrats, and military men. Apparently they serve China, not the United States.

Donate Directly To GrrrGraphics and keep Ben Drawing and fighting to Save America- Click Now
China Joe has once again proved he's a traitor. We may as well have President Xi in the White House.
— Ben Garrison
Follow @grrrgraphics on GAB, TRUTH SOCIAL, PARLER, INSTAGRAM, TELEGRAM 
or join us at The Garrison!
We are fundraising for 2023, You can also keep GrrrGraphics online with a purchase!  Visit our Best sellers! Click now!
Please Support Ben's Work Visit Our 2023 Fundraiser at GIVESENDGO! Click Now
If you can not donate then please share our campaign on social media! Thank you!
SHARE/DONATE AT    GIVESENDGO.COM