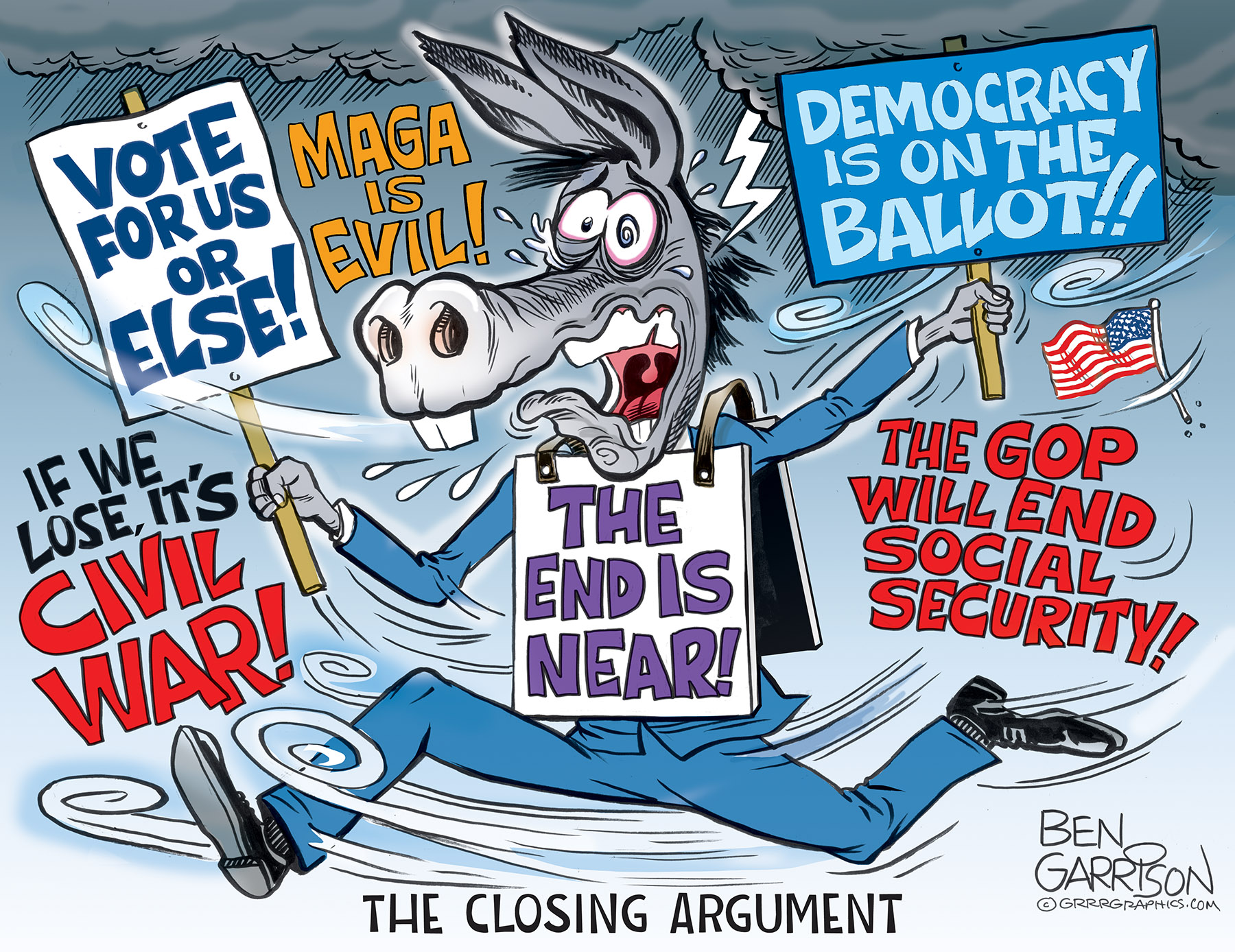 The Democrats are desperate.
They know they are directly responsible for wide open borders, rampant inflation, a recession, pushing fascistic medical tyranny, out of control crime, a decline in education, the sexual mutilation of children, and even the threat of nuclear war. The Democrats are ignoring their own shortcomings and have resorted to outrageous lies and fear mongering. The Democrats claim if the Republicans control Congress it would mean the end of democracy itself. They claim 'democracy is on the ballot,' even though the very act of voting is an exercise in democracy.
What the Democrats really fear is losing their power. The globalist Davos crowd, the WEF, and the central bankers who control the jackass party do not want to give up the progress they've made. Therefore, I wouldn't be surprised if operatives for the Democrats cheat again. After all, our system is designed for cheating.
Support MEGA MAGA cartoons with a monthly donation at Subscribestar in one easy click!
Mail-in ballots, drop boxes, and especially easily-hackable voting machines connected to the Internet makes it all too easy. We need to implement the strict use of paper ballots cast in person and with voter ID. That way the votes can be counted in an expeditious manner. The longer the delays, the more chance of cheating.
The fact that the Democrats are in a panic is a good sign. It means they know they'll lose—and perhaps it also means they realize they can't ramp up the volume of cheating necessary for their victory. 
— Ben Garrison
Follow @grrrgraphics on GAB, TRUTH SOCIAL, PARLER, INSTAGRAM, TELEGRAM 
or join us at The Garrison!
Donkey Cartoon is Available as signed Print Click to order yours today
Invest in your future – and the future of freedom – and make the one and only Ben Garrison "Joe Versus the Volcano"  original artwork yours. 
SUPPORT BEN'S WORK WITH A PURCHASE!