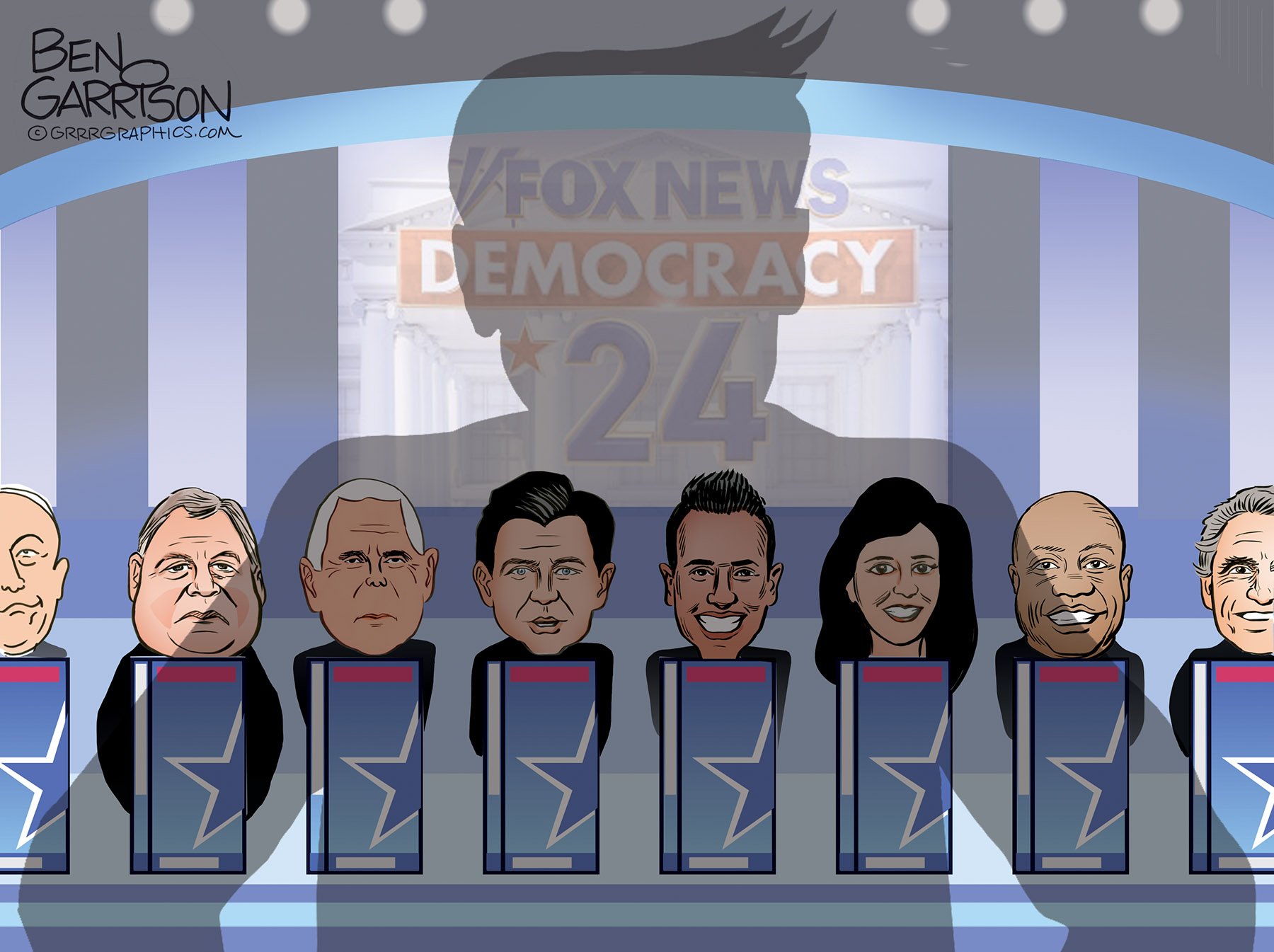 Fox News RINO Game Show Overshadowed By President Trump
Cartoon published 08/24/2023
President Trump teamed up with Tucker Carlson and delivered a compelling interview on X, (the platform formerly known at Twitter.) By the time of this posting, Thursday morning, the Tucker Carlson/Trump interview had amassed 210 million views. Fox News' RINO act didn't even come close to that number. Even with the FOX stable of hacks hyping the first GOP debate all day.
I watched the Trump interview on X and Ben got stuck watching the RINO uniparty losers on Fox. I got the better deal. President Trump answered most of Tucker's questions honestly and only danced around a few. It was a great interview that touched on questions that Bret Baier would not have touched.
The best Tucker questions were:
"Do you think we're moving towards civil war?"
"Whatever happened and Mike Pence? He's out there attacking you. What is that?"
"Do you think Epstein killed himself, sincerely?"
"It started with protests against you and then it moved to impeachment twice and now indictment. Are you worried that they're gonna try and kill you? Why wouldn't they try and kill you, honestly?"
Questions you would NEVER hear on a Fox News debate.
My favorite part of the interview occurred when Tucker called his former colleague Chris Wallace, a "bitchy little man."
Watch the Trump interview on X—it's definitely worth the time!
—Tina
Ep. 19 Debate Night with Donald J Trump pic.twitter.com/ayPfII48CO

— Tucker Carlson (@TuckerCarlson) August 24, 2023
Ben's Take On The RINO Game Show on Fox
While Tina watched Trump's interview with Tucker Carlson, I tuned into the debate hosted by FoxNews. They kept saying Trump was the missing elephant in the room. He still loomed large in everyone's mind. He cast a huge shadow over the debate, hence our cartoon.
I thought Vivek was the winner. Huge props to Vivek as he was the only one who spoke the words, "Climate change is a  scam." The Florida governor DeSantis was a weak 2nd place. DeSantis had a moment where he looked around on how to answer a question. Devisating.  Who came in last place? Pence. Not only is Pence a traitorous backstabber, he's also a terrible war monger who wants more blood as he wraps himself up in religiosity. Pence was aghast that Ramaswamy was against the war as well as the RINO establishment, of which Pence is a part.
I have little tolerance for those who would like to keep the US entangled in another long, bloody, useless conflict that we drains lives and taxpayer money. Pence and Christie both railed against Putin and called him a murderer. Somehow it's the job of America to be the world's policeman and put down such tyrants and murderers. It doesn't occur to many that America is at fault, having allowed the CIA to take out lawfully elected leaders. Our own leaders (Bush and Obama) are outright war criminals, but Pence isn't worried about that.
NATO was successful at bringing about an end to the Soviet Union. It's past time we put an end to NATO and its warmongering and bullying. Nikki Haley would reject my argument and say I have no foreign policy experience. Well, sometimes those with plenty of so-called experience make the worst mistakes.
Christie came in next to last place due to his war mongering and anti-Trump backstabbing. The audience booed Christie and Pence while cheering the non-RINOs—and that's a good sign.
— Ben Garrison  
Signed Print Available  Click to order