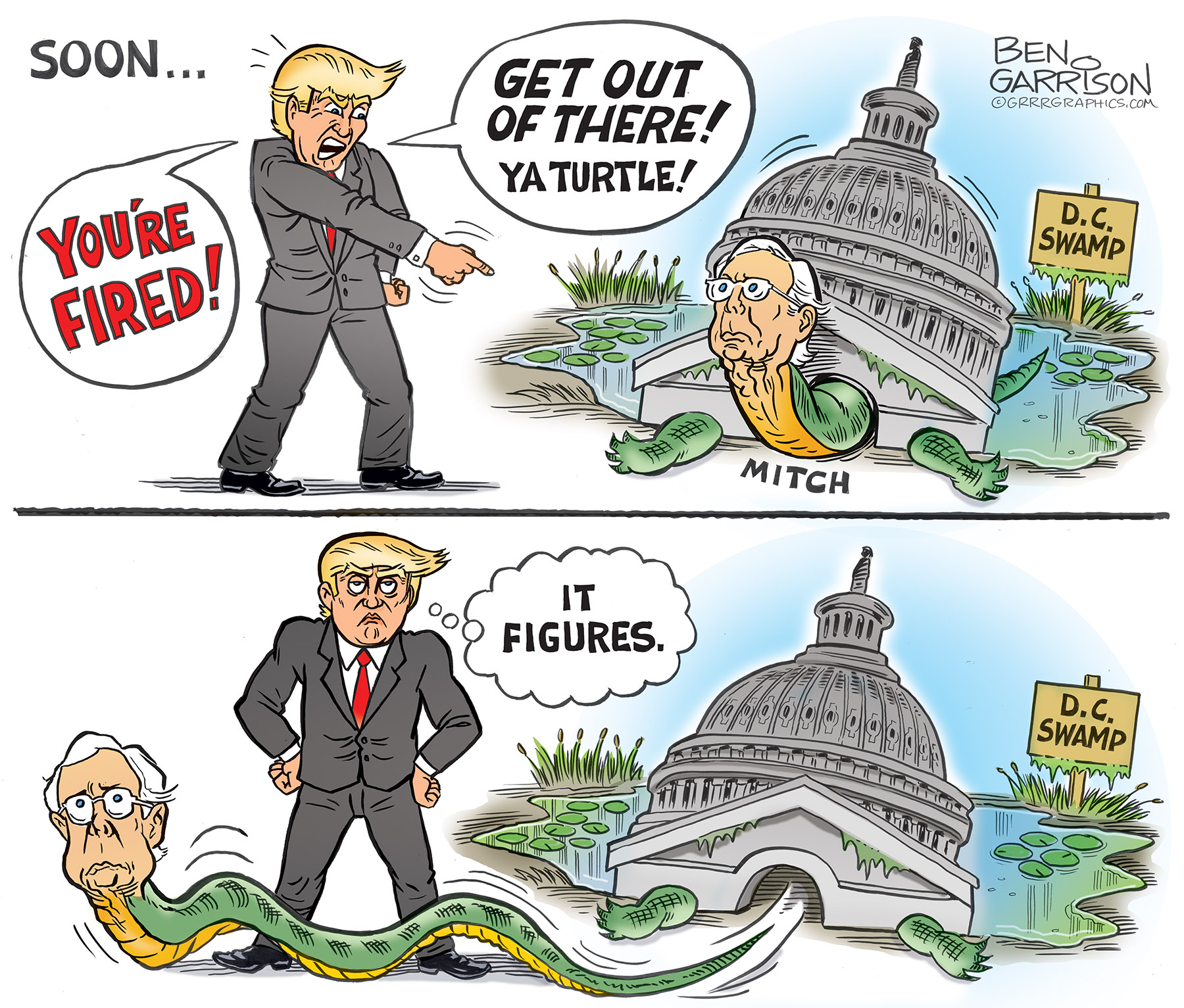 Drain The Swamp Again
President Trump has had many from his own party betray him and in fact I once drew a cartoon titled 'The Backstabbers' and it illustrated the major offenders. Those lined up to stab Trump in the back included Mike Pence, General Kelly, Lindsay Graham, Mitt Romney, John Bolton, Bill Barr, George Bush, and of course, Mitch McConnell.
Perhaps I should have drawn McConnell leading the long line of knife wielders. 

During his presidency, Trump did his best to work with McConnell, but Mitch represented the neocon anti-Trumpers and he had no intention of helping Trump drain the Deep State Swamp.
Keep Cartoons Online Click to Donate!
McConnell hasn't supported Trump after the January 6 Capitol protest. Like Pelosi, Mitch reveled in the prospect of impeaching Trump. He said "If this isn't impeachable, I don't know what is." As part of the Republican anti-Trump establishment, McConnell does not want Trump to run again. Trump called McConnell an 'old crow.' An old turtle might be more accurate.
Mitch also supported the recent gun control bill, which irked Trump. Steve Bannon said McConnell has betrayed Trump and said, "Mitch McConnell, that dirt bag right there, gave the Biden regime $2.5 trillion to fund their madness." McConnell sided with the Democrats, which helped usher in the inflation Americans are now facing. Mitch is part of the 'uni-party,' and Trump is more of a populist who wants to make America great again. McConnell wants to preserve the current power structure. The old turtle is really a snake and he wants to protect his Swamp.

If the Republicans regain a majority in the Senate, it will be time for them to oust McConnell as their leader. That may not happen, though, because there are too many neo-con Republicans who side with the uni-party globalists and the Deep Sate. Dr. Oz may be among them. Why Trump supported Oz is baffling, but Trump also appointed a great many Swamp dwellers to his own cabinet. This is a mistake he must not repeat if he's reelected.
Drain the swamp again!
— Ben Garrison

Follow @grrrgraphics on GAB,TRUTHSOCIAL PARLER, INSTAGRAM, TELEGRAM 
Cartoon Available as signed Print- Order your print today
ORIGINAL CARTOON AVAILABLE! RARE DONALD TRUMP CARTOON ONLY ONE EXISTS IN THE WORLD – RESERVE YOUR ORIGINAL TODAY!