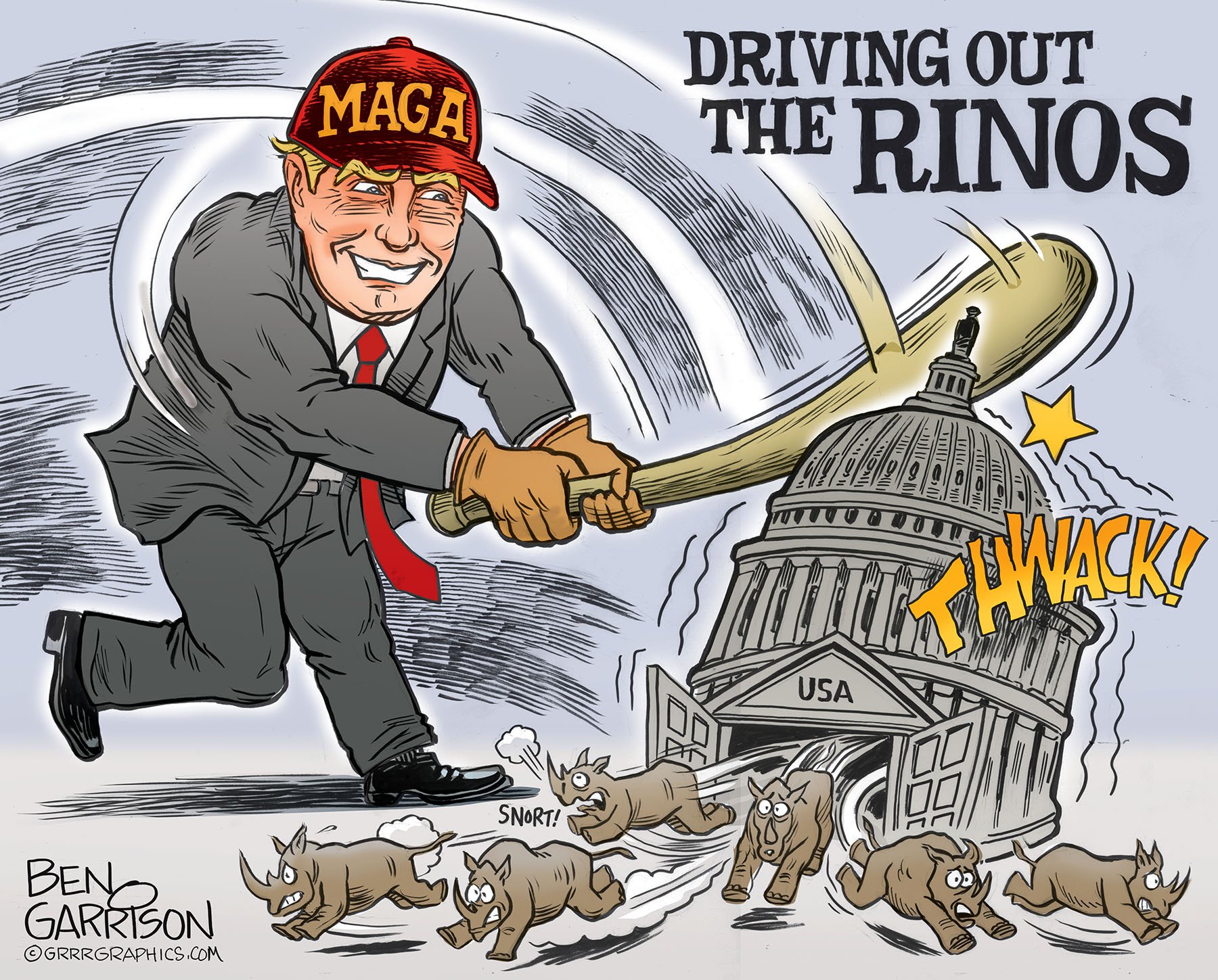 Driving Out The RINOs
Cartoon published 11/04/2023
The Republican Party has long been controlled by politicos such as Karl Rove. He resembles a rhinoceros somewhat—which is appropriate since he represents the RINO (Republican In Name Only) species of the Republican party. Rove, like Christie, Romney, Pence, and many other RINOs, is an anti-Trumper who never fails to bash the 45th president.
Rove and his ilk cheated to make sure Ron Paul never had a chance during his 2012 presidential bid, but with Donald Trump they are losing their battle, and Rove probably knows it. Trump's popularity is simply too overwhelming.
RINOs love to 'go along to get along.' They team up with Democrats to form the UniParty, which seems bent on taking away our freedoms while spending us into oblivion. RINOs such as John McCain and Mitt Romney were 'never Trumpers.' They allowed their hatred of Trump to consume them. McCain voted for Obamacare to spite Trump. Romney voted for Trump's impeachment. McCain died of brain cancer. Romney will not run again because he knows he can't be reelected. He's become a figure of ridicule—a Pierre Delecto, hecklers hurl insults his way and he deserves them. 
Rove still thinks Trump will lose if he gets convicted from any of the bogus charges invented against him. That may be wishful thinking on the part of Karl. If anything, it will only increase Trump's poll numbers. 
We saw what happened to the former House Speaker, Kevin McCarthy. His RINO behavior was his demise. Another RINO that needs to go is Senate Republican leader Mitch McConnell. He recently said that he saw 'eye to eye' with his counterpart, Chuck Schumer. McConnell is an anti-Trumper and backstabber. He needs to be driven out of office by the voters as well. 
Some RINOs realize the future is America First and resign. In fact Rep. Ken Buck from Colorado plans on not seeking reelection. Good riddance to Buck, a man who represented his own interests, not those of the good people from Colorado's Fourth District. He can see the writing on the wall and the writing is MAGA.
If anything, Trump raised awareness of the UniParty Deep State Swamp and those who pretend to be Republicans, only to turn into RINOs once they reach office. They all need to be voted out and replaced with the MAGA-minded.
— Ben Garrison
Follow grrrgraphics on Twitter   GAB, TRUTH SOCIAL, INSTAGRAM, TELEGRAM
or join us at The Garrison!
Together we win!  Signed Print Available
Buy your one-of-a-kind, original Ben Garrison
This snapshot of history in the making comes as an amazingly attractive piece of artwork. Depicting America's current fight against tyranny and globalism, this cartoon is one for the history books.