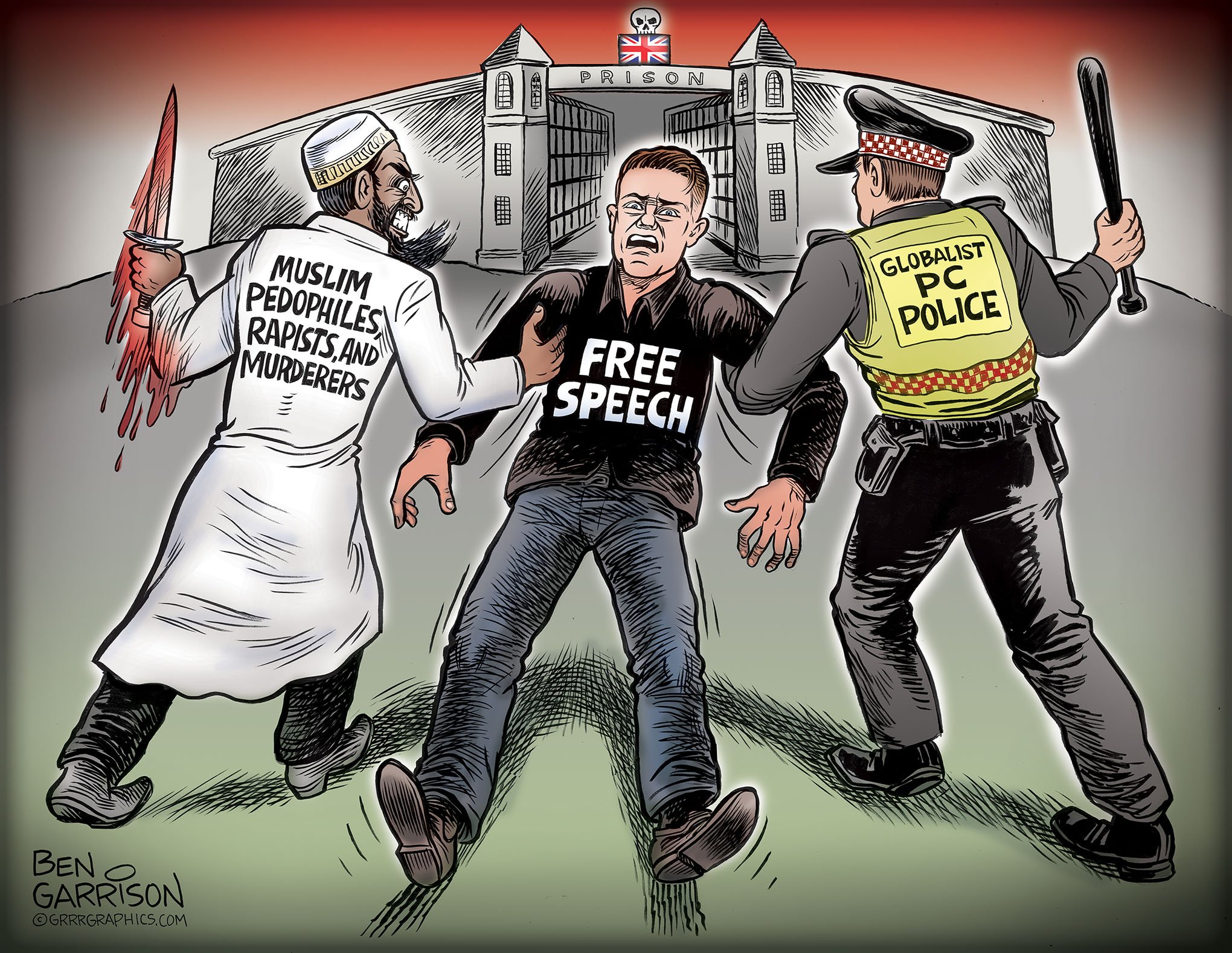 Great Britain has become an Orwellian, globalist police state. Once the land of the Magna Carta, it's now the land of tyranny.
Free speech is gone–the imprisonment of Tommy Robinson proves that. There was no legitimate charge, no trial, no due process. Instead, he was disappeared into jail where death threatens him. Remember, an anti-Muslim Englander was imprisoned for a year for leaving a bacon sandwich near a mosque. He was murdered while locked up. The same threat looms for Robinson. The media are not allowed to talk about it. It's the 'law.'
Robinson is a whistleblower who cast light on a huge problem in his country: Muslim pedophile rape gangs. Apparently Muslims are a protected caste and so Robinson was arrested and locked up. He was on parole and the British authorities were determined to lock him up again on any pretense. They said he was a 'threat to the peace,' which is ridiculous.
Get Ready to Drain the Swamp! With Your support of our revolutionary art, together we can truly win the war against the Globalists and the Fake News Media!
What's next, England—people getting 'disappeared' into gulags or the being shot in the back of the head, Stalin-style? It's good to see many patriotic citizens in England protesting Robinson's arrest. Unfortunately, they've all been disarmed. Let that reinforce a lesson for us Americans: Never, ever give up your guns. If our government ignores our Constitutional rights and tries to 'disappear' us into prison camps, we'll know what to do. Remember the words of Solzhenitsyn:
"And how we burned in the camps later, thinking: What would things have been like if every Security operative, when he went out at night to make an arrest, had been uncertain whether he would return alive and had to say good-bye to his family? Or if, during periods of mass arrests, as for example in Leningrad, when they arrested a quarter of the entire city, people had not simply sat there in their lairs, paling with terror at every bang of the downstairs door and at every step on the staircase, but had understood they had nothing left to lose and had boldly set up in the downstairs hall an ambush of half a dozen people with axes, hammers, pokers, or whatever else was at hand?… The Organs would very quickly have suffered a shortage of officers and transport and, notwithstanding all of Stalin's thirst; the cursed machine would have ground to a halt! If…if…We didn't love freedom enough. And even more – we had no awareness of the real situation…. We purely and simply deserved everything that happened afterward."
 Stop the Censorship of Truth- Click to make a one time Donation 
 The sun once never set on the British Empire. Their light of freedom is now gone. It's a country divided by their 'diversity' and permeated by darkness. If the Deep State globalists have their way, America will be next.
It's time to take a stand for the Freedom of Speech across the world.
—Ben Garrison