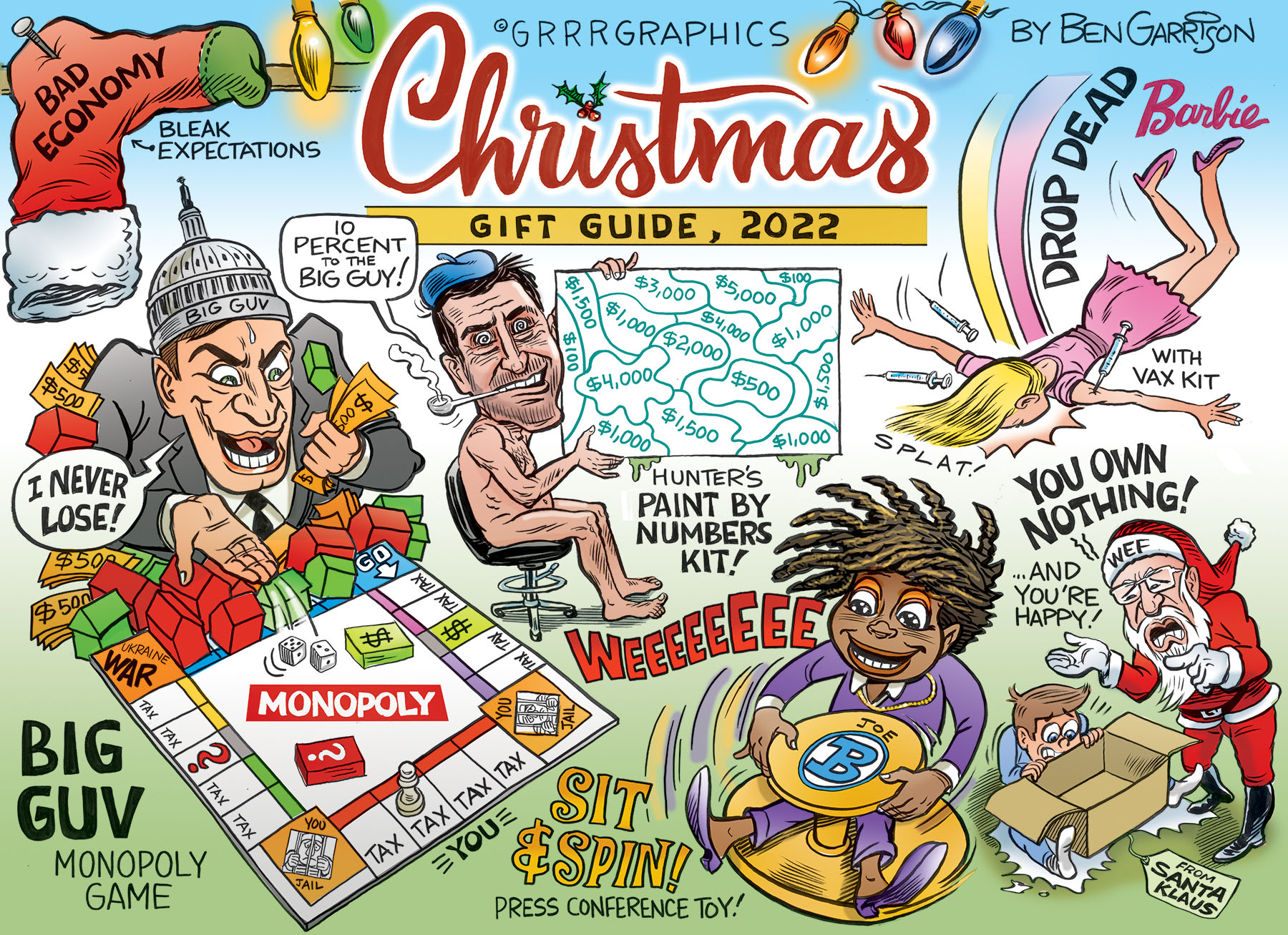 GrrrGraphics Christmas Guide 2022
We at GrrrGraphics are a little late with our annual Christmas Gift Guide cartoon. We blame the severe winter weather we've had lately. It has slowed us down and put us in hibernation mode. However, it should warm up to freezing by Christmas, and after that we'll see if we can ramp up production. The news cycle always gives us plenty of idea gifts, even if some of them seem more like lumps of coal.
Our cartoon features a board game, an action toy, a doll, a craft kit, and an empty box. As for the latter, well…they all can't be winners, kid. Life can be tough. There is a recession going on, which means many stockings will be empty.
Here are some more suggested gifts for Santa to deliver:
Zelensky: Someone buy this dwarf a suit so he can stop disrespecting the USA when he shows up wearing his nipple-popping green t-shirt at Congress while demanding more 'mah-ney.'  Merry 'Griftmas' to Ukraine.
Texas: The gift of a new governor who will actually do something about the border instead of talking about it and making excuses. Blaming Biden is not working.
Sam Bankman-Fried: Do vegetarians eat bugs? If so, have Klaus Schwab send him a big box of them. He must be hungry in that Bahamian prison.
Hillary: 'Crooked' needs a gift of a one way ticket to Gitmo.
Trump: A gift of artists such as ourselves who can create better NFTs than what we've seen.
Elon Musk: The Pulitzer Prize for revealing the biggest scandal of our time. That is, our own government and security agencies have spent taxpayer money and colluded with social media to destroy our free speech.
Biden: A gift certificate from an ice cream shop in El Paso. Maybe Joe will finally go to the border to get his free cone.
The FBI:  The entire organization from the top down gets a pretty 'pink slip' for Christmas. Let the states handle their own investigations.
Jill Biden: A nice, tablecloth-patterned dress is always a big hit with her.
Hunter Biden: A giant plastic bag that can hold a kilo. Hunter could crawl into it. It would be called a 'scum bag.'
Anthony Fauci: An adequate length of sturdy hemp rope. Tell him it's a Christmas necktie.
Nancy Pelosi: A bottle of Ukrainian vodka so she can get good and hammered with her husband, Paul.
Mitch McConnell: A all expenses paid trip to anywhere out of the the DC bubble. Then he can see first hand how despised he is by the entire country.
Al Gore: A space heater he can use to thaw out his 'global warming/climate change' scam as the country freezes.
Liz Cheney: A new career as the stunt double for 'Miss Piggy.'
Adam Schiff: A nice, new orange jump suit to wear at one of California's worst prisons.
Fox News:  A lie detector for all their broadcasts. Wait, that would be going off 24/7.
Sign Up For GRRRNews and NEVER miss a new cartoon- click to join our news letter
And to our many friends and supporters, we wish you a very Merry and Wonderful Christmas holiday filled with family and good things to munch on!
Merry Christmas from Ben and Tina
Follow @grrrgraphics on GAB, TRUTH SOCIAL, PARLER, INSTAGRAM, TELEGRAM 
or join us at The Garrison!
Cartoon available as a signed print- Order your print today! Makes a great gift!
YOU WILL BECOME PART OF HISTORY
..by purchasing your one-of-a-kind, original Ben Garrison Cartoon and making an investment in America's history. 
Your purchase supports our nation and her inalienable rights by keeping GrrrGraphics up and drawing. We fight for all that makes America great, including you!