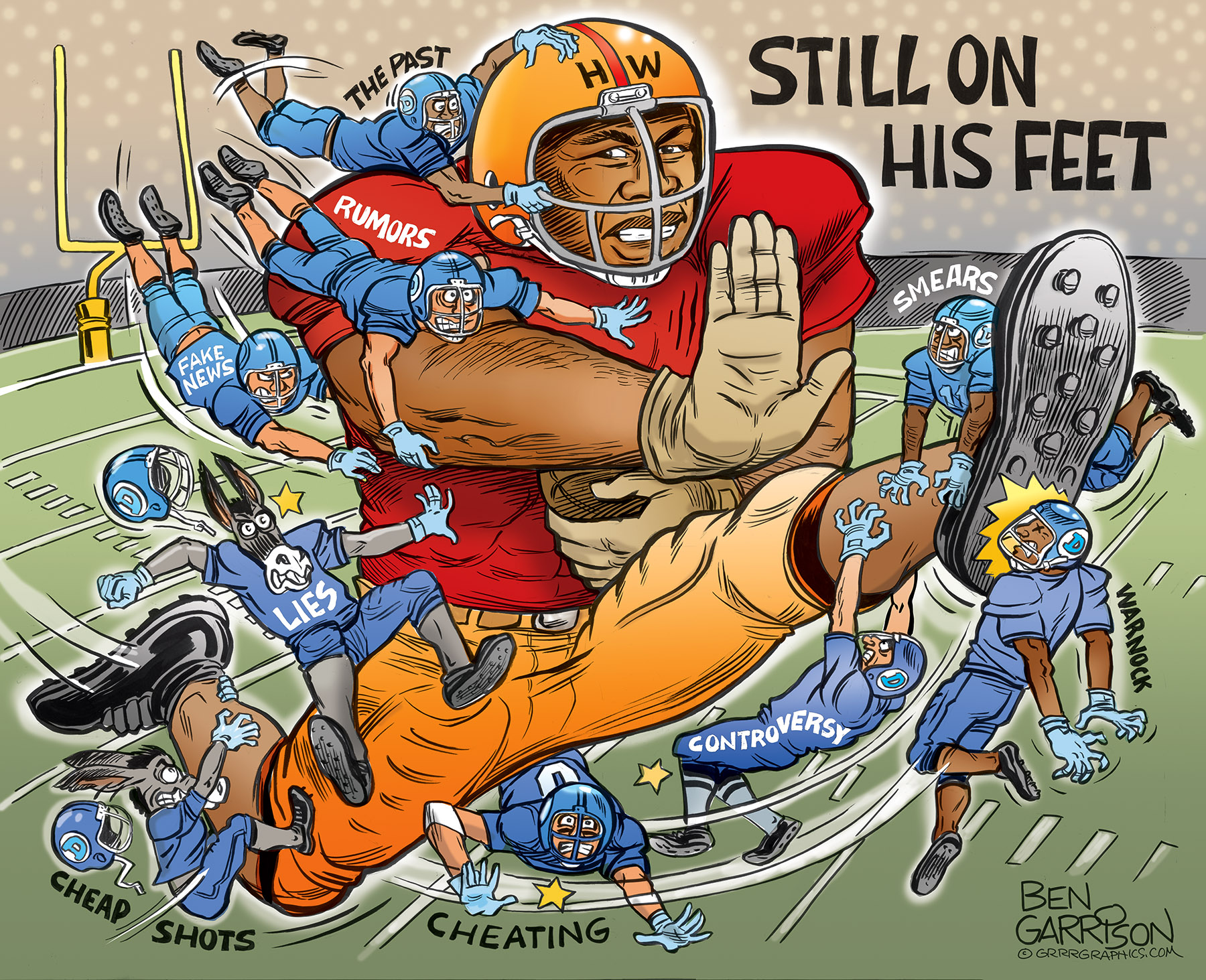 UPDATE: Georgia senate race to go to run off on December 6th
Herschel Walker is the Republican candidate for Senator in the state of Georgia.
Walker must have known he'd have his past thoroughly dredged up—and it has been. It includes allegations that he made threats of violence toward family members. He himself admitted he had to deal with some psychological problems and is now over them. Add to that the massive attacks on his intelligence and character by Democrats and it's almost surprising that he's running even against his Democratic opponent, Raphael Warnock.
Let's remember some of Walker's positive accomplishments. A native-born Georgian, Walker was an all-pro and played 12 seasons in the NFL. He won a Heisman Trophy and the National Championship while at the University of Georgia. Walker is a winner and has the determination to rise above adversity to succeed. He must have known that the embarrassing allegations would be dredged up and used against him, but he's running for the Senate regardless. We all make mistakes in life and Trump has made them too, but both Trump and Walker were willing to have their mistakes get exposed because they genuinely care about America and they want to help make it great again.
The Democrats have been ruthless in their smears. One of them used the "N" word to slur Walker. Why does the left feel free to use that word against conservative black people? CNN cited Walker as being a 'walking gaffe machine,' which is something they should apply to Joe Biden, whom they protect. Similarly, John Fetterman can barely speak and function, but instead they criticize Walker for not being a polished speaker. Walker speaks 10 times better than either Biden or Fetterman.
Donate and support Ben Garrison Cartoons in one easy click!
Walker continues to stride through the aggressive Democrat team of tacklers. If they can't stop Herschel with their cheap shots and drum beats of controversy, they will probably cheat and steal the election for Warnock again. Meanwhile, Walker remains on his feet.
— Ben Garrison
Follow @grrrgraphics on GAB, TRUTH SOCIAL, PARLER, INSTAGRAM, TELEGRAM 
or join us at The Garrison!
Invest in your future – and the future of freedom – and make the one and only Ben Garrison "Herschel Walker Still On His Feet" original artwork yours.