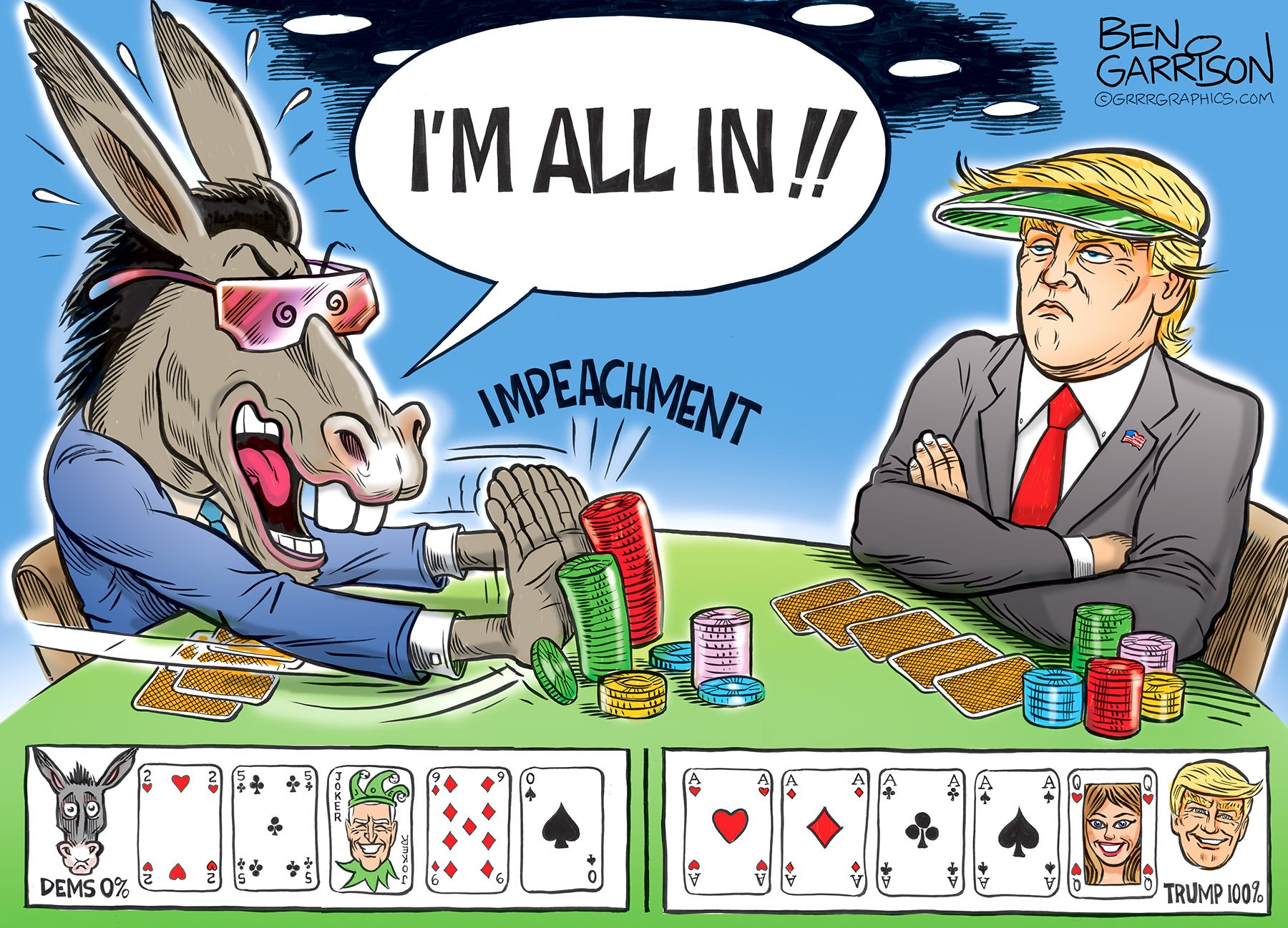 UPDATE TRUMP ACQUITTED
Original post below
ALL IN FOR IMPEACHMENT
The Democrats hold no viable hand in their game to remove Trump from office. Regardless, they're going 'all in' on impeachment. They can't win. President Trump is holding the winning cards.
Trump has not committed any sort of 'high crime' that would warrant an impeachment. He was actually carrying out his duties when it came to his Ukraine call. He didn't want US taxpayer money to be siphoned off as graft. Congress should be going after Joe Biden, not Trump. However, the Democrats control the House and they are corrupt to the core.
The Democrats are holding a losing hand, but they're desperate. They can't beat Trump in 2020, so they will use their mass media to lie to the country about the reasons for impeachment. The Democrats have no poker face—their hatred for Trump can't he hidden.
They are carrying out an elaborate bluff and Trump should call them on it.
—Ben Garrison
Use coupon "2020" and save 20% on this one of a kind Ben Garrison Original….
Rare Original: Impeachment Poker (Collectors Item)
$599.00
An authentic Ben Garrison original cartoon.
Invest in a piece of history from Ben Garrison, a world-renowned political cartoonist, by owning this once in a lifetime collectors item depicting American history. 
Only one exists in the world.
Advertised as being "the best political cartoonist" in the world, Ben Garrison presents, "Impeachment Poker," making this not only a special cartoon, but a must-own for any patriot who is looking for a premium, highly sought-after piece of history–and perfect for collectors interested in a savvy investment.
Just one exists in the entire world–get it now before someone else wants it.
Could this be worth tens of thousands down the road? Only time will tell….
Your purchase goes to support our country, the MAGA movement, and President Trump!
Order yours today by clicking the "Add To Cart" button below. 
1 in stock
Description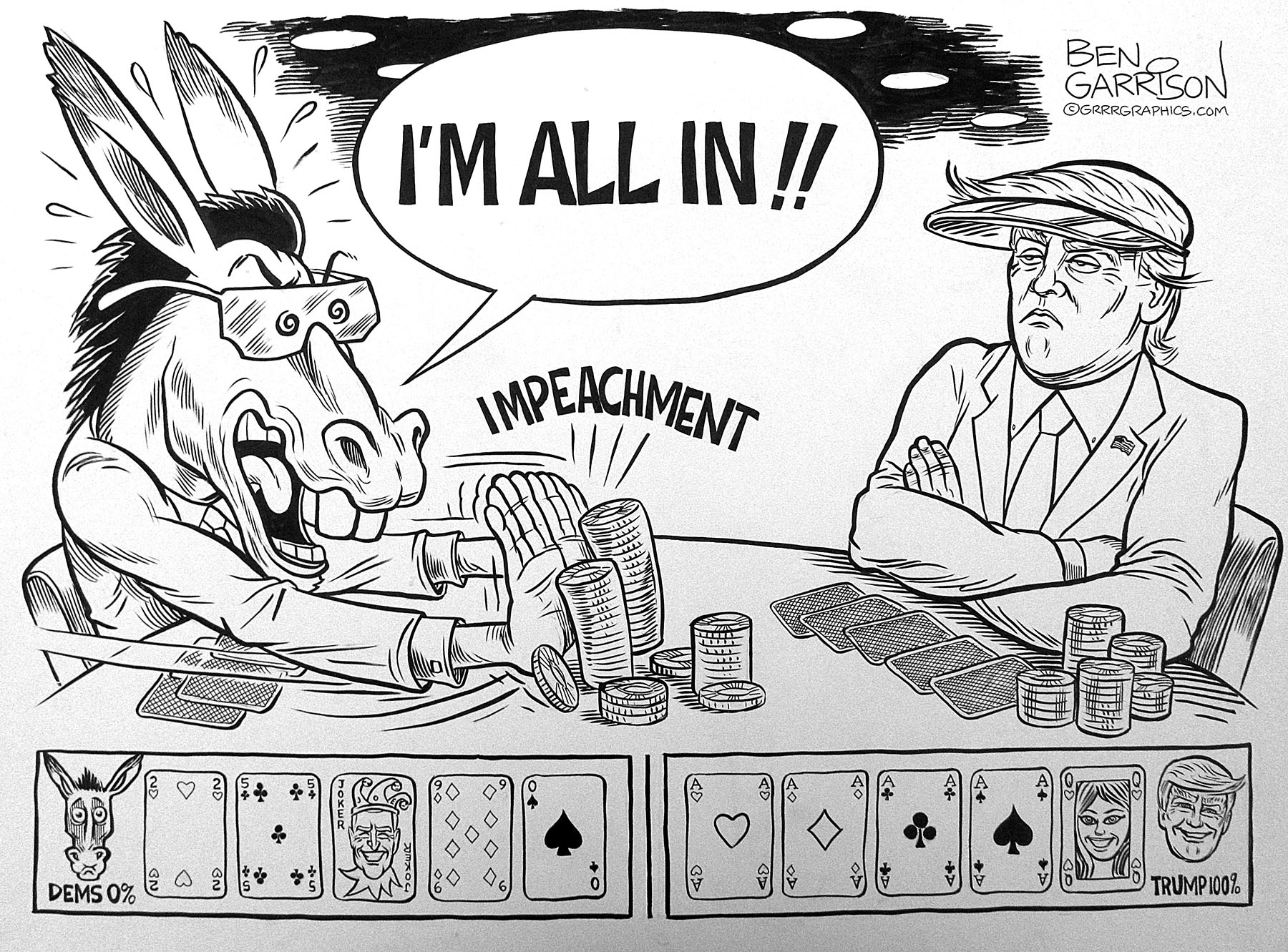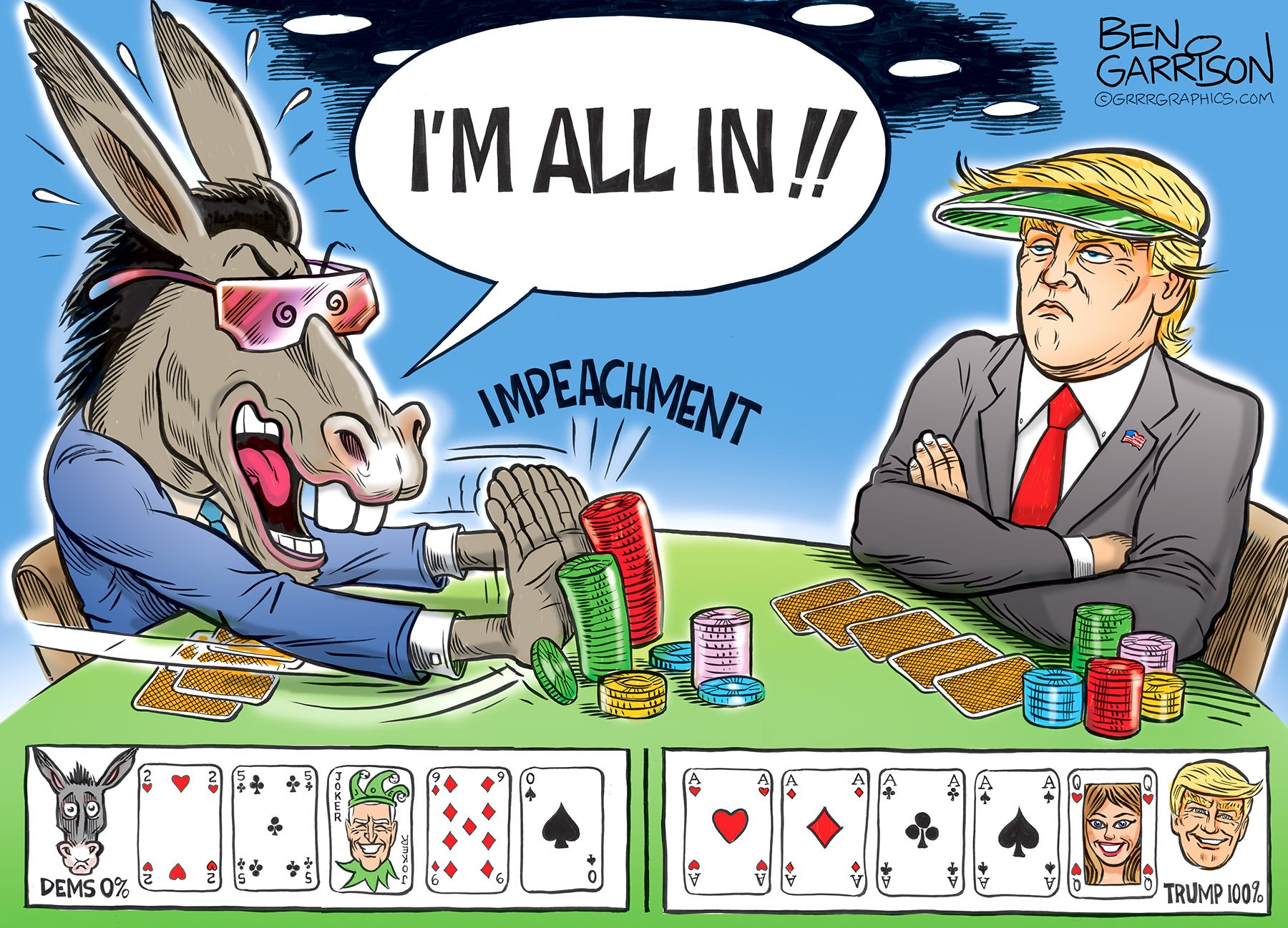 Meshing culture and American Politics in one of a kind Art work
Size: 22″ tall by 30″ wide
Medium: Ink on smooth press bristol board
Certificate of Authenticity included
Bonus: Comes with signed color print!
Shipped Priority Mail in a large heavy duty mailer for protection
Original Art may have small differences from final published version which makes the original unique and more valuable!