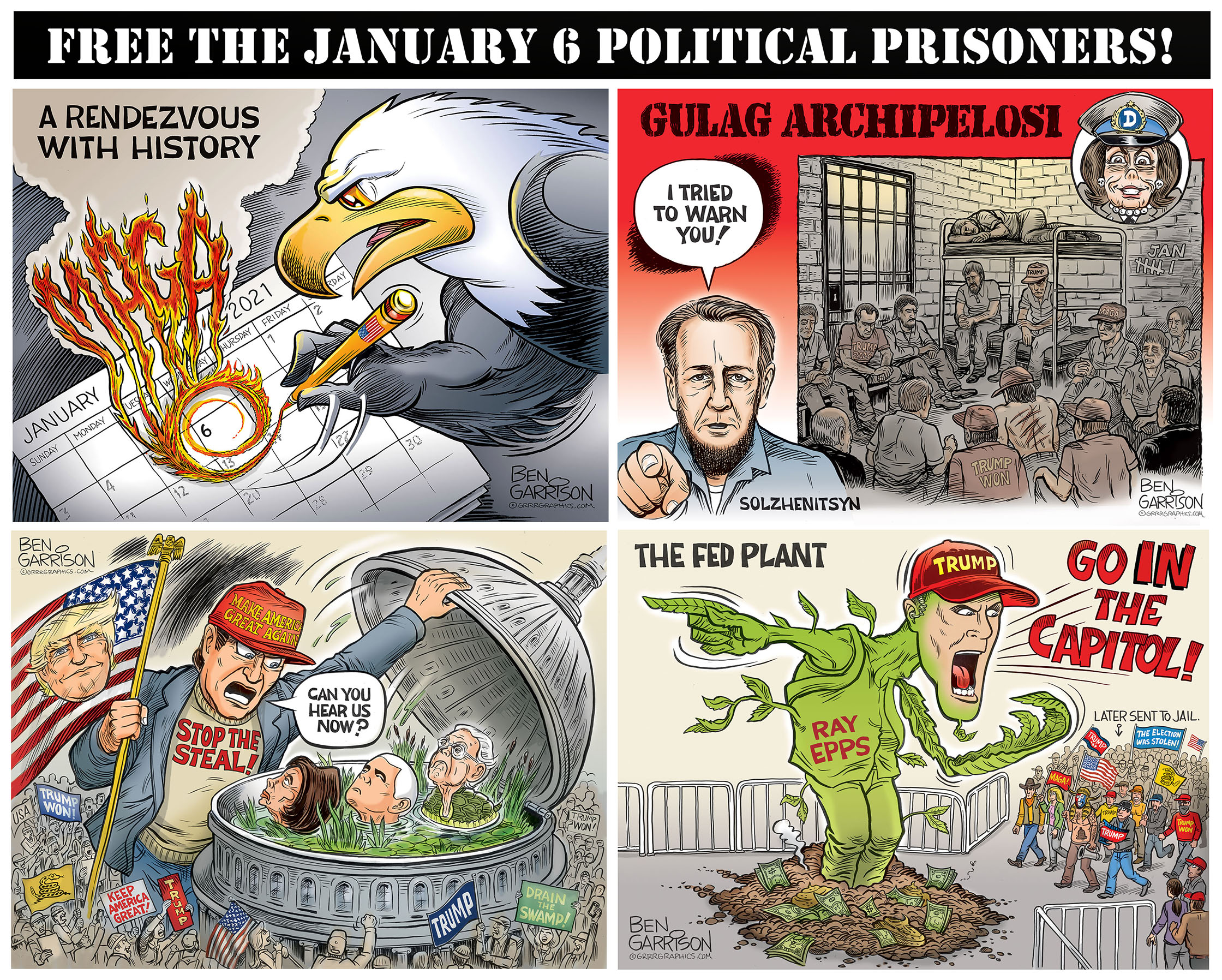 Cartoon published January 6th, 2023
An Antidote to Biden's lies..
Biden is doling out medals to 'heroic' Capitol policemen who (supposedly) faced death while protecting Congress from the January 6 protestors. Joe repeatedly smeared those patriots as "The Mob."
A slurring and mumbling Biden said a 'violent mob of insurrectionists' attacked the sacred halls of the Capitol. Biden claimed to be part of "We The People" and part of 'our democracy' who protected the Capitol, while impugning the MAGA minded were traitors.
It's just the opposite. The protestors were not armed. They were guided in by Pelosi's FBI agents. Remember Ray Epps? Remember the loud megaphone man atop a scaffold? FBI plants. Entrance doors were opened. No police were attacked. None of them died on the scene even if Joe blatantly LIES about it and makes up false narratives. One Trump-supporting protestor, Ashli Babbit was murdered, however. 
You and your corrupt Democrats and FBI are continuing to round up peaceful protestors. They are sent to dungeons where they are beaten, stripped of their Constitutional rights, and given ridiculously long prison sentences. Why don't you give Ray Epps a medal?
No, Joe—they weren't a mob. They were patriotic Americans protesting a STOLEN election—the one stolen for you, a pedophile, a liar, a completely compromised and corrupted politician. YOU are the insurrectionist. YOU are the bad guy here. YOU are the traitor. Not those who used their First Amendment right to protest you.
FREE THE

JANUARY 6

POLITICAL PRISONERS!
You are invited to join me on SubscribeStar- a Pateron alternative, for exclusive cartoons and behind the scenes look at GrrrGraphics, Click to Join!
— Ben Garrison
We are fundraising for 2023, You can keep GrrrGraphics online with a purchase! 
Follow @grrrgraphics on GAB, TRUTH SOCIAL, PARLER, INSTAGRAM, TELEGRAM 
or join us at The Garrison!
Prints available