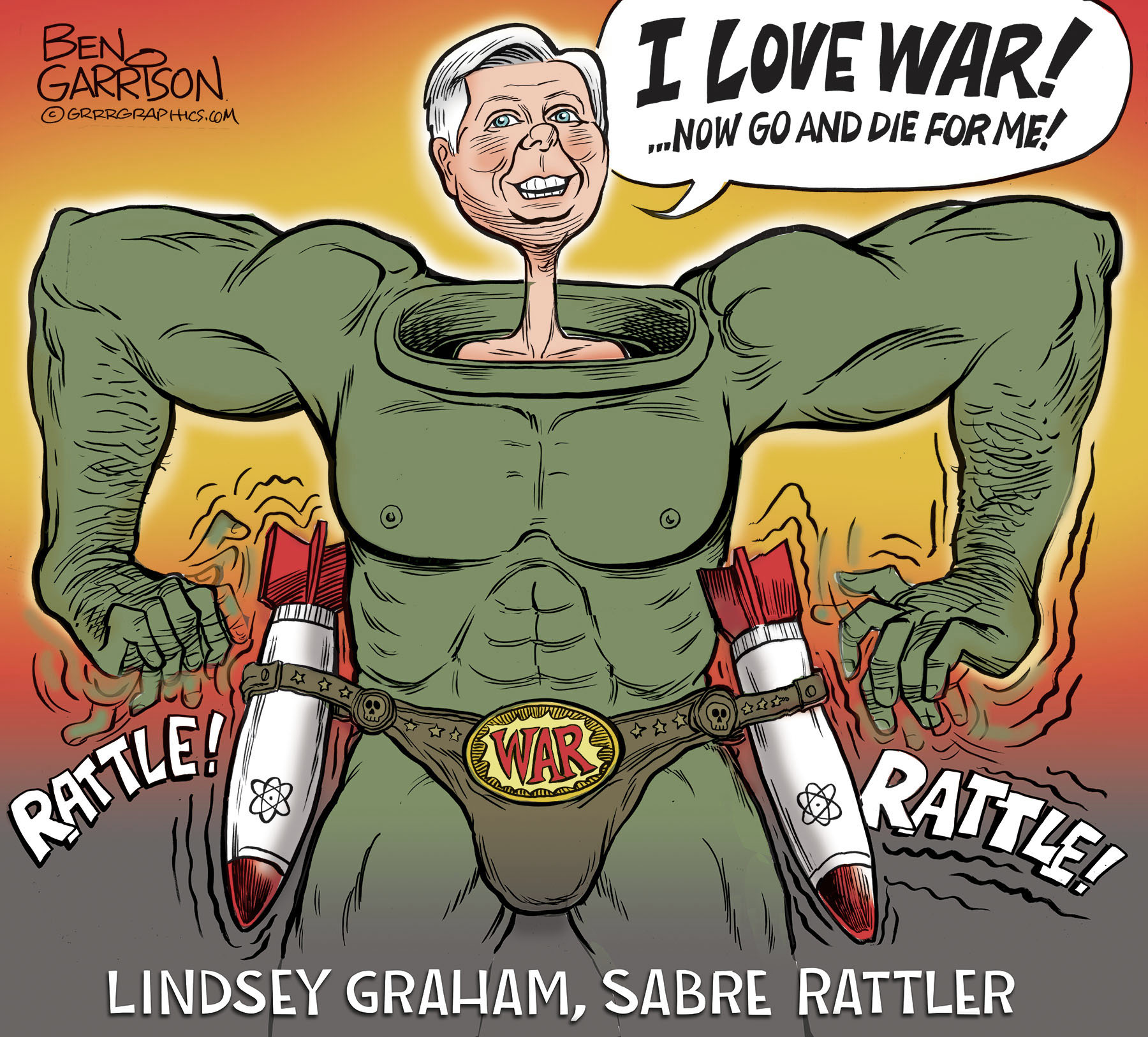 Lindsey Graham, Warmonger
Cartoon published 07/02/2023
Lindsey Graham loves war. He doesn't beat around the bush about it, either. Regarding the financing of Zelensky's Ukraine war, he bluntly makes statements such as:
"Best money we've ever spent!" 
Never Miss A New Cartoon! Sign Up Today For Our GrrrNEWS  cartoon newsletter-It's Free and Easy!
Graham also tweeted, "To those who believe that Russia's unprovoked and barbaric invasion of Ukraine is not a priority for the United States – you are missing a lot."
Graham and his fellow warmongers always talk about how it's a war for democracy in Ukraine. What democracy? Zelensky shut down elections in his country. He also shut down a free press, the Russian language, and has even targeted freedom of religion by shutting down Christian churches. Some democracy.
As Blackrock likes to say, "War is good business," and Lindsey is aboard with that.
Lindsey is not alone. Other Neocon, RINO Republicans agree with him. Mitt Romney and Mike Pence, for example. Pence actually called for cutbacks in entitlement spending (Social Security) while in the same warmongering breath he called for throwing more billions of tax dollars into the corrupt dumpster fire that is Ukraine.
Fight Back Against Censorship with a small Donation! Support Cartoons and Save America
Fortunately, more and more Americans are able to spot a neocon warmonger when they see one. At last night's Trump rally in South Carolina, Lindsey Graham was thoroughly booed non-stop when he was introduced by President Trump. The booing went on throughout Graham's speech and got louder as he spoke.
It was glorious.
It's also very telling because Graham is a native son of South Carolina, but his constituents rained loud boos atop Lindsey's befuddled head. How embarrassing and humiliating is that? It's time for the warmongering neocon RINOs to be voted out of office.
The American people are finished with the endless war-loving neocons. The RINOs are headed toward extinction. MAGA is the future of the Republican party.
Useless, endless wars that benefit the globalists and the military industrial complex need to end once and for all.
— The GrrrTeam
Follow @grrrgraphics on Twitter      GAB, TRUTH SOCIAL, PARLER, INSTAGRAM, TELEGRAM ,
or join us at The Garrison!
We are fundraising for 2023, You can also keep GrrrGraphics online with a purchase!  Visit our Best sellers! Click now!