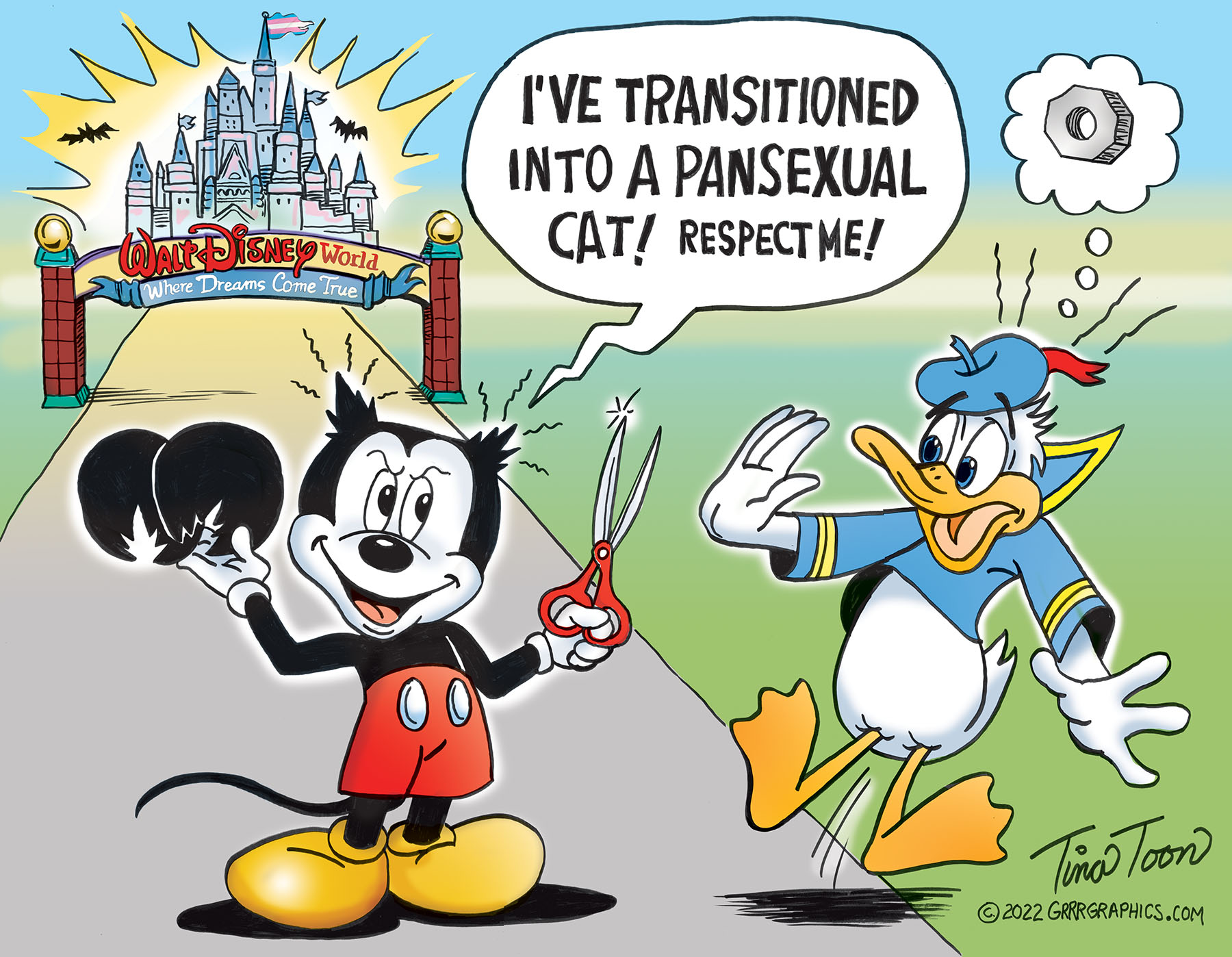 "M-I-C-K-E -Y   T-R-A-N-S"   Mickey Trans, Mickey Trans!
Welcome to Disneyland, where they say "everyone" instead of "boys and girls".  
Welcome to Disneyland, where multiple Disney employees have been arrested for child sex crimes every year for the last ten years.
Welcome to Disneyland where they openly state they have been inserting gay and queer propaganda into their shows for children and plan to ramp it up even more.
Welcome to Disneyland where they plan to fight the "Parental Rights Law" passed by Florida Governor Ron DeSantis.
Welcome to Disneyland where Disney employees were caught in a child sex trafficking sting JUST LAST MONTH.
Disney plans on drowning our children in LGBTQ+ content at an early age.  Their "oh so woke" agenda has been exposed big time since Disney decided to go full woketard when the "Parental Rights in Education" bill passed and was signed into law.
Oops! Disney, your "rat" tail is showing!
Expect the Disney PR machine to thunder into full rescue mode, but they will not be able to stop the whirlwind of bad woke PR that they themselves have caused.
Parents are already responding by canceling their Disney vacations and cruises, selling their Disney stock and banning Disney's steaming service from their homes.
BEN GARRISON NFTS- FRESH NFTS JUST MINTED CLICK TO VIEW ON OPENSEA!
That is a good first step. We must keep up the pressure on Disney and convince our "normie" friends and relatives to do the same. Remember Disney is a HUGE corporation and owns many companies:
ABC
ESPN (80% stake)
Touchstone Pictures
Marvel
Lucasfilm
A&E (50% equity holding with Hearst Corporation)
The History Channel (50% equity holding with Hearst Corporation)
Lifetime (50% equity holding with Hearst Corporation)
Pixar
Hollywood Records
Vice Media (10% stake)
Core Publishing
Besides these, there are also the more obvious companies: Disney television channels, Disney stores, Disney radio stations, and Disney parks (including Walt Disney World Resort, Disneyland Resort, Disneyland Paris, Disney Cruise Line, and a host of other vacation-related properties). Their parks and properties tend to be the corporation's biggest cash cows.
These MEGA corporations need to be broken up and their power taken away.
No "Mouse" is going to tell me how to live or think!
Plan accordingly,
Tina
Signed Print Available Click To Order
Follow @grrrgraphics on GAB,  Now live on TRUTHSOCIAL  PARLER, INSTAGRAM, MINDS TELEGRAM 
TINA TOON ORIGINAL ART SOLD