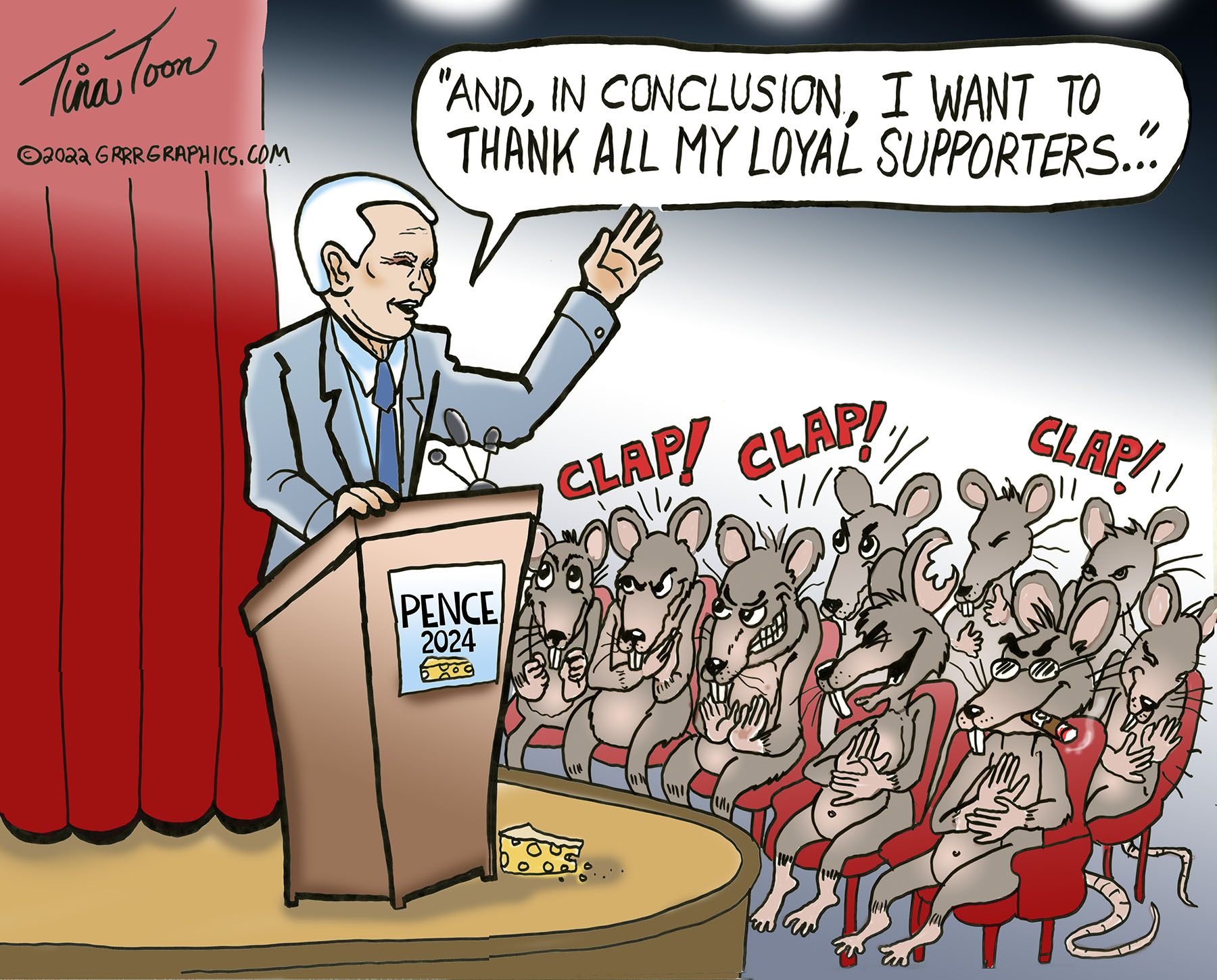 Pence Thinks He's A "Big Cheese" But Only The Rats Agree
Mike Pence is showing his cards. It looks like Pence is considering a presidential campaign in 2024. Mike Pence was President Trump's Vice President during Trump's first term. Pence's performance was so-so. He was not exactly a great pick because as a bland establishment Republican, he had no real claim to fame during his political career.
Despite that, Pence remained Trump's running mate. Then everything changed when the radical communist Democrats, big tech and the GOP establishment rigged the 2020 election. Pence then became "Judas" to Trump's base when he allowed the certification of Biden's stolen election.
Donate and support Ben and Tina's work! We depend on donations and shop sales to stay online. No big PAC supports us, we don't have rich benefactors that fund GrrrGraphics. We are just a husband and wife team that is fighting for our freedoms and our Republic.  We are grass roots. Please consider a donation to keep us online and drawing for you! Click to support us today!   
Pence stabbed Trump and the entire country in the back. Just look at where we are today because of it. Think of all the lives lost and destroyed, small businesses that went through bankruptcy, and America going down faster than the 'Titanic.'
Now Mike Pence wants to be president. He's becoming more visible and he's giving speeches across the country.
Pence is endorsing GOP establishment candidates as Trump endorses MAGA candidates.
The only "friends" Pence has left are the DC swamp rats who look for the easy "cheese" and the special favors they crave. Mike Pence may run for president in 2024, but only those establishment rats will endorse him.
– The GrrrTeam
Follow @grrrgraphics on GAB,TRUTHSOCIAL PARLER, INSTAGRAM, TELEGRAM 
LIMITED EDITION PRINTS ONLY 5 PRINTS LEFT AT THIS SPECIAL PRICE! FOR PATRIOTS ONLY- NO SALES TO JOE BIDEN VOTERS..ALL SIX OF THEM! ORDER YOUR SIGNED PRINT TODAY!