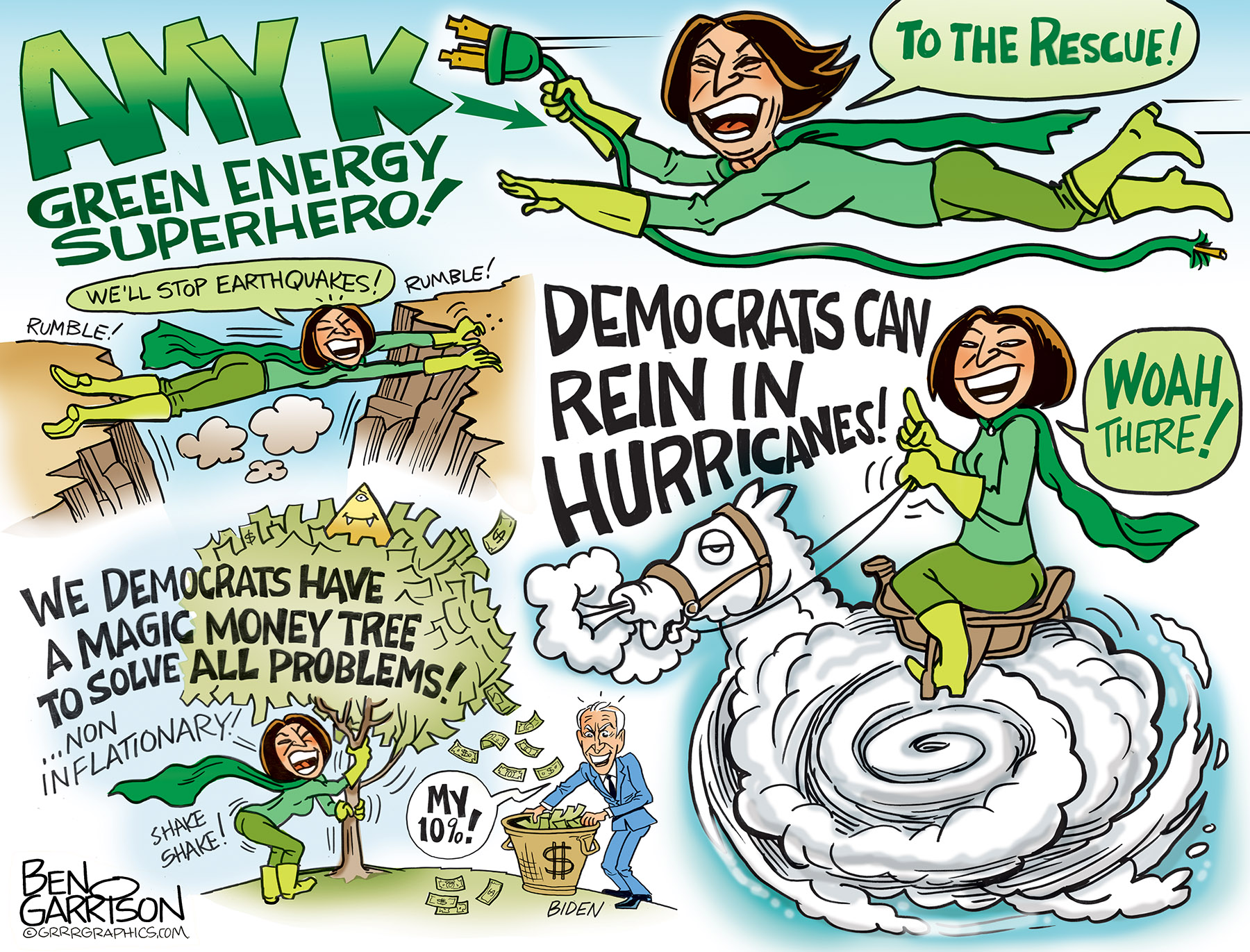 Minnesota Senator Amy Klobuchar Green Super Hero?
Minnesota Senator Amy Klobuchar made an appearance on MSNBC's "Morning Joe," and bragged how she and her party are doing something about 'climate change.' Amy's knees must be leathery with callouses, because she constantly kneels at the Globalist Altar of Climate Change. She went on to imply that winning the midterms was critical because she and the rest of the Democrats would help prevent severe weather—including hurricanes:
"That's why we've got to win this, as that hurricane bears down on Florida. We got a win in the midterms," Klobuchar said.What's next, the Democrats claiming they can stop earthquakes?The question is, the Democrat Party already controls the House and Senate. Why aren't they stopping Hurricane Ian right now? Because they can't. Amy is an imbecile. Hurricanes are a natural weather phenomenon and over 500 have been recorded over recent centuries. Many terribly destructive hurricanes hit the US long before there were automobiles. Climate does change, but it's called weather.
Lately there have been few hurricanes, but that doesn't stop the Democrats from using fear to garner votes. Biden and his Democrats have proven more dangerous than any hurricane. A powerful hurricane might cause several billions of dollars in damages and cost many lives, but the Democrats are far more destructive. They spent trillions of taxpayer dollars on 'green energy' and other boondoggles, which has led to massive inflation. Their 'mandatory' lockdowns destroyed many small businesses and their experimental vaccines, which were pushed often by Biden and the partisan Fauci, have killed and injured millions.
Biden and his puppeteers are sending endless billions of dollars to protect Ukraine's borders while ignoring our own, which are currently controlled by fentanyl-pushing drug cartels. Biden and the Democrats seem bent on bringing about a nuclear war. (That will be quite a weather changer.) Klobuchar has repeated the lie that Trump ordered an 'armed insurrection' on the Capitol. She claimed Biden was doing a terrific job and that she supports his reelection in 2024.
Klobuchar has no credibility and neither does green energy or her party's precious 'climate change.'
— Ben Garrison
Follow @grrrgraphics on GAB,TRUTHSOCIAL PARLER, INSTAGRAM, TELEGRAM 
It's that time of year!
Pumpkins and spice and not everything nice.
If you love this time of year and are already hanging up your Halloween decorations, we have a "spooktacular"  deal for you!  Our Halloween Print Bundle- 3 Prints at a special price!