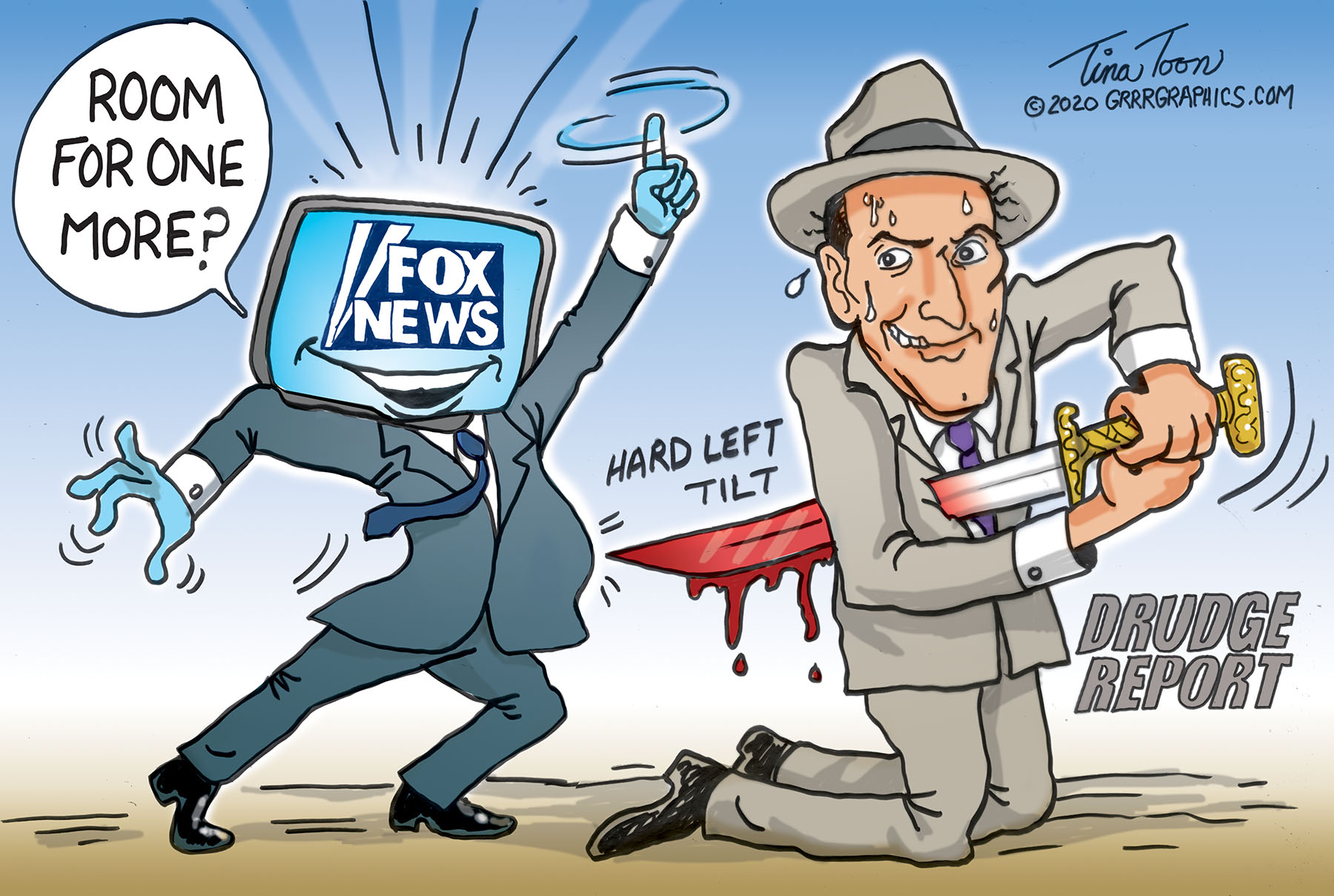 Fake News Club Grows
Both Fox News and the Drudge Report have stabbed their audiences' backs. They have forgotten what had made them successful. Both Fox News and Drudge have turned on President Trump and his millions of supporters. They both are now suffering incredible ratings collapses. They bit the hand that fed them.
In the last 3 years, we have watched Fox News slowly steer leftward like a giant corporate "Titanic" heading straight towards a far left iceberg. When Roger Ailes ran Fox, the network was on a true course.  After Ailes death, people like former speaker globalist Paul Ryan spun the wheel far to port heading for disaster.
Fox News let the mask fall to the floor with its 2020 election coverage and even people who don't normally pay close attention noticed the early call of Arizona for Biden within minutes of the polls closing.
Join Us on Subscribe Star, a free speech alternative to Patreon- Support Cartoons see New Cartoons Early before Public release! 
We could go on and on but why bother? Fox News has committed "Seppuku" along with the Drudge Report.
Fox News, which led CNN consistently for years in TV ratings, has now fallen below CNN. The only reason CNN even has any ratings is because people are forced to watch CNN in airports.
As we munch our popcorn and watch the sinking Fox News ship go down, here's a look at the recent losses in viewership…
Neil Cavuto, who cut away from the Press Secretary, has lost almost 200,000 viewers.
The Five, with the insufferable Juan Willams, has lost almost 600,000 viewers.
Martha MacCallum is down by 400,000 viewers, while Shannon Bream is down a whopping 450,000 viewers.
The only bright spot for Fox is that both Tucker Carlson and Sean Hannity are up from their August numbers.
It remains to be seen whether Sean and Tucker can bail out the Fox News sinking ship.  The good news is alternative news outlets are gaining views in record time. Check out NewsMax, One America News Network and Glenn Beck's  The Blaze. They are all seeing a surge in viewers.
Turn off Fox News!
Tina
Follow @grrrgraphics on GAB,  TRUTHSOCIAL  PARLER, INSTAGRAM, TELEGRAM