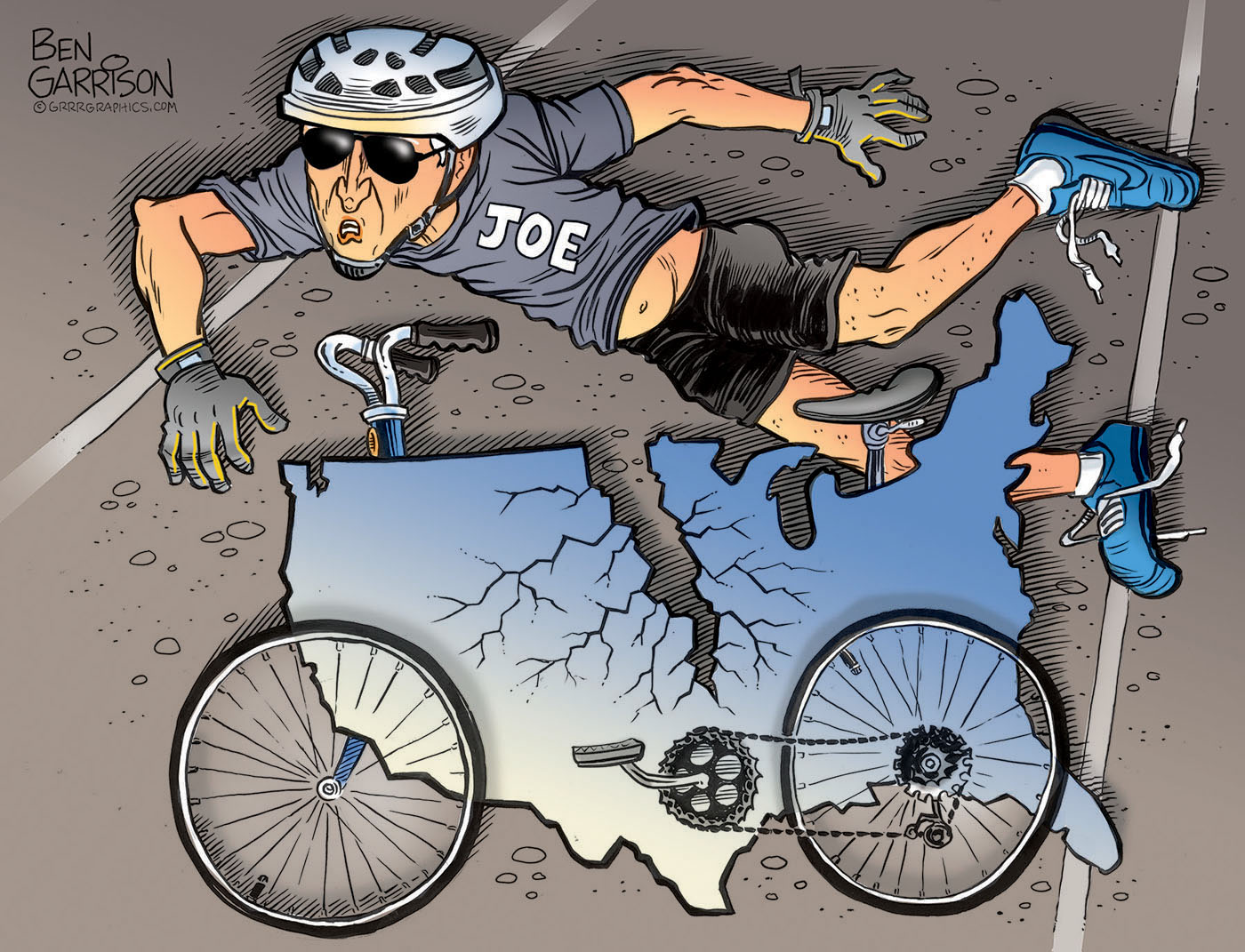 America Takes A Tumble, Ridin' With Biden
Joe Biden (if it really was Creepy Joe and not a body double) took a spill on his bike.
We at GrrrGraphics are surprised that he's even able to ride a bike considering he can barely walk, but somehow his bike spill struck us as a metaphor of what he's doing to America. If the USA were a bicycle, Joe would surely find a way to bang it up and throw it down on the asphalt.
Support Ben Garrison Cartoons with a One time donation! Click to Donate!
A lot of cameras were trained on Joe's ambitious ride. Someone wanted to make sure Sleepy Joe got seen as a healthy, active leader. After all, the 78 year old plans on running for a second term and would most likely face President Trump. To even have a chance against Trump, Biden would need to change his policies. Instead of Joe the Pedo peddling (pedaling?) climate change and green energy, he should instead shift gears and open up domestic oil production. Instead of steering us toward war, gun confiscation, open borders, and the New World Order agenda, he should apply the breaks and coast toward an America-first direction.
However, Joe is famously stubborn so instead he'll most likely double down on his own stupidity. And of course Biden's puppet masters will not allow any change in course. A tricycle would better suit Biden, one with training wheels.
Since Joe (Mr. 81 million votes) has record low popularity numbers, his re-election would only further confirm massive election fraud. The question is, will American do anything about it this time other than complain?
StayTooned and if you see Biden on a bike heading your way, move to higher ground!
— The GrrrTeam
Follow @grrrgraphics on GAB,  TRUTHSOCIAL  PARLER, INSTAGRAM, TELEGRAM 
Original Art Now Available to Collectors Worldwide- Reserve your historic Ben Garrison original today!