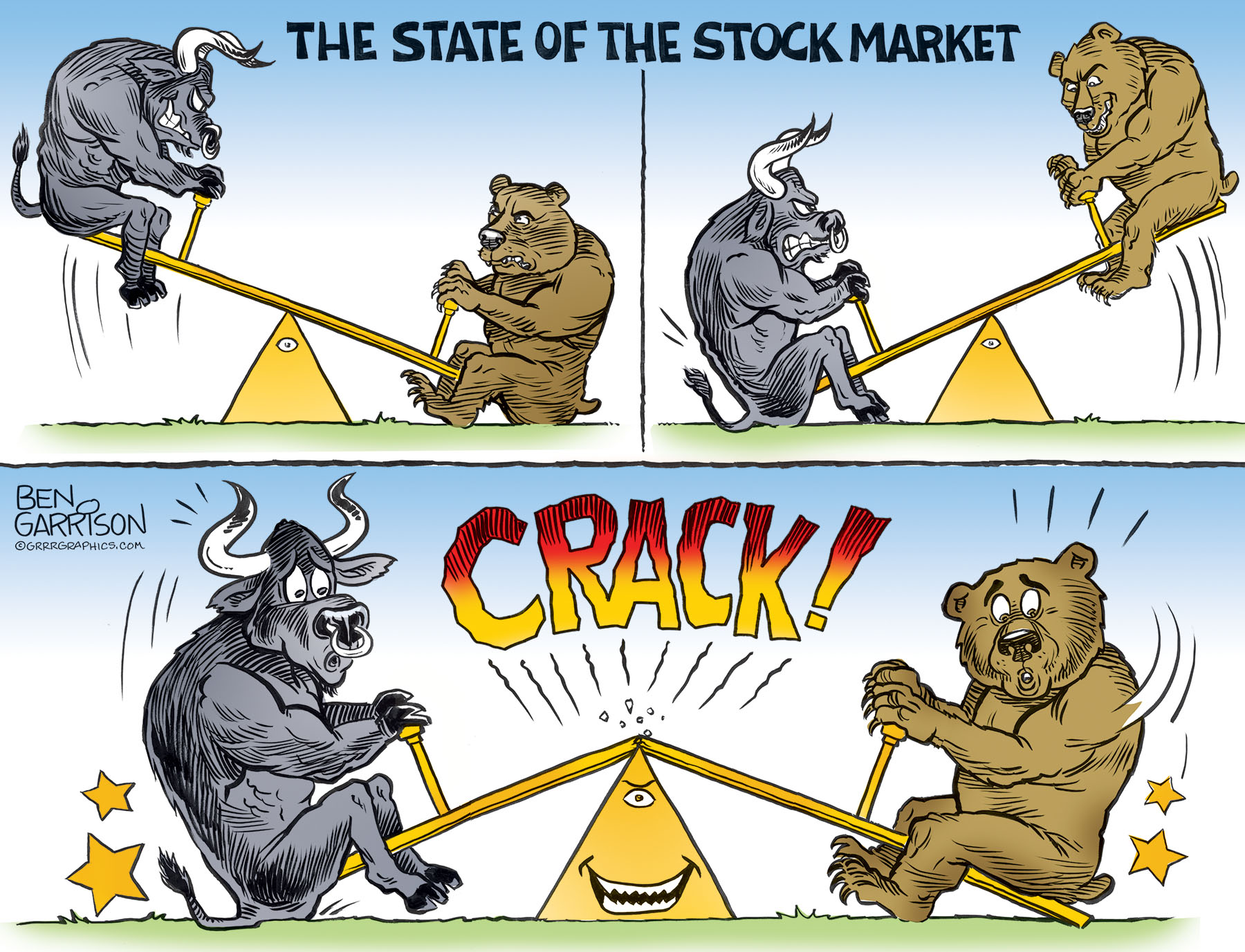 It's all fun and games until someone gets hurt
After the 2008 'too big to fail' bailout of big banks, the Federal Reserve no longer bothers to ask Congress if it's OK to bail out institutions.
For well over a decade they've used quantitative easing to prop up the stock market while increasing the money supply. Combine that with reckless corruption and pork spending from Congress and we're now faced with massive inflation. The stock market has become a symbol of economic conditions. A perpetual up market is celebrated as a sign of a great economy. A down market means recession, although the mass media tends to avoid the use of the 'R' word.
BlackRock and Vanguard are fronts for the Federal Reserve. They now own a large percentage of the stock market. The Fed's balance sheet may continue to grow, but who cares? They have a printing press and they continue to print up power and control for their central bank owners as well as the illuminati who run the world. The average Joe picks up their tab.
Corruption also runs rampant in the stock market. The central banks use super computers that allow them to automatically front run trades in micro seconds. They can easily outfox average traders. They enjoy an unfair advantage, but nothing is done about it. Nothing is done about the disgusting amount of insider trading going on by politicians in Congress. Pelosi is a prime example. Average traders would go to jail for what she does, but she's above the law. Sure, they talk about ending such trading, but don't hold your breath.
What the Federal Reserve does should be illegal as well, but we rewarded the criminals in 2008 and now they've become brazen. The central bankers are buying up not just stocks, but homes as well, thus driving prices out of reach for young people. This is what happens when a group of dominant globalists are allowed to control our money supply.
The stock market is now going up and down by huge swings almost daily. Try making money on such a market. The central banker insiders certainly can, but most Americans remain on the outside. They're throwing darts at a board, as Gordon Gekko famously said. It seemed obvious to short the market ahead of the Fed's decision to raise rates by .50, but instead of crashing after that hike it instead inexplicably went up over 1,000 points. Shorts were squeezed. Then, the very next day it went down 1,000 points. Longs were punished. Who can guess what it might do next? The stock market is a gambling house, but making money on the casino roulette wheel is difficult since the central bankers own the casino and they have their fat thumbs on that wheel. The house always wins.
The top 10% owns 70 percent of the stock market and the top 1% owns nearly 40 percent. Nearly half of all American citizens own no stocks. They're too busy keeping up with the inflation caused by a crooked market and an immoral system of debt money. No wonder too many Americans are broke. It's a broken system.
We must audit and end the Federal Reserve.
 — Ben Garrison
Follow @grrrgraphics on GAB,  Now live on TRUTHSOCIAL  PARLER, INSTAGRAM, MINDS TELEGRAM 
ORIGINAL ART AVAILABLE NOW- CLASSIC BEN GARRISON CARTOON RESERVE YOUR ONE OF A KIND ART TODAY!