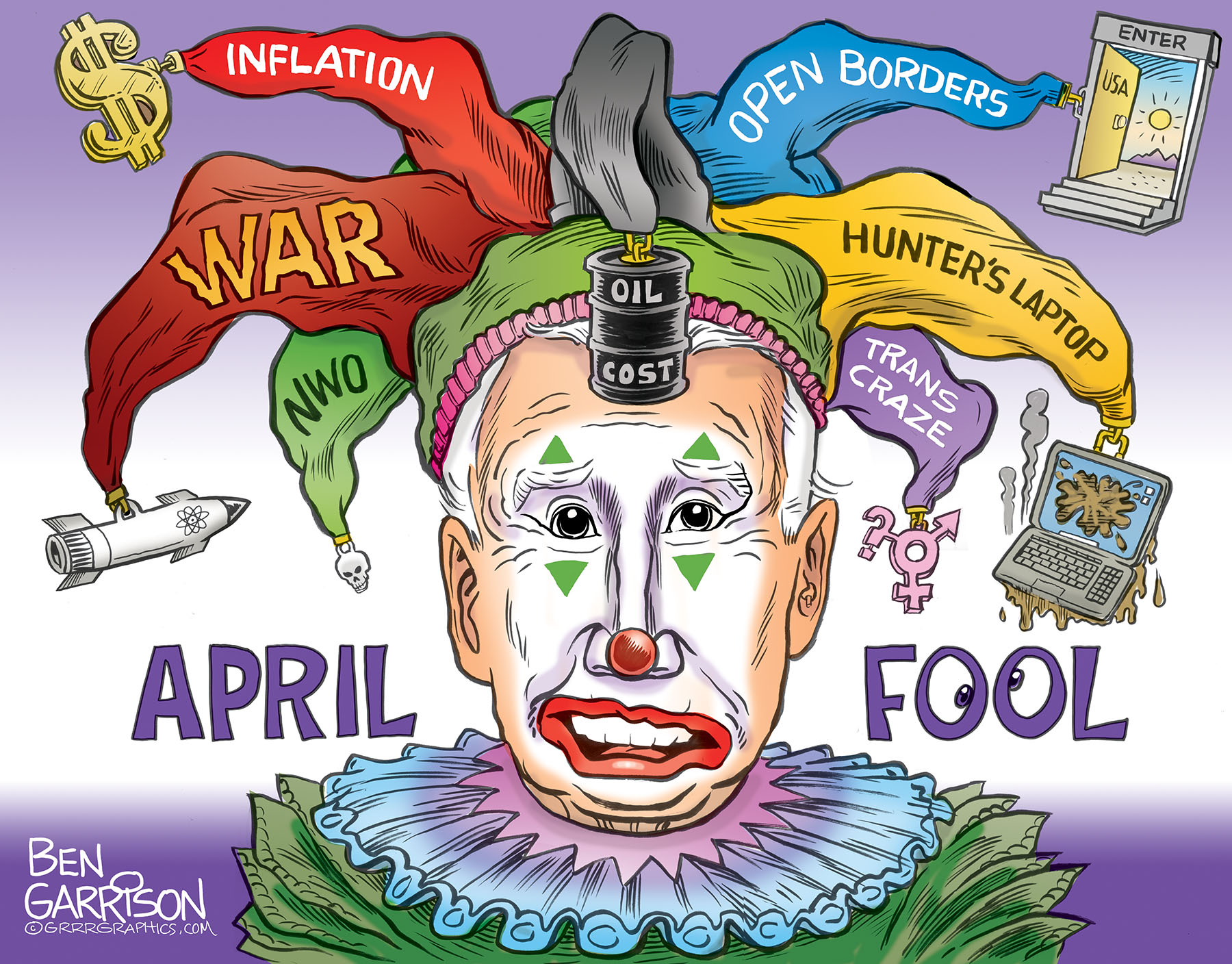 The April Fool
Earlier this week I posted a cartoon titled "The Great Slappening of 2022," and in one of the vignettes I featured Joe Biden getting slapped. It was of course a play on Will Smith's slapping of Chris Rock. Maybe it's the nice guy in me fighting his way to the surface, but I don't really want to see Joe or anyone else taking a slap. I said as much in my post that went with the cartoon, but for some reason I felt felt particularly bad about drawing Sleepy Joe taking it on the cheek. After all, it's not really his fault that he has screwed up everything he's touched. That's what he does. Even Obama said so.
It's not really Joe's fault that the election was stolen for him and that he was installed by the globalist New World Order. Sure, we heard Biden say he decided to run because of his lie that Trump praised Nazis or something, but that was just virtue signaling on Joe's part. The real reason he was put into power was because the central bankers were terrified of Bernie and his overly overt Marxist ways. Joe is a reliably corrupt bag man who does as he's told. That doesn't mean we shouldn't show him a modicum of compassion.
Yes, I'm starting to feel sorry for Joe. The poor guy gets propped up at the podium like a mannikin and his jaw begins to move mechanically. He mumbles and sometimes even whispers the words planned for him. If he does deviate from his script, alarming gaffes inevitably follow. It's pitiable sight.
WARNING YOU ARE READING AN APRIL FOOL POST 😉
It would be better if Joe retired to his beach house. I can picture him now on his back deck rocking chair with a melting ice cream in his wrinkled mitt yelling at the waves. Yes, Joe is a tragic figure. We should show more respect for our elders—even Joe. He deserves neither slap nor scorn but rather our understanding.
April

Fools!  F___ Joe Biden!*

— Ben Garrison 😉

*We had a few people actually believe Ben's April Fools post- to be clear Ben has 0 respect for Joe Biden and believes the  Democrats and the cabal stole the election to install the feeble corpse puppet, the FAKE President, Biden.

Follow @grrrgraphics on GAB, TRUTH SOCIAL, PARLER, INSTAGRAM, TELEGRAM 

or join us at The Garrison!

Are You Ready To Take Back Our Country? Support America First Cartoons Please Donate Only If  You Can!