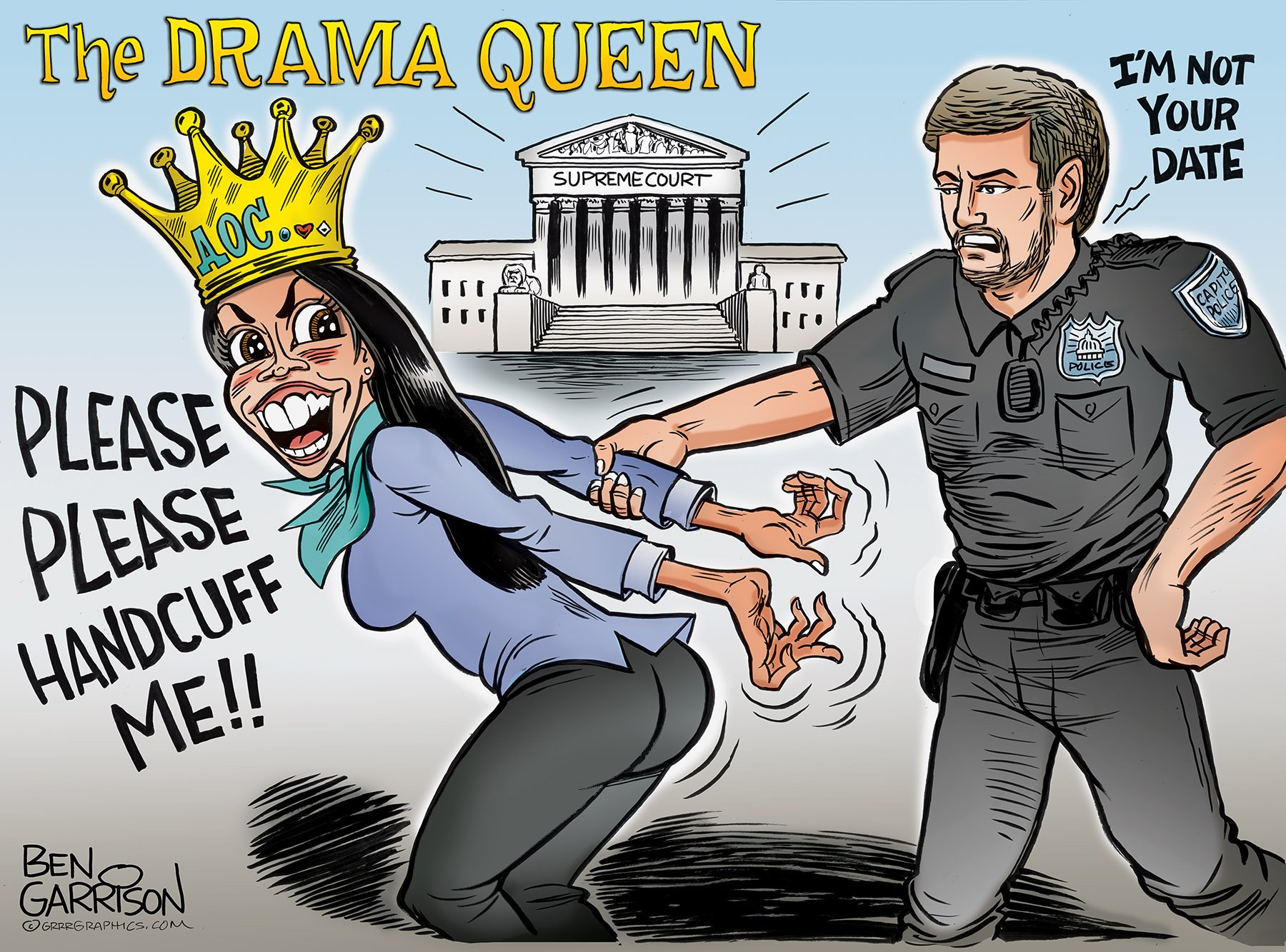 "You just want to date me…"
"AOC, The Drama Queen"
Alexandria Ocasio-Cortez and 16 other of her House colleagues were arrested near the Supreme Court for blocking traffic. Cortez enjoyed being on stage. She held her fist in the air and then held her hands behind her as if she had been handcuffed. She wasn't. It was all a big drama show and Cortez played her part. She pretends to care about women, the underclass, and leftist causes, but like her boss Pelosi and the illegitimate president Biden, she works for large banks and corporations.
The Democrats know they need only to pretend to care about the downtrodden.Over his long political career, "Lunch Bucket Joe" told lies about caring for the poor and powerless as he has pocketed millions of dollars from the rich and powerful. AOC has the same mindset. Like Joe, she's not intelligent, but she desires to wear the best clothes, rub elbows with big shots, rake in a lot of money, and enjoy the high life while telling the masses what to do. She wants to be treated like royalty.
Keep Cartoons Online Click to Donate!
Her latest stunt near the Supreme Court proves she's already a drama queen.
What does AOC really care about? Attention, status, money, and power. She's learning the political game and who knows? The White House may await her. If someone as dumb as Biden can do it, why not Cortez?
Cortez has complained that her $174,000 Congressional salary isn't enough. The impoverished people she claims to care about would be delighted to make a third of that. Perhaps AOC should start following Pelosi's insider stock trades. She too could end up with hundreds of millions of dollars.
Like Biden, Hillary, and many other corrupt Democrats, all Cortez has to do is lie her way to the top while avoiding real handcuffs.
— Ben Garrison
Follow @grrrgraphics on GAB,TRUTHSOCIAL PARLER, INSTAGRAM, TELEGRAM 
Original Cartoon Available to collectors world wide! Order your spicy original today