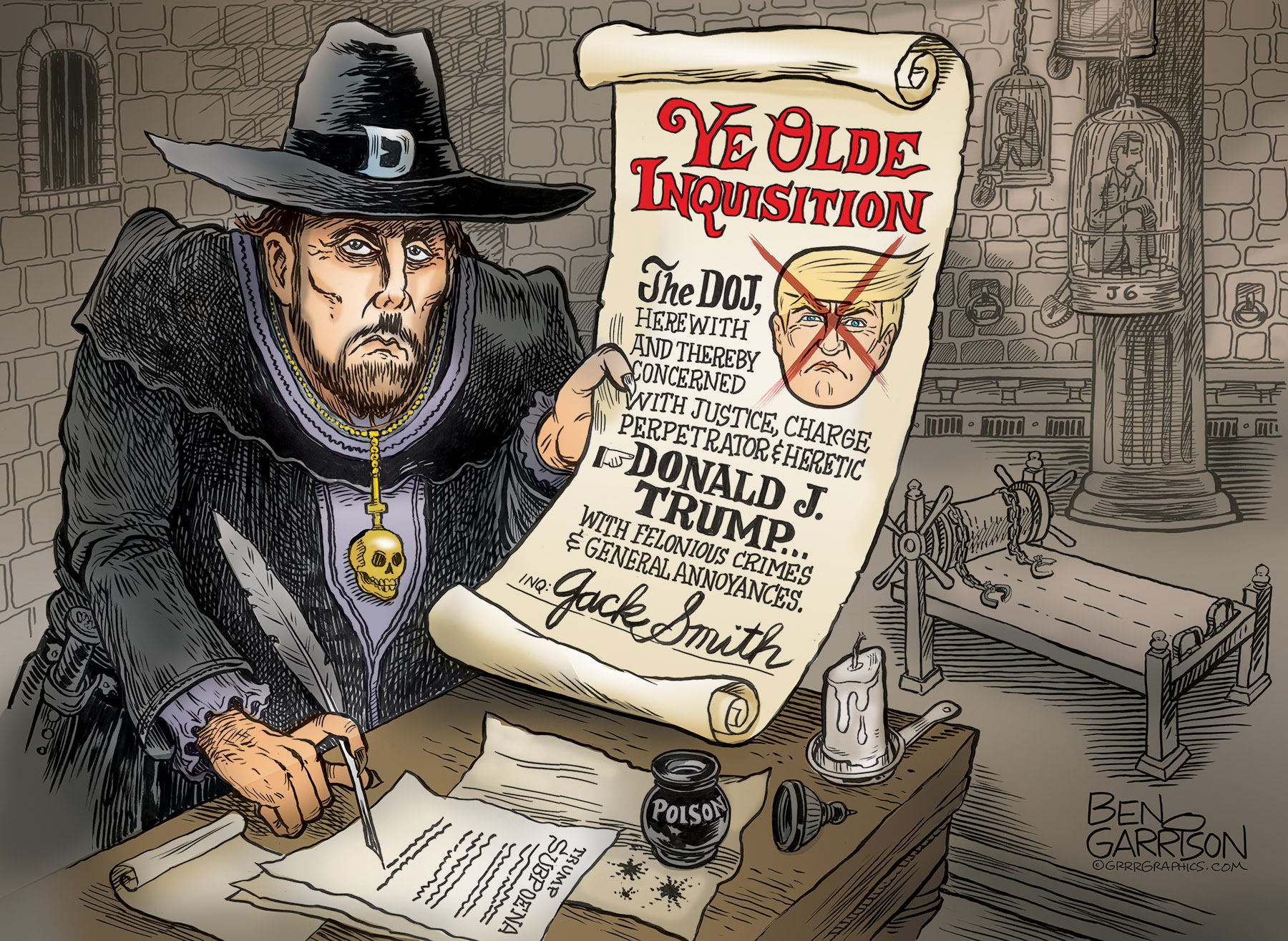 Jack Smith's Spanish Inquisition
Cartoon published 07/23/2023
"For the first time in the history of the USA, lawyers and the legal system itself are under siege—all a gift from crooked Joe Biden, Merrick Garland, and the deranged prosecutor, Jack Smith!"
— Donald Trump
As the 45th president continues to face endless, baseless charges against him, one has to wonder when the Democrats' witch hunt will end. The short answer is it never will. The woke Democrats will never stop harassing Trump, even if he decides not to run. Trump has faced non-stop harassment from the Deep State Swamp since the beginning of his first term, and it will continue as long as Trump is alive, and probably even beyond.
You are invited to join me on SubscribeStar- a Pateron alternative, for exclusive cartoons and behind the scenes look at GrrrGraphics, Click to Join!
The corrupt operatives in charge of the White House, Congress, the security agencies, the mainstream media, social media, and especially our justice system will rig elections, commit lawfare, lie, and openly conduct acts of treason to stop Trump. Their hatred of Trump has warped into almost a religious, fanatical furor. It's as if Trump is facing an inquisition and even possible torture. I'm sure the Democrats wouldn't even object to the latter, but at the very least they want Trump to rot in a prison dungeon for the remainder of his life. The Marxist Democrats have no shame, no conscience, no honor, and no morality. They will do whatever it takes to end Trump's presidential run in 2024.
Never Miss A New Cartoon! Sign Up Today For Our GrrrNEWS  cartoon newsletter-It's Free and Easy!
Jack Smith is less of a prosecutor and more of an inquisitor. He's the attack dog who has been unleashed by Biden, Merrick Garland, and the globalist cabal who don't want to see Trump make America great again. It's obvious that Biden wants to greatly weaken America even further while the Constitution is ignored. The mob-like criminals who are currently running our country are shamelessly trying to destroy a political rival.
That's what banana republics do—and Biden is the head banana.
— Ben Garrison
Follow Ben Garrison cartoons on Twitter at @grrrgraphics2
Follow @grrrgraphics on Twitter      GAB, TRUTH SOCIAL, PARLER, INSTAGRAM, TELEGRAM ,
or join us at The Garrison!
Support Ben Garrison and GrrrGraphics with a donation- Thank you
Your donation makes a difference, large or small.
Fast and easy check out 
Donate $10 and Keep Ben Drawing
Donate $50 Thank you for joining us on the frontlines!  SAVE AMERICA
We are fundraising for 2023, You can keep GrrrGraphics online with a purchase! 
Jack Smith Inquisition Original Art- Collectors Item 
This snapshot of history in the making comes as an amazingly attractive piece of artwork. Depicting America's current fight against tyranny and globalism, this cartoon is one for the history books.