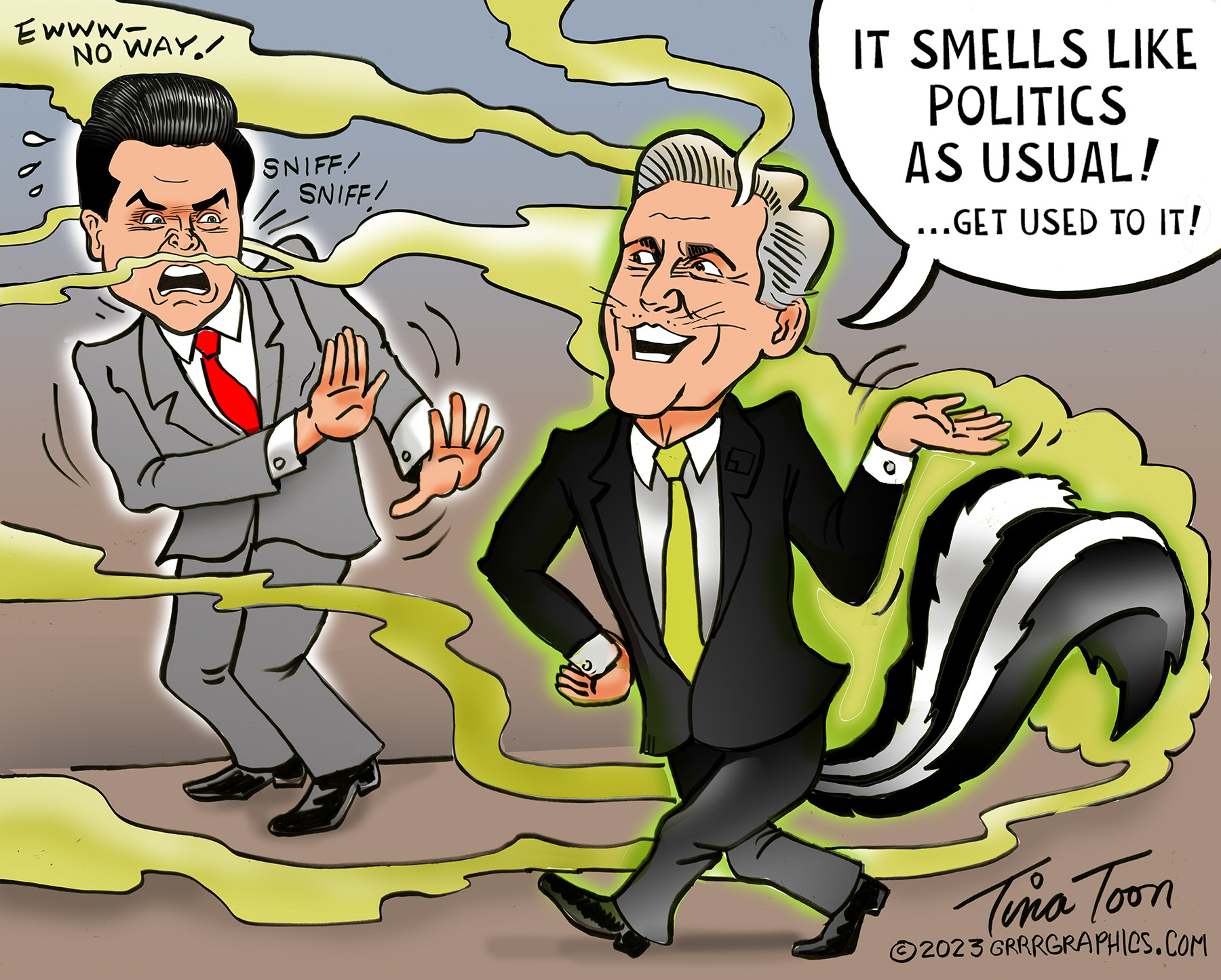 Stop insulting skunks..
Cartoon published 10/03/2023
"I rise to give notice of my intent to raise a question of the privileges of the House. Declaring the office of Speaker of the House of Representatives to be vacant."
— Rep. Matt Gaetz
Update: Kevin McCarthy has been removed as Speaker of the House- 216 Yay votes to 210 Nay votes.
UPDATE: Congressman Matt Gaetz's (R-FL) Motion to Vacate the Chair against House Speaker Kevin McCarthy will reportedly be voted on today during house proceedings.
To become House Speaker, Kevin McCarthy agreed to relinquish his post if he didn't carry out the wishes of MAGA Republicans. Naturally, McCarthy, being the Uni-Party RINO that he is (skunk, actually) is now acting all big and tough and telling Gaetz to 'Bring it on!' Gaetz replied, "I already did."
Never Miss A New Cartoon! Sign Up Today For Our GrrrNEWS  cartoon newsletter-It's Free and Easy! 
Gaetz wants Congress to follow the Constitution and respect individual rights as well as rein in appropriations, budgets, and spending. But McCarthy, (who could be interchangeable with McCain or McConnell) cut a secret side deal with the Democrats without notifying his own party. The deal keeps the government running for a while longer while (of course) sending still more billions of American taxpayer dollars to a thoroughly corrupt Ukraine in order to keep the murderous madness there in operation. McCarthy should be removed from office for doing it, but he has the backing of his fellow RINOs and the Uni-party Swamp.
Join us in the battle to save our Republic!  Make a donation today and keep us on the frontlines fighting for you and your children and the future of America!
Meanwhile, Gaetz is being attacked left and right by the corporate media—including Fox News. To me, that's a sign that Gaetz is right on the money.
McCarthy agreed to step down if he didn't keep his promises and he hasn't. Instead, he stunk up the joint. Time for Kevin to be held accountable and Matt is doing just that. Bravo!
— The GrrrTeam
Keep Us Drawing- Support our work with a small donation, click to donate!
Follow grrrgraphics on Twitter   GAB, TRUTH SOCIAL, INSTAGRAM, TELEGRAM
or join us at The Garrison!
Together we win!
Support us and score an incredible T Shirt/mug for all your red pilling needs.  More at the GrrrGraphics Collection