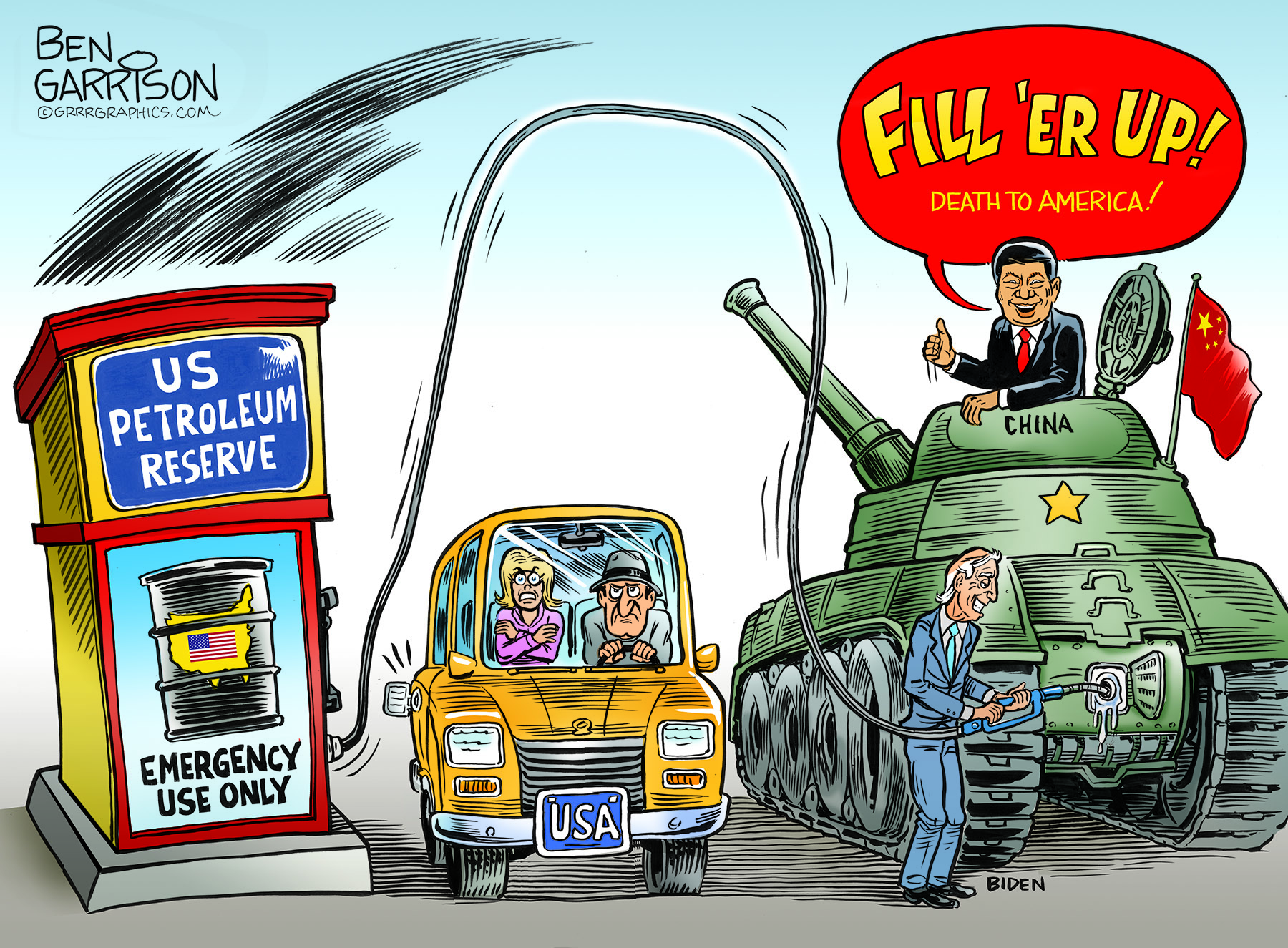 China Joe Biden needs to be arrested. He's a traitor to our country.
He claimed he was tapping into the US Emergency Oil Reserve to help alleviate high gas prices in America. Instead he's shipping that oil to other countries. Including nearly a million barrels to China!
Keep Cartoons Online Click to Donate!
Biden and his son Hunter are openly corrupt and they realize they are immune from any kind of impeachment or prosecution. Hunter seems proud of his degeneracy. He wants to show off to us. Therefore he continues to prance around naked while he huffs his cocaine. Hunter can openly take illegal drugs, have his dad pay for Russian prostitutes, and lie on his gun purchase form. Nothing will happen to him.
Joe is the same way. He knows he can pull off any kind of outrage that hurts Americans. We complain but justice is not listening. Joe even expects to get reelected! That tells me the Marxist Democrats are planning on stealing the elections again. After all, the last presidential election was blatantly stolen for Joe and the evidence for that theft is overwhelming. Essentially we saw a Marxist coup.
The globalist Green New Deal is hurting millions of Americans and destroying our economy. Biden won't budge and that's bad enough, but then he pours salt into the open wound by sending our Oil Reserves overseas and even to an arch rival and enemy: China! Adding insult to injury, Joe also ended the tariffs on China. Joe apparently works for China. It's openly treasonous, but nothing is done to stop China Joe and his son from collecting bribe money from the communist-owned companies with which they have made deals.
China Joe continues to weaken America at every turn. What happens if a war breaks out and our military has no oil? Maybe all the trannies in the military who are now allowed to share showers with what in reality is their opposite sex will have an idea. Imagine a man who identifies as a woman being granted permission to shower with real females. What a morale builder! I'm being sarcastic. Joe's job is to break our morale and our national will to resist the continued takeover from the Marxists.
It's time to arrest China Joe and his sex and drug-addled son, Hunter.
— Ben Garrison
Follow @grrrgraphics on GAB,TRUTHSOCIAL PARLER, INSTAGRAM, TELEGRAM 
Keep Cartoons Online Click to Donate!