Soy Boy Jack Dorsey has censored James Woods by locking him out of his Twitter account.
Cartoon published 11/24/2018
Twitter's reason was that Woods had tweeted a funny meme of  Democrat beta males staying home in November to "empower" the liberal woman's vote. This was a Tweet from July 20th which had been retweeted thousands, if not millions, of times by other twitter accounts. James Woods was singled out and punished.
See "offensive" tweet Below: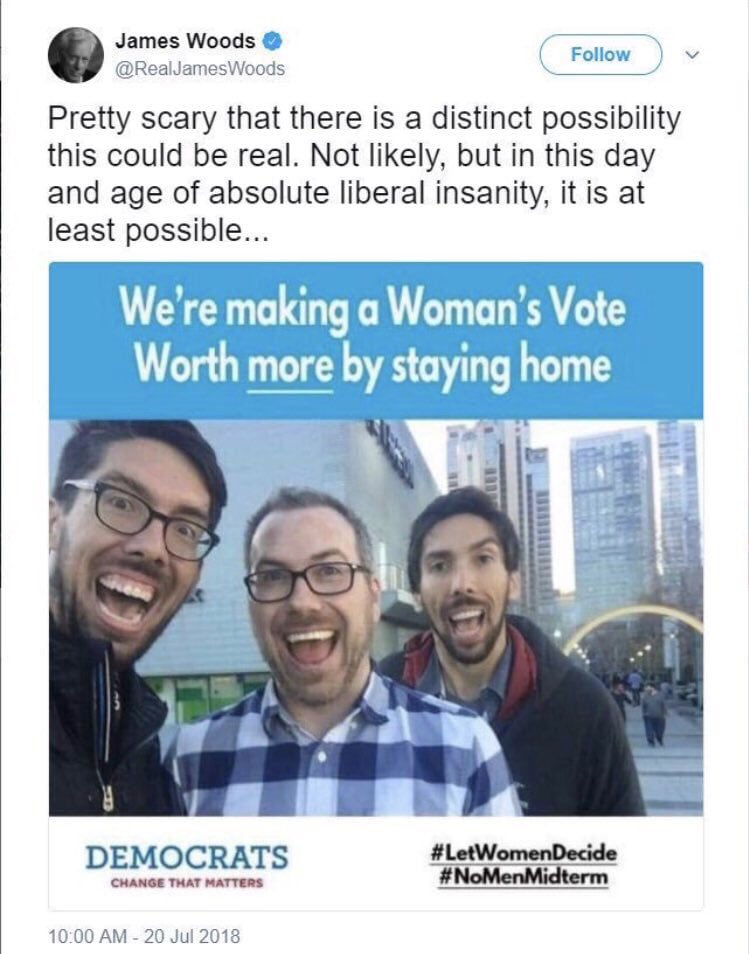 Twitter accused Woods of "affecting" the election. Twitter was really targeting Woods because he is a influential conservative voice and has a large Twitter following.
James Woods responded to the censorship in a AP interview on Sunday:
"Free speech is free speech – it's not Jack Dorsey's version of free speech," Woods said, referring to Twitter Chief Executive Jack Dorsey.
"The irony is, Twitter accused me of affecting the political process, when in fact, their banning of me is the truly egregious interference," Woods said. "Because now, having your voice smothered is much more disturbing than having your vocal chords slit. If you want to kill my free speech, man up and slit my throat with a knife, don't smother me with a pillow."
"I wish this were about an unknown Twitter user so that I could be even more passionate about it," Woods said. "This is not about a celebrity being muzzled. This is about an American being silenced – one tweet at a time."
You are invited to join me on SubscribeStar- a Pateron alternative, for exclusive cartoons and behind the scenes look at GrrrGraphics, Click to Join!
James Woods said Twitter wants him to delete the Tweet and his Twitter account would be unlocked.
Woods said said if he deletes the tweet, it would force him to watch his step with everything he says in the future, chilling free speech. The email Woods received from Twitter said Woods would be suspended from the social media platform permanently if there are repeated abuses.
Like James Woods said, America is being silenced, one tweet at a time.
—GrrrTeam 
Follow @grrrgraphics on GAB, TRUTH SOCIAL, PARLER, INSTAGRAM, TELEGRAM 
or join us at The Garrison!
We are fundraising for 2023, You can also keep GrrrGraphics online with a purchase!  Visit our Best sellers! Click now!