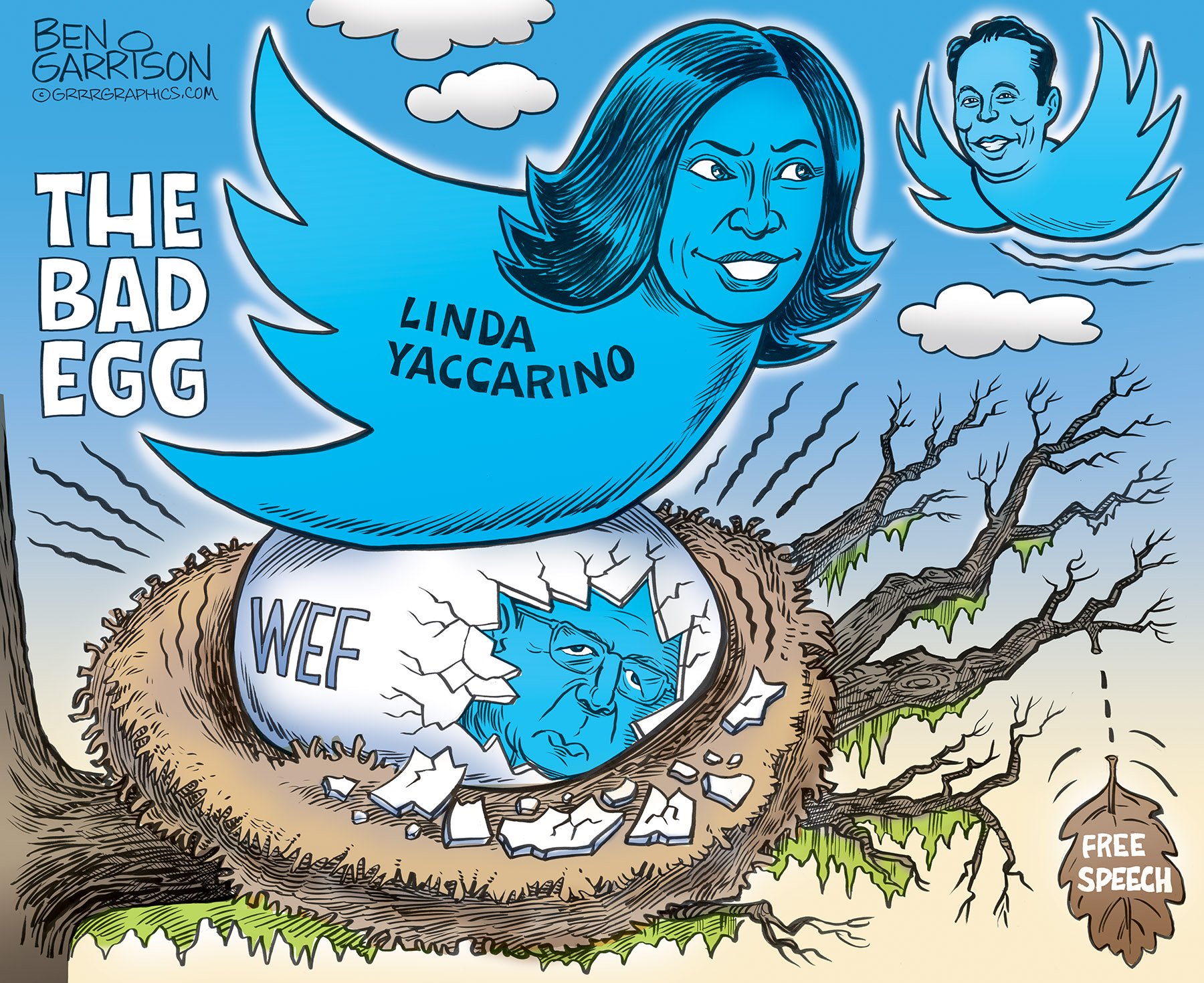 Elon Musk Lays A Egg
Cartoon published 05/18/2023
As James Woods tweeted, "It was fun while it lasted. I wonder how they got to him?" 
I think Musk was already 'gotten to' a long time ago. His ties with globalists and especially the WEF are obvious. He believes in trans-humanism and brain chips. He subscribes to the climate change agenda and green energy bunk. Sure, it was fun to think Elon Musk would restore free speech to Twitter as he virtue signaled about allowing unpopular opinions to be heard there. We at GrrrGraphics weren't allowed back on even though we broke no rules. We weren't told why we were permanently banned. Musk's free speech didn't apply to us. We started a new account, but who knows how long we'll last before we once again get the boot? You can follow us @grrrgraphics2 on Twitter.
You are invited to join me on SubscribeStar- a Pateron alternative, for exclusive cartoons and behind the scenes look at GrrrGraphics, Click to Join!
Still, it was fun for a while to think Musk valued freedom. It was fun to think he was 'one of us.' He was never one of us. He's remains part of the global 'elite.' They're not actually elite in any way.
Never Miss A New Cartoon! Sign Up Today For Our GrrrNEWS  cartoon newsletter-It's Free and Easy!
No, he's not one of us. He proved that by hiring Linda Yaccarino as the new CEO of Twitter. She's a top leader at the globalist WEF, an unelected organization who think they should control the world.
Yaccarino was an experimental Covid vaccine and mask tyrant. She's friends with Bill Gates. She's the kind who thinks freedom of speech doesn't mean 'freedom of reach. Get ready for more shadow banning. More banned accounts. The new boss is the same as the old bosses. Birds of a feather flock together.
Come on Musk- Prove me wrong.
— Ben Garrison
Follow Ben Garrison cartoons on Twitter at @grrrgraphics2
Follow @grrrgraphics on Twitter      GAB, TRUTH SOCIAL, PARLER, INSTAGRAM, TELEGRAM ,
or join us at The Garrison!
Ben Garrison's art is published all over the world, making this original a valuable collector's item which will only appreciate over time – predictably to the tunes of thousands of dollars.
Invest in your future – and the future of freedom – and make the one and only Ben Garrison original artwork yours.