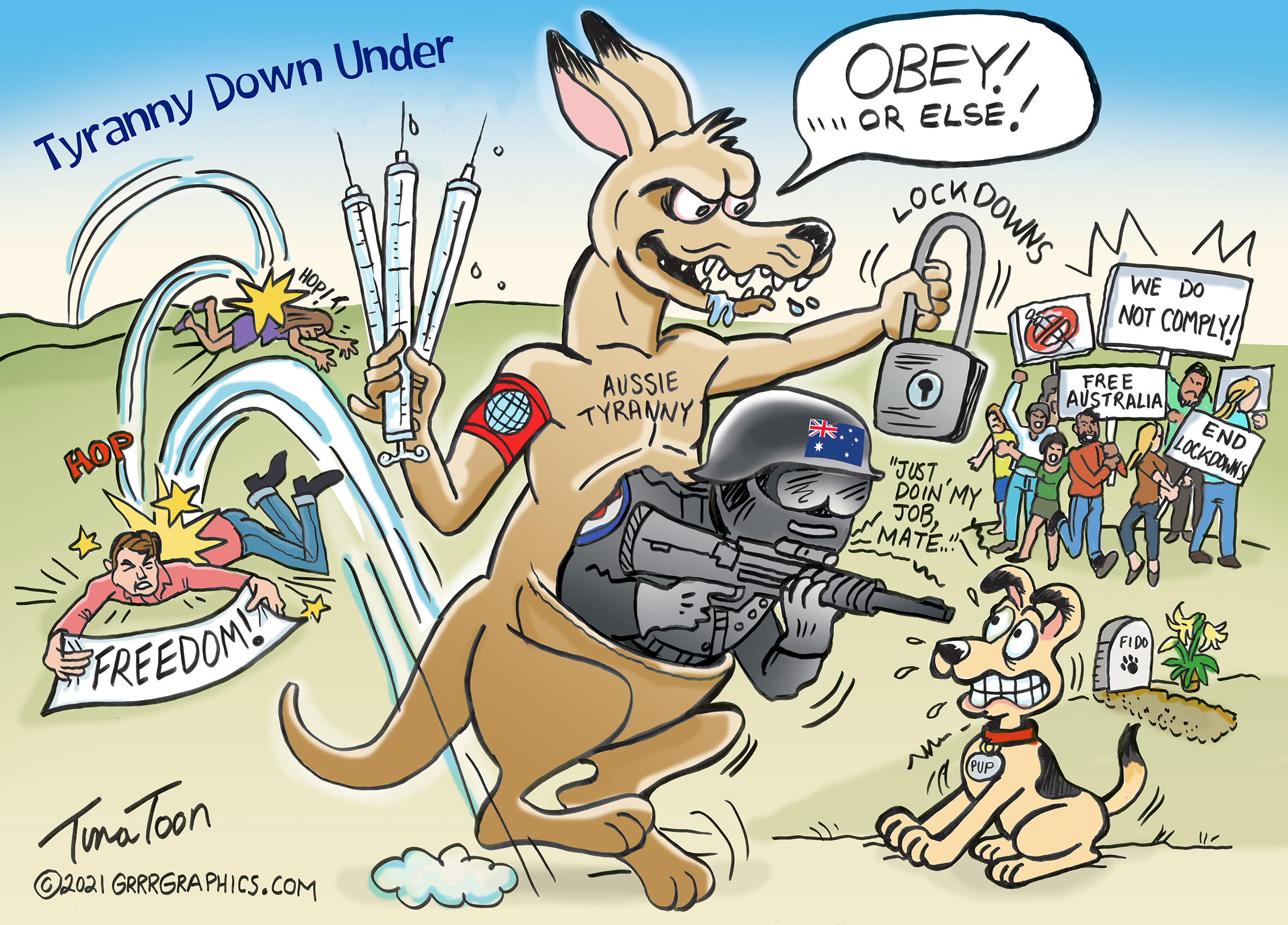 Medical Tyranny Down Under Tina Toon
What happened to Australia and New Zealand? It started when guns were taken from the people. Now freedom and human rights are being taken away.
It's a short hop to tyranny.
Australia has turned into an authoritative police state that is "hopping" and trampling over the people's rights. With covid emergency powers in place, an oppressive government can take away your freedom and censor your speech in the name of "safety."
In Sydney the covid brownshirts raided a church where 60 people were attending a sermon. Tens of thousands of dollars in fines were handed out and the church service was broken up.
PATRIOTS UNITE! TOGETHER WE CAN STOP THE MADNESS- JOIN US ON PATREON AND GET EXCLUSIVE BEN GARRISON CARTOONS AT OUR TOON LOVERS LEVEL!  SEE ALL NEW CARTOONS FIRST- BEFORE PUBLIC RELEASE CLICK TO JOIN
Sydney is being crushed under the jackboot of tyranny with a curfew as of Monday, as well as additional restrictions to limit everyone's movement.
You can not leave your home. You can't not go to church. You can not criticize the government.
Australia, what have you become? 
What happened to the land down under?
Do you come from a land down under?
Where women glow and men plunder
Can't you hear, can't you hear the thunder?
You better run, you better take cover
Buying bread from a man in Brussels
He was six foot four and full of muscle
I said, "Do you speak-a my language?"
He just smiled and gave me a Vegemite sandwich
And he said:
I come from a land down under
Where beer does flow and men chunder
Can't you hear, can't you hear the thunder?
You better run, you better take cover, ye-aah
men at work
Rise up Australia! Let us hear the thunder!
We are all Australian now!
Tina
Find GrrrGraphics on Telegram Follow Us
This cartoon is now available as a signed Print- Order your print today!