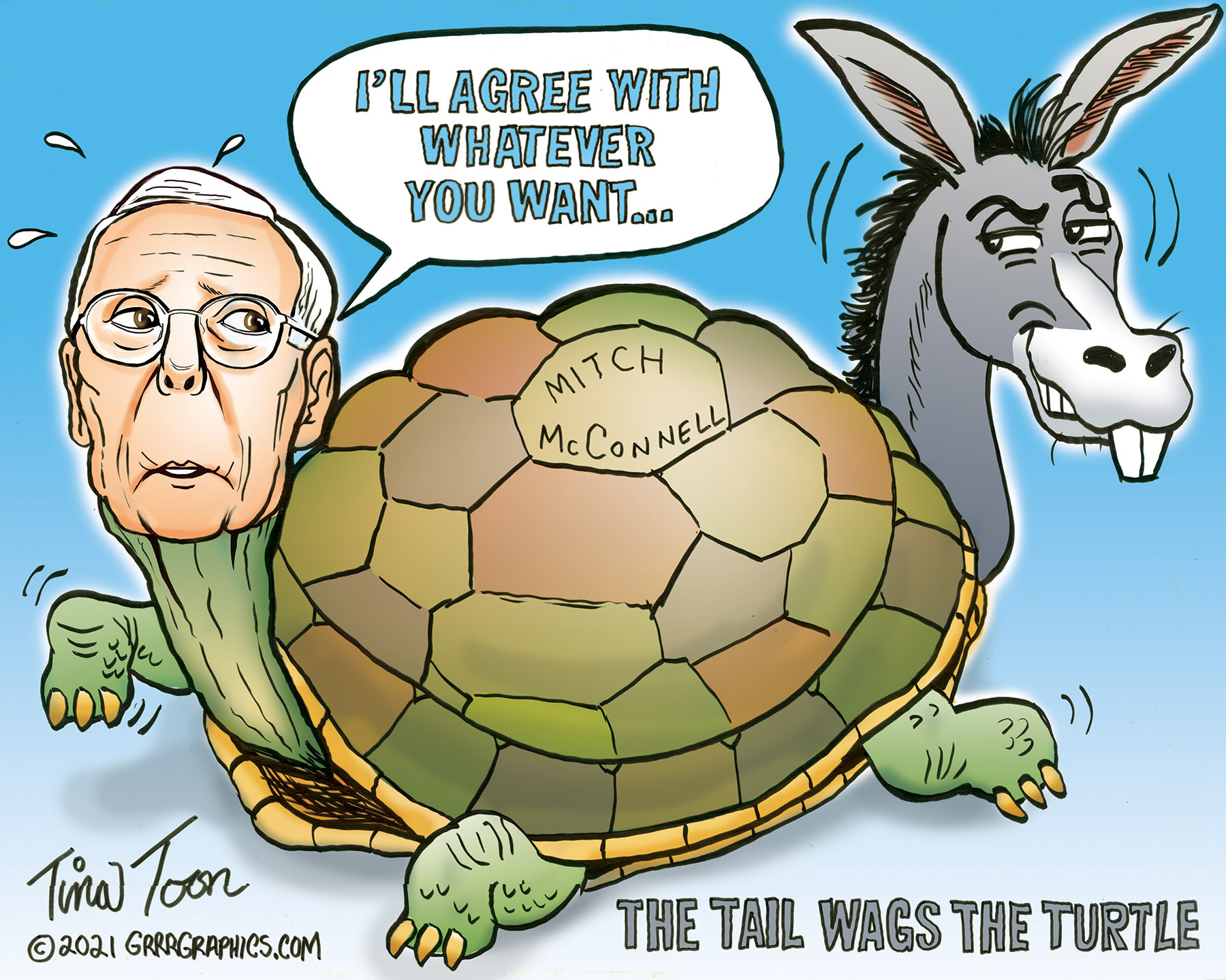 Mitch McConnell Caves To The Democrats AGAIN
Post published on Oct 9, 2021.
The Senate minority leader Mitch McConnell rolled over for the Democrats once again. Eleven Senate Republicans voted with Senate Democrats to temporarily raise the debt ceiling 480 billion through December third.
Of course they did. Have you ever heard of Congress NOT raising debt ceilings?
The eleven GOP RINOs who voted with the Democrat communists are:
Senate Minority Leader Mitch McConnell (R-Ky.)
Minority Whip John Thune (R-S.D.)
John Cornyn (R-Texas)
Lisa Murkowski (R-Alaska)
Shelley Moore Capito (R-W.Va.)
Richard Shelby (R-Ala.)
Rob Portman (R-Ohio)
Susan Collins (R-Maine)
John Barrasso (R-Wyo.)
Mike Rounds (R-S.D.)
Roy Blunt (R-Mo.)
Number one was feckless turtle Minority Leader Mitch McConnell.  As usual Mitch flipped over on his shell, waved his legs in the air and let the Democrats have their way as always.
Join Us on Subscribe Star, a free speech alternative to Patreon- Support Cartoons see New Cartoons Early before Public release! 
Adding insult to injury, Chuckie Schumer attacked Republicans in an unhinged, vicious speech that was so cringe worthy that Democrat Senator Joe Manchin (who sat behind Schumer) did a double palm face plant and later called Schumer's speech, "F**king stupid".
Democrats threatened to end the filibuster and Turtle McConnell rolled over. In a game of chicken, or spin the turtle, Mitch McConnell will be the first to fold every time.. like a card table chair.
Sign up for our Cartoon Newsletter and Never miss a cartoon- click to join
We need the GOP to stand up to communism and fight for the American people, we certainly do not have a leader that will do that in Mitch McConnell.
Time for turtle soup! 
Who do you think would be a good replacement for Mitch?
–Tina
We are taking a stand against censorship. Patreon threatened to suspend our page if we didn't remove Ben's covid cartoons, not only on the Patreon site..but on our website GrrrGraphics. Needless to say, we told Patreon to stuff it and removed our page from their site. We had a page there since 2015. If you would like to support our cartoons with a monthly donation you can find us on Subscribe Star-See all our cartoons early before public release!
Christmas is on the way- A fun gift idea,