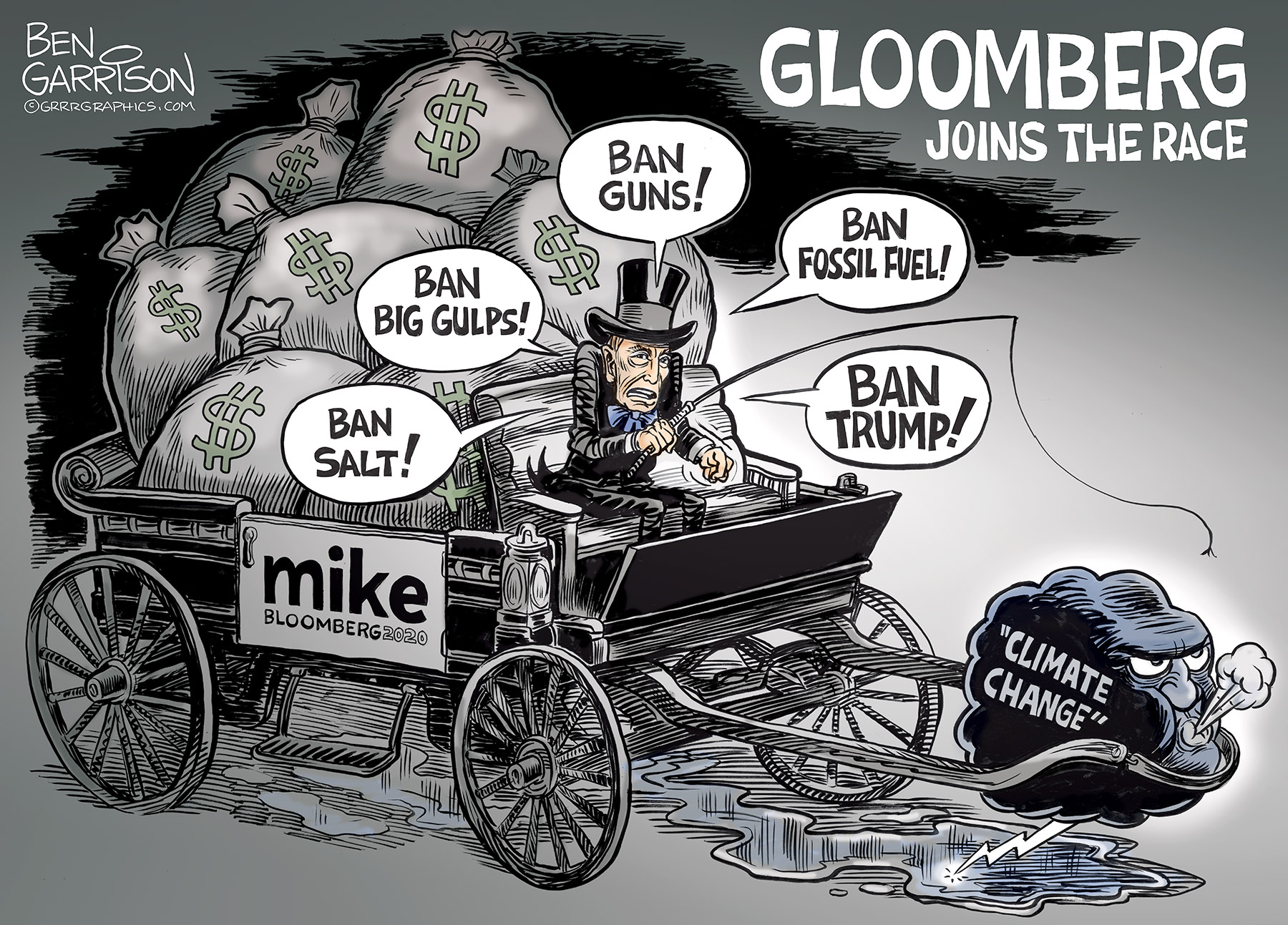 BAN Everything 
As Mayor of New York City, billionaire Michael Bloomberg was the quintessential statist.
Even though he ran as Republican, the 'stop and frisker' was more of a neocon than libertarian. He's also very pro-abortion, pro illegal immigration, and pro-taxes. He's known for creating a lot of rules and regulations. He wanted to ban salt at restaurants and Big Gulp sodas at fast food restaurants. He is for gun control and had banned smoking in public places. Bloomberg said government was 'a force for good.' Notice the word 'force.' Government is force, and like many tyrants, Bloomberg gets to decide what is good for us. The billionaire switched parties and became a Democrat, which is more in alignment with his views. That is, they all love a big, bloated, and meddlesome government that forces citizens to do their bidding.
His main passion doing something about 'climate change.' Washington Governor Jay Inslee also made that the number 1 priority in his campaign. He's already dropped out. Americans don't want globalism or a carbon tax.
We don't want to be forced to buy electric cars and have cheap and clean-burning coal plants shut down. Bloomberg is trying to drum up fear—doom and gloom—in order to get action on 'climate change.' He wants the Green New Deal or some variation on that disaster. Most Americans know the climate changes—it's called weather. They don't want to lose their jobs or pay a carbon tax. They are too busy struggling to make ends meet to make it a top issue in their lives. Bloomberg doesn't have that problem—he's worth comfortable $58 billion dollars. He wants his planet saved! He wants his populace controlled!
Bloomberg saw Donald Trump a fellow billionaire become president against all odds. Perhaps he thought Trump won because he had a lot of campaign money at his disposal. Not so. Hillary outspent Trump 2 to 1 and still lost. Bloomberg has Trump Derangement Syndrome. Here's one of his quotes:
"We cannot afford four more years of President Trump's reckless and unethical actions. He represents an existential threat to our country and our values. If he wins another term in office, we may never recover from the damage."
Bloomberg may not realize it, but Trump didn't win because he was a billionaire. He won because he offered Americans a chance to get our Republic back. It was stolen by the Deep State and they are a very corrupt lot. They're the swamp that Trump has promised to drain. Bloomberg is part of that swamp and that's why he will lose.
—Ben Garrison
We need your support in getting Donald Trump reelected. Your donation makes a difference, large or small.