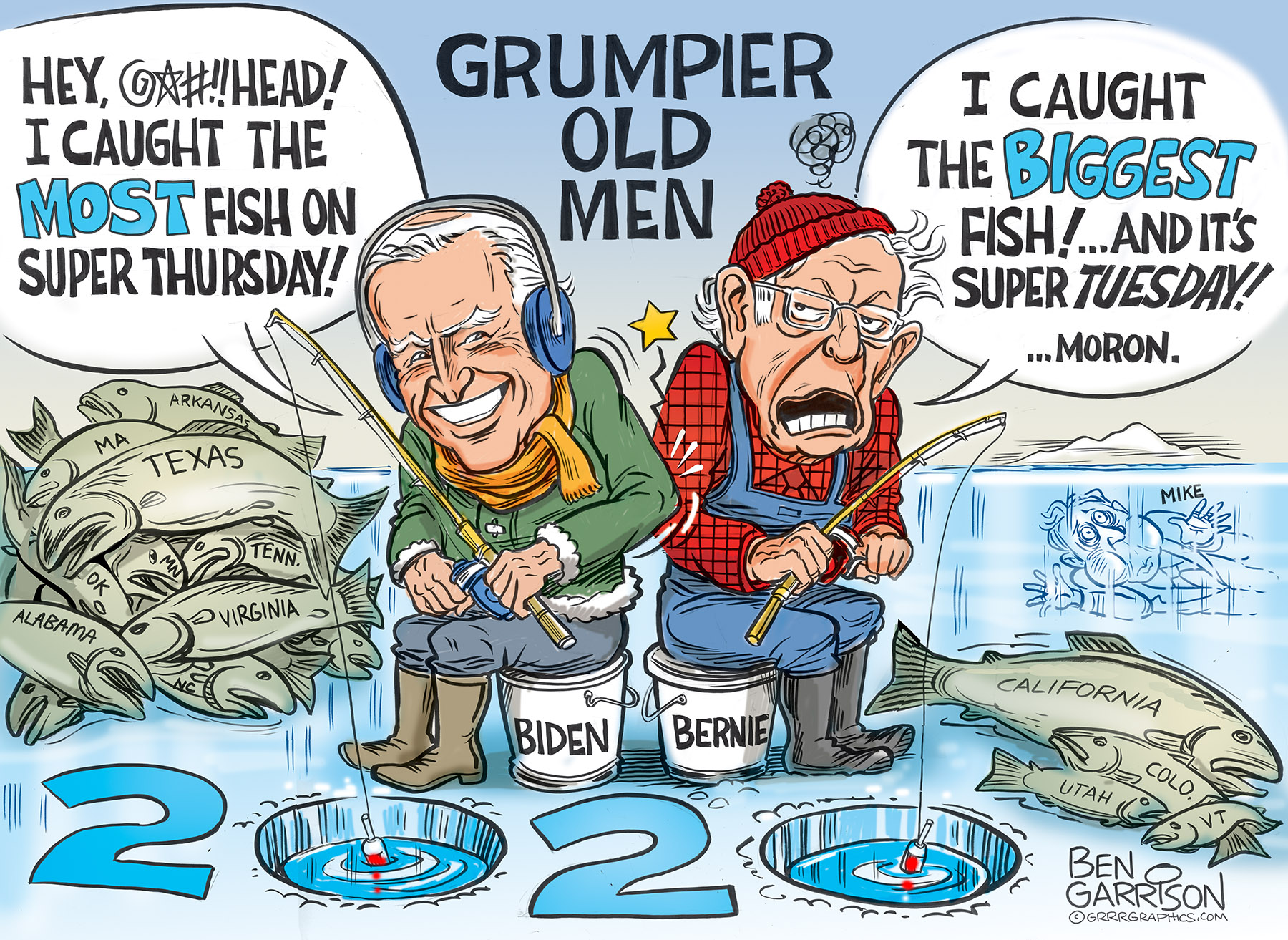 UPDATE: Bloomberg is out! American Samoa hardest hit!
I drew this cartoon as the results were pouring in. I didn't realize it took several days for California to tally their votes, so this cartoon may prove to be inaccurate. Bernie currently holds a large lead in California though, and many have projected him to win.
The big surprise was how well Biden did (especially in Texas), but maybe it shouldn't be so shocking. He's the choice of the Deep State Democrats and their picks have a habit of winning. Nobody thought much of John McCain and he was not doing well in the polls, but thanks to the Deep State Neocons he suddenly he caught fire too.
Both Democrat front runners are unlikeable and mediocre. Is this the best the Democrats have to offer? An old communist loudmouth and an old, mumbling, stumbling, corrupt gaffe machine? Both are pushing 80. They will make high energy Trump appear even younger.
I was happy to see Mike Bloomberg fail. The goblin billionaire found out he really couldn't buy the presidency. Other characteristics are required to attract voters such a modicum of charm, speaking ability, and manners. He was caught on video coughing into his hand then promptly shaking the hands of others. He was also caught taking a bite of pizza and then tossing it back into the box. Warren couldn't even win her home state. She has a lot of ego in the race and she refuses to quit. Good. We want to see her suffer more defeat.
If the race continues on relatively even, we can expect a lot of funny business at the convention. In which case you really will see Biden and Bernie become grumpier old men. I still don't rule out Hillary inserting herself as an alternative to end a crisis. At the very least, she would want to become the Vice President if for no other reason than to avoid prosecution for her crimes.
—Ben Garrison
We need your support in getting Donald Trump reelected! Your purchase goes toward our country, the MAGA MOVEMENT, and President Trump!
Commemorative Trump Inaugural Limited Edition Print
$99.99
Officially signed by Ben Garrison
24″ w x 18″ h  print on high quality heavy weight paper
Shipped in a mailing tube
SPECIAL EDITION: THE BIGGEST PRINTS WE HAVE EVER MADE!
Advertised as being "one of the best political cartoonists" in the world, Ben Garrison presents, "MAGA POSTER!"
This is a special limited edition print–meaning Ben Garrison will sign it + number your print (and add any personalized notes you may choose)
ONLY 100 WILL EVER BE PRINTED.
YOUR PURCHASE HELPS US RAISE AWARENESS OF ELECTION FRAUD, STOLEN ELECTION, THE DEEP STATE, AND LETS THEM KNOW THAT YOU ARE A TRUE PATRIOT WHO LOVES THE USA!
Order yours today by clicking the "Add To Cart" button below. 
10 in stock
Description