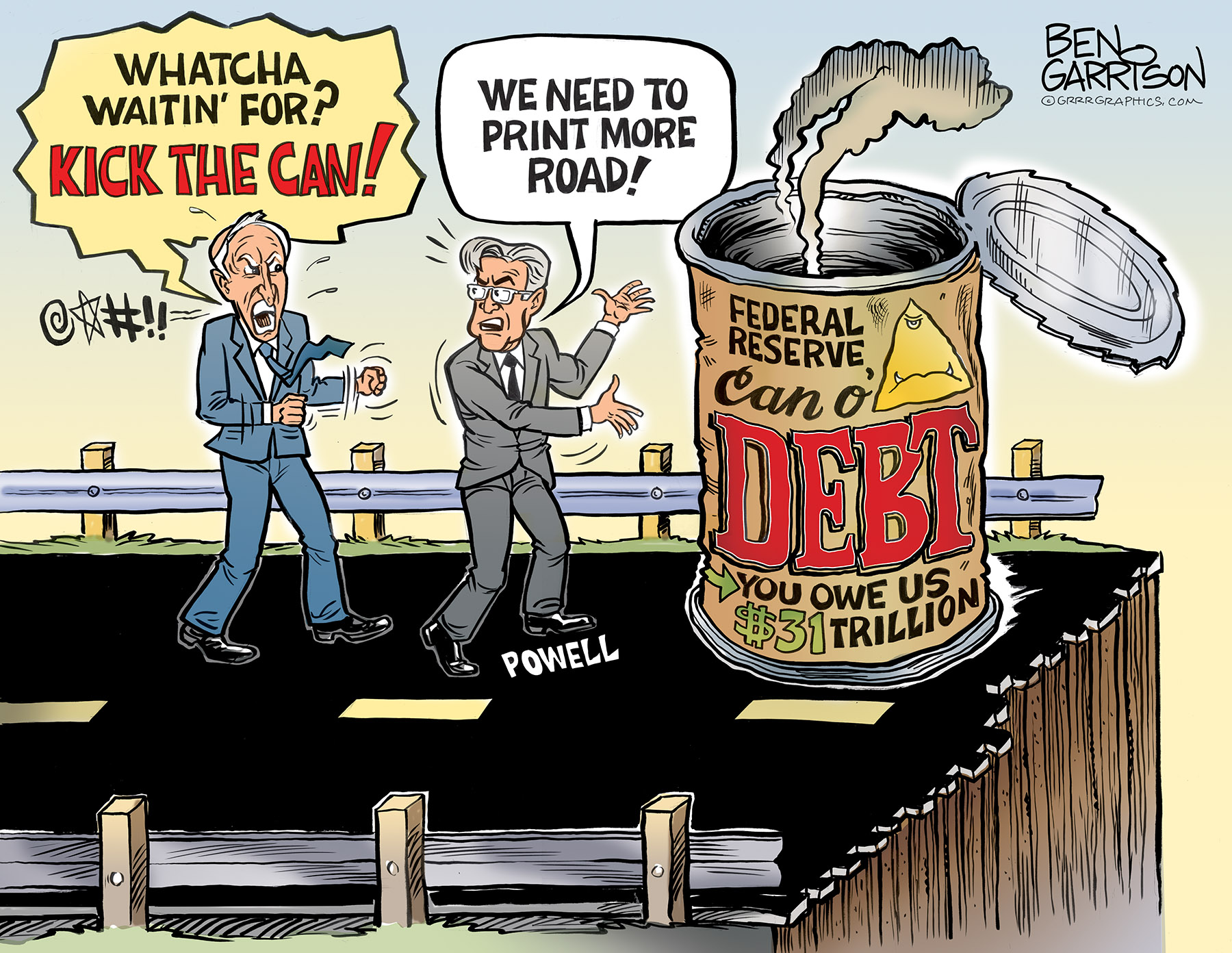 Kick The Can Down The Road..Again and Again and Again
How can the Federal Reserve continue to kick the can down the Economic Road when it seems they've reached the end of that road? Will endless debt and inflation mark the demise of King Dollar? Will the stock market collapse? Will we see not just a recession, but a deep depression?
I've drawn many 'kick the can down the road' cartoons over the last decade. I've drawn a gigantic Can of Debt that was so heavy it could no longer be kicked. I've shown a revengeful can kicking the Fed down the road. I kept thinking that the economic situation was so dire that it could spell the end of the dollar and (I hoped) the end of the Federal Reserve. How could such an immoral system of money that enriches a tiny percentage at the top of the pyramid while impoverishing the rest of the population be allowed to continue? How is it possible that they keep kicking that can down the road despite the enormous debt, inflation, ever higher taxes, and increased suffering among the general population?
They can do it because the dollar remains the global reserve currency. King Dollar remains on the globalist throne and that dollar hegemony will be enforced and supported by the US military, bought-out politicians, and the corporate propaganda media. The latter is owned by a handful of mega-billionaires who want the populace to remain ignorant of the Federal Reserve and their con game.
Fight Thought Control through supporting Grrrgraphics high impact cartoons- We draw for you! Click to support us at SubscribeStar a monthly donation at whatever amount is comfortable
My wise old uncle once said the Federal Reserve was running out of solutions and no matter what they did, economic disaster awaited. He said they were 'pushing on a string.' Still, the Fed remains in place and our increasingly evil system of money continues to grow more pernicious no matter what. The national debt will keep snowballing and the ultra rich at the top will get richer while the middle class gets squeezed. Endless wars will be started and fought in order to keep the dollar dominant. Our liberties will continue to get stamped out.
Until the dollar loses its status as reserve currency, the can will continue to get kicked. The Fed will simply print more road.
— Ben Garrison
Follow @grrrgraphics on GAB,TRUTHSOCIAL PARLER, INSTAGRAM, TELEGRAM 
Available for patriots only, a one of a kind art collectable, a Ben Garrison original cartoon.
Your investment goes to support our country, our patriot family, your rights and freedoms, and of course, GrrrGraphics.
Thank you for your support.