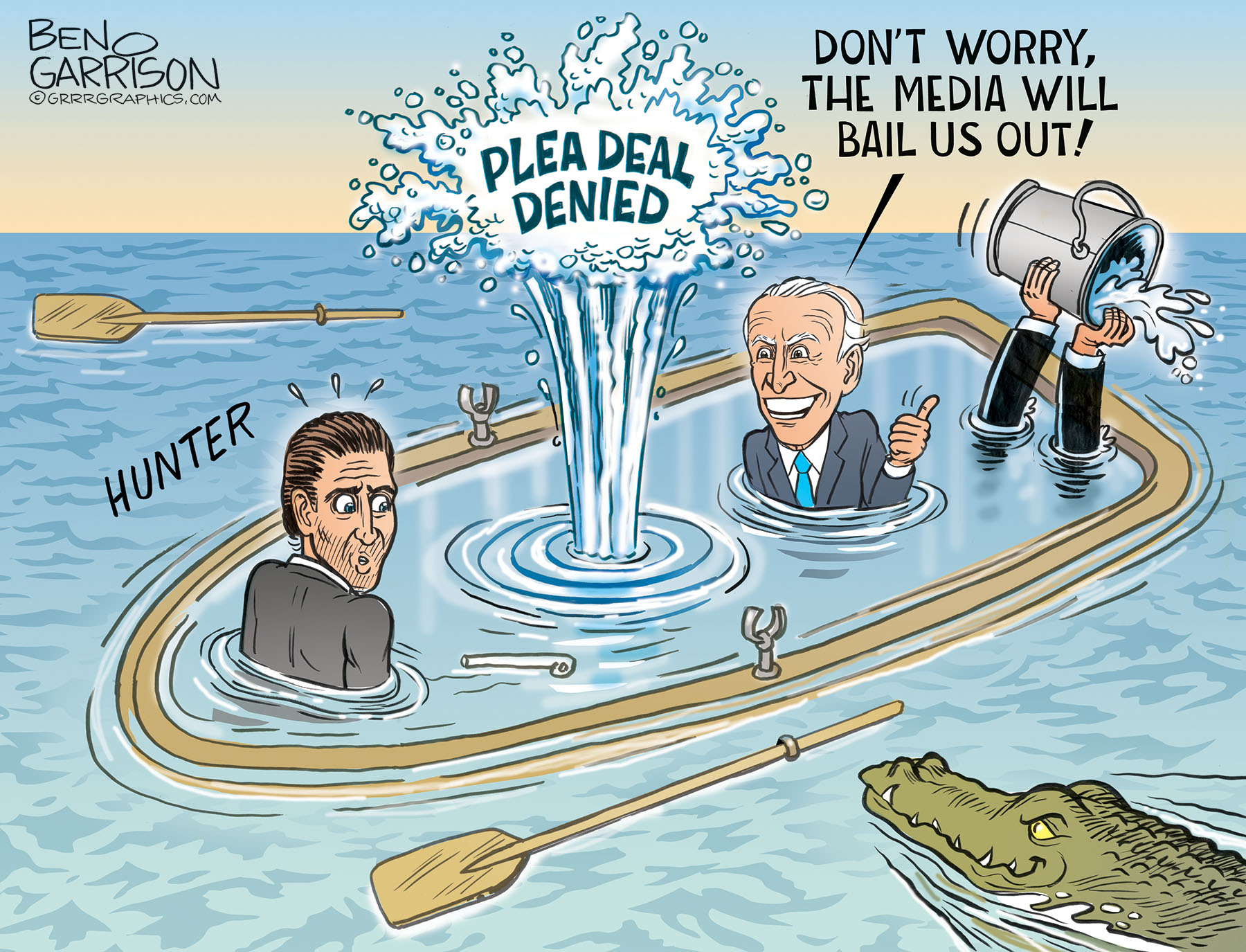 Sunken Bidens
Cartoon published 07/28/2023
Hunter Biden finally had someone tell him "No!" 
The spoiled, drug, sex, and money-addled son of Joe was clearly crestfallen after the Delaware federal judge threw out his honey-dripping sweetheart deal that included a permanent stay out of jail free card.

What happens next remains to be seen, but at least we know that the Bidens don't always win. "Don't mess with a Biden?" Well, at least Judge Noreika had the chutzpah to mess with one of them. It's about time to see Hunter is not above the law.
Let's stay in touch! Sign Up for Our GrrrNewsletter today! View Now

We at GrrrGraphics are savoring this small victory. We know Joe Biden is a lying, arch criminal who will most likely not only will get away with his traitorous crimes, but also get re-elected, thanks to massive ballot rigging.
Will he be impeached? Not likely. The Republicans like to put forth a great deal of angry bluster but in the end, nothing will happen. Even Rand Paul said,  "I don't really want to impeach every president comes forward." Gee, thanks Rand. Apparently Republicans are above 'tit for tat.' The Uni-party does nothing as our country slip more and more toward a permanent Banana Republic. 

— The GrrrTeam
 Ben Garrison
Follow Ben Garrison cartoons on Twitter at @grrrgraphics2
Follow @grrrgraphics on Twitter      GAB, TRUTH SOCIAL, PARLER, INSTAGRAM, TELEGRAM ,
or join us at The Garrison!
Support Ben Garrison and GrrrGraphics with a donation- Thank you
Your donation makes a difference, large or small.
Fast and easy check out 
Donate $10 and Keep Ben Drawing
Donate $50 Thank you for joining us on the frontlines!  SAVE AMERICA
We are fundraising for 2023, You can keep GrrrGraphics online with a purchase!