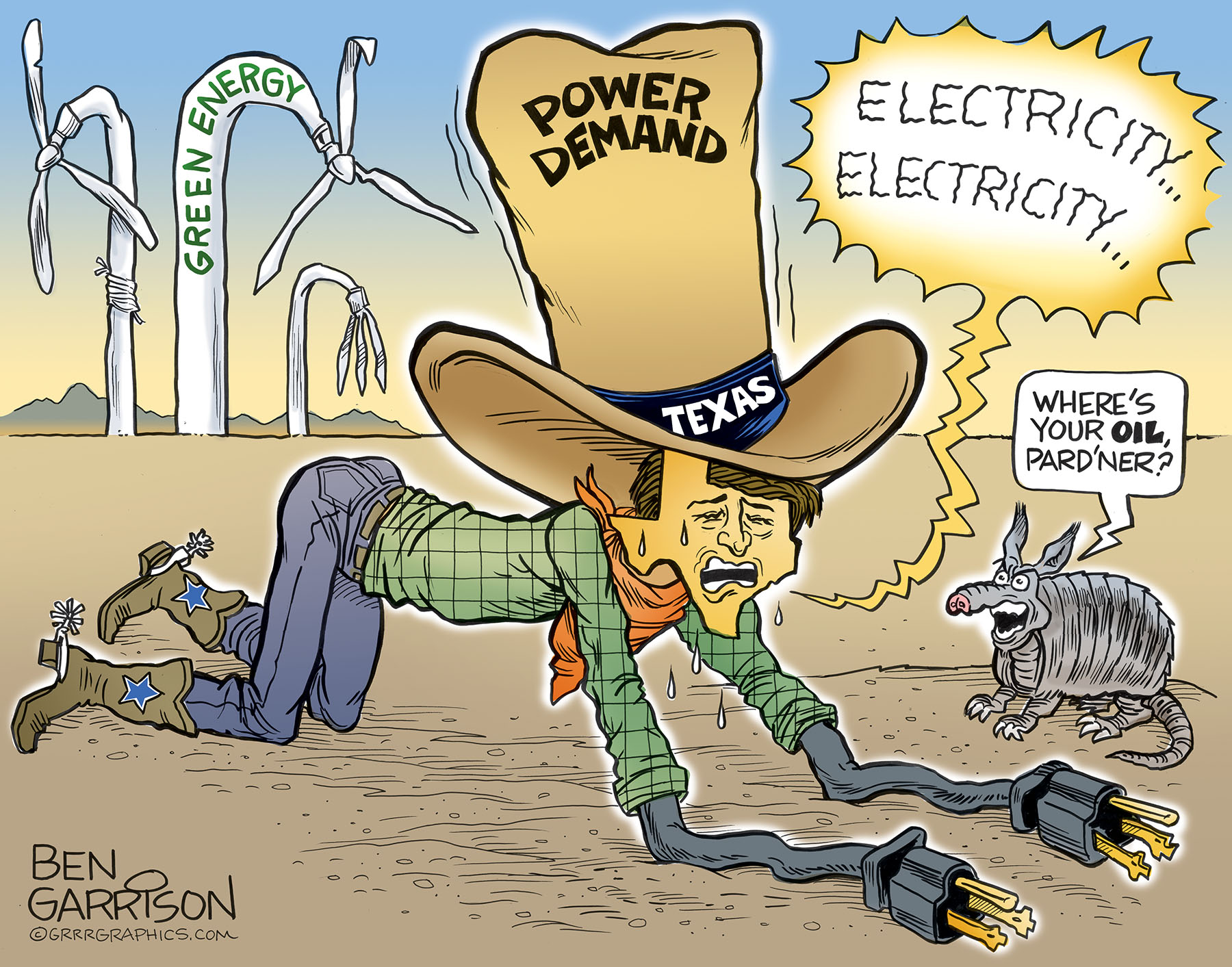 Hey Pard'ner, where's your oil?
Apparently the leadership in Texas learned nothing from the winter ice storms and rolling blackouts last winter. When electricity was needed most, there was none. Wind turbines froze. Solar power got snowed over. Green energy failed. Many Texans froze.
Governor Greg Abbott talks the talk, but he hasn't walked the walk.  Abbott is all hat and no cattle—and no extra electricity! The Texas borders remain wide open and Abbott complains, but so far he has done nothing. Is he controlled by the Bush family who still have had their grapple hooks sunk into the Lone Star State for way too long? Perhaps.
Keep Cartoons Online Click to Donate!
It's time to acknowledge reality. Green energy isn't enough. Solar and wind power cannot compete with the amount of electricity that can be produced by coal, oil, and gas-fired power plants. Despite rising demand, new power plants aren't being built. No new oil refineries, either. Even though Texas has plenty of oil to run power plants, it's not allowed. There could be clean-burning coal plants, too…but the heartless, demented Biden will stick with solar and the ugly windmills no matter how much citizens suffer.
Meanwhile in China, they burn all the fossil fuel they like. They're not subject to any WEF/Paris Accord/Green New Deal. Biden never mentions that because he's a traitor who works for China. He sent nearly a million barrels of our oil reserves to a Chicom-owned energy company. Yes, the same company that the degenerate Hunter Biden made a deal with and I'm sure the 'big guy' is getting his 10 percent.
Texas is hot in the summer. They need air conditioning. Asking them to turn it off while Biden sends our US Oil Reserves to foreign countries will lower Biden's popularity rating still further. Democrat candidates in Texas will also become less popular. Hispanics who have long voted blue may switch toward red. That is, if Texas elections aren't rigged like in many other states.
Building more windmills is not the answer. Oil from Texas itself can be used in new power plants to generate the electricity needed. It's time for Texans to vote for common sense power production.
— Ben Garrison
Click to Order Your Print Of This  GrrrGreat Cartoon today- Your purchase helps Save America By keeping us online!
Follow @grrrgraphics on GAB,TRUTHSOCIAL PARLER, INSTAGRAM, TELEGRAM 
Keep Cartoons Online Click to Donate!