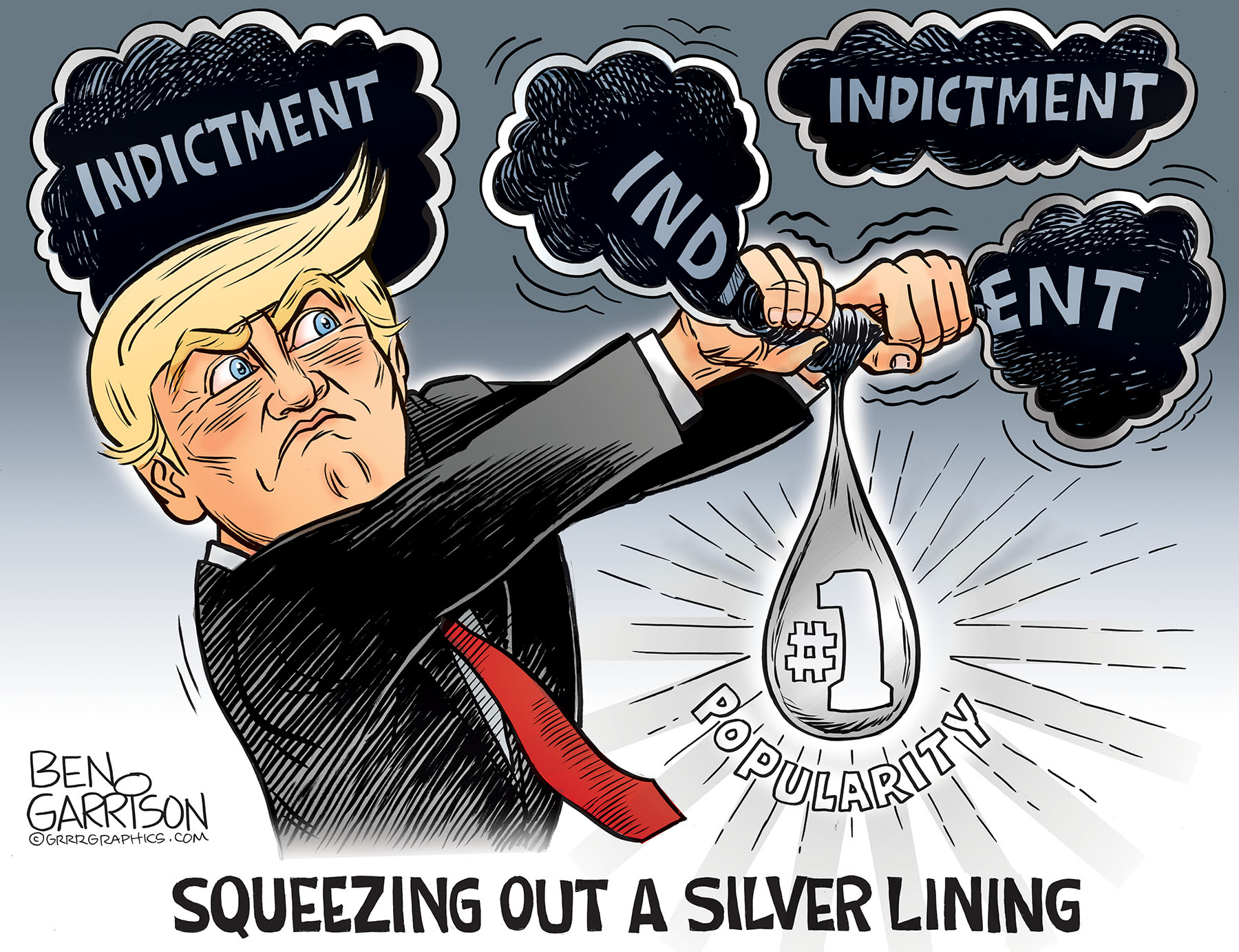 In every dark  cloud there is a silver lining…More Indictments = Higher Poll Numbers
Cartoon published 08/04/2023
Another Trump indictment, another Biden cover up, another witch hunt.

Trump's indictment charges include:

1.    Conspiracy to defraud the United States
2.    Conspiracy to obstruct an official proceeding
3.    Obstruction of and attempt to obstruct an official proceeding
4.    Conspiracy against rights.

While Biden is riding his bike in Delaware during his ten-day vacation—granted he has spent 364 days out of office already—Trump is in D.C getting arraigned. Again.

Neither Joe Biden nor Hunter Biden face consequences for their crimes, but Trump may face prison time for crimes he never committed.

Here's Trump's thoughts on the matter…

"Biden and his family steal Millions and Millions of Dollars, including BRIBES from foreign countries, and I'm headed to D.C. to be ARRESTED for protesting a CROOKED ELECTION. UNFAIR VENUE, UNFAIR JUDGE. I AM NOW GOING TO WASHINGTON, D.C., TO BE ARRESTED FOR HAVING CHALLENGED A CORRUPT, RIGGED, & STOLEN ELECTION. IT IS A GREAT HONOR, BECAUSE I AM BEING ARRESTED FOR YOU. MAKE AMERICA GREAT AGAIN!!!"

— Donald Trump via Truth Social

He nailed it. Where is the accountability when it comes to the Biden family? What happened to justice? Oh, they were just talking about the weather… r-r-r-ight.
Let's stay in touch! Sign Up for Our GrrrNewsletter today! 

The indictments are not only designed to destroy a leading political rival, but they are also designed to distract. They distract from the criminal evidence piling up against Joe and Hunter.

American people are waking up, though. Every time Trump is indicted by the Obama and Biden-run Deep State, his poll numbers go up. The indictments are signs of desperation from the Deep State.

There is a silver lining in all of this. If Trump can get indicted, then so can other former presidents. The Clintons and Obama need to be held accountable for their actions. George W. Bush as well. They are the ones that need to be locked up—even sent to Gitmo for their egregious actions of treason and evil. After Trump is elected president for his delayed second term, I expect indictments to rain down from the halls of justice upon Obama, Hillary Clinton, Joe Biden, the leaders and liars from the security agencies, and many others.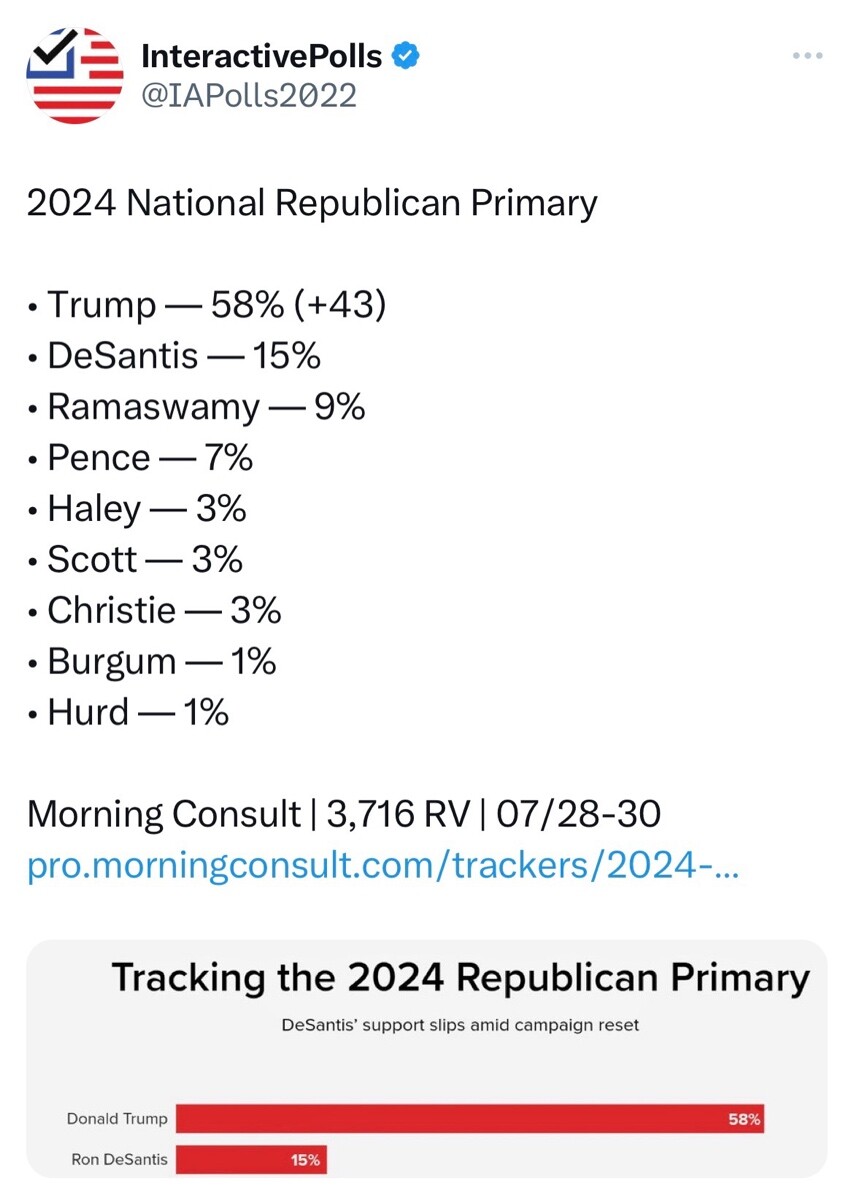 Let the bright silver lining be squeezed out of these dark clouds of evil and flood America with truth and real justice.
You are invited to join me on SubscribeStar- a Pateron alternative, for exclusive cartoons and behind the scenes look at GrrrGraphics, Click to Join!

We are running out of time—the 2024 election is the big enchilada—a bell weather year of all years. America cannot keep going the way has been with Bidenomics, government unaccountability, rampant crime, wide open borders, stolen elections, and endless war.

We are at a critical point in our history. It's time to save our Republic—our great USA—our rights, our liberty, our justice, our friends, our families—and even our own lives.
Signed Print Available- Click to Order Yours

So how can you help to make a difference in a world that needs patriots more than ever?

Help us keep fighting the Deep State, Tyranny, and this administration. We will never give up no matter how hopeless or bleak it seems. We have your back. Please have ours. Your donation keeps us online to expose the Deep State as well as bring truth to everyone across this country and the entire world for that matter.

Click on one of the buttons below to send now.

—GrrrTeam
Invest in your future – and the future of freedom – and make
the one and only Ben Garrison Trump Indictment Silver Lining- Original Art yours.
YOUR PURCHASE SUPPORTS GRRRGRAPHICS IN THE ON GOING FIGHT TO SAVE AMERICA!